How to Import/Add GMX Email Data to Outlook 2013, 2016, etc.?
With gradually increasing time people now want to experience multiple email clients for their personal and professional work. As there are a set of users who want to Add GMX to Outlook on Mac for their professional work. Outlook is the most preferred Email client across the globe in terms of its functionality and features.
Thus, Outlook is much more convenient for users having complex work. While there could be other reasons too, and because of which users want to import GMX to Outlook 2013, 2016, etc. But before switching to Outlook you can also keep a backup of all your crucial GMX emails on your Machine.
Why Add GMX to Outlook on Mac?
GMX was one of the popular email clients among users in the past but because of the advancement of other email clients, it lost its popularity. The GMX Email is a free email service provided by GMX – Global Message eXchange of Germany. It could be accessed via webmail or by other email clients using POP3 and IMAP protocols.
While on the other hand, Outlook Application has now become the common choice among people because of its exotic and advanced features with a user-friendly interface. It is provided and is a part of Microsoft Office Suite and works more as a personal manager to you. The advanced traits of the tool manage and organizes emails in different categories.
In this article, we would present you with the right & perfect technique to Add GMX to Outlook on Mac. This is the robust and demanding solution of all times, kindly read and follow the article carefully. 
An Automated Solution for GMX to Outlook Migration
Here comes the most powerful and unrivaled tool which can directly let you add GMX to Outlook on Mac. MacUncle GMX Backup Tool can spontaneously migrate your GMX Emails to Outlook in just a few minutes. The application is secure and prevents your data from any damage or corruption.
Download for Mac Download for Windows
The utility preserves and maintains your folder's hierarchy during and after the process and doesn't hamper your information. The application also allows you to preview your GMX emails before the migration, so you're on the safer side. 
How the Tool Works!
Here are the following steps for you to follow carefully: –
1. Launch the GMX to Outlook Migrator.
2. Now type in your GMX Mail Credentials – Email Address & Password in the software.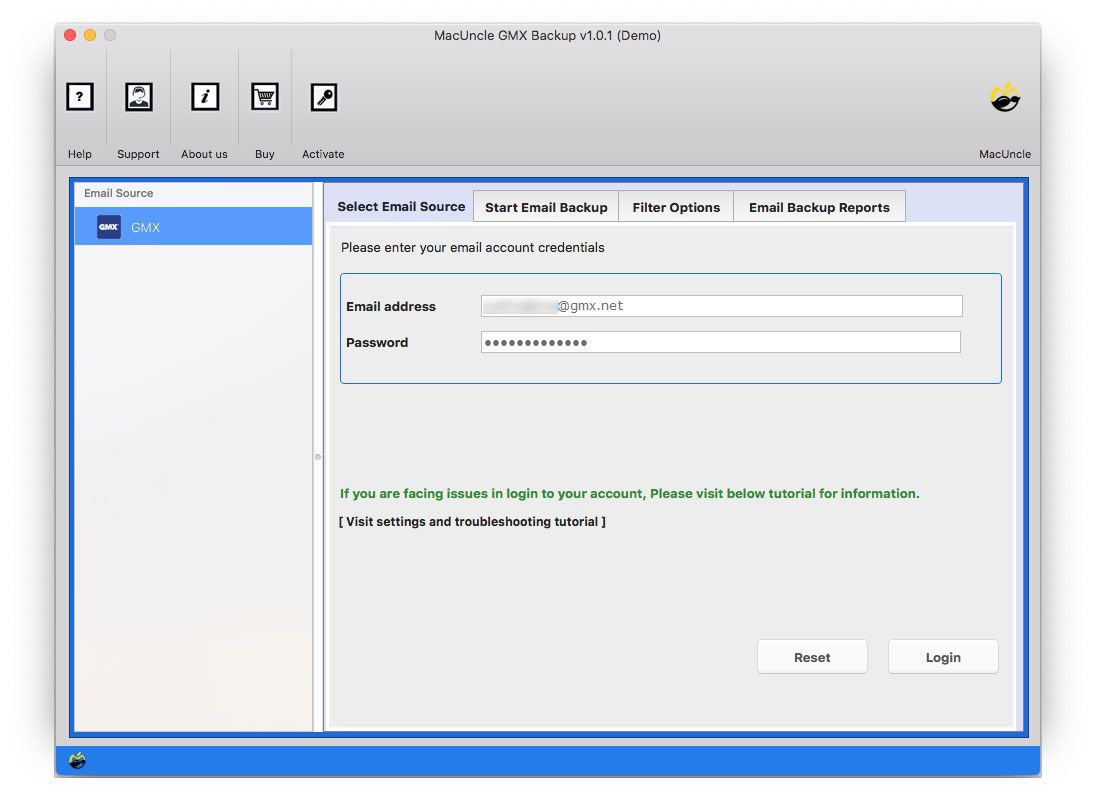 3. Pick any folder using the check box and then proceed with GMX to Outlook migration.
4. In case of backup choose your preferred file format and if you want to configure then choose the Outlook option from the Select Saving List.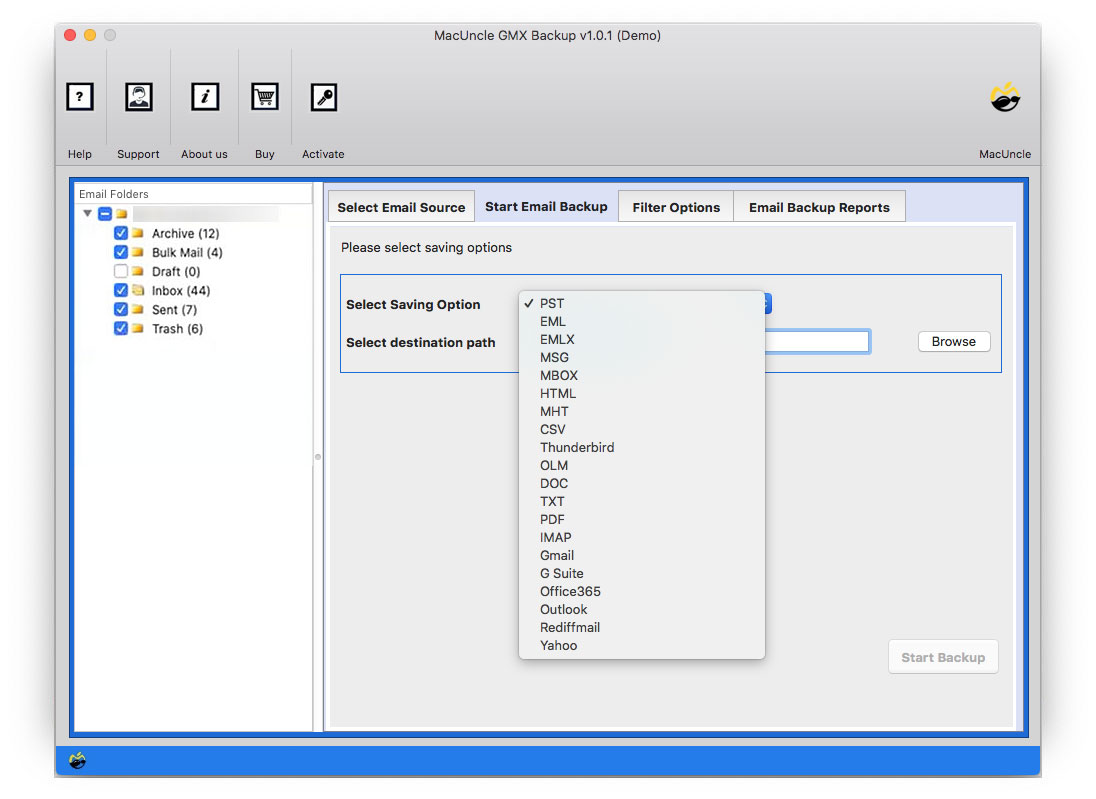 5. If you want to go for selective backup then go to Filter options.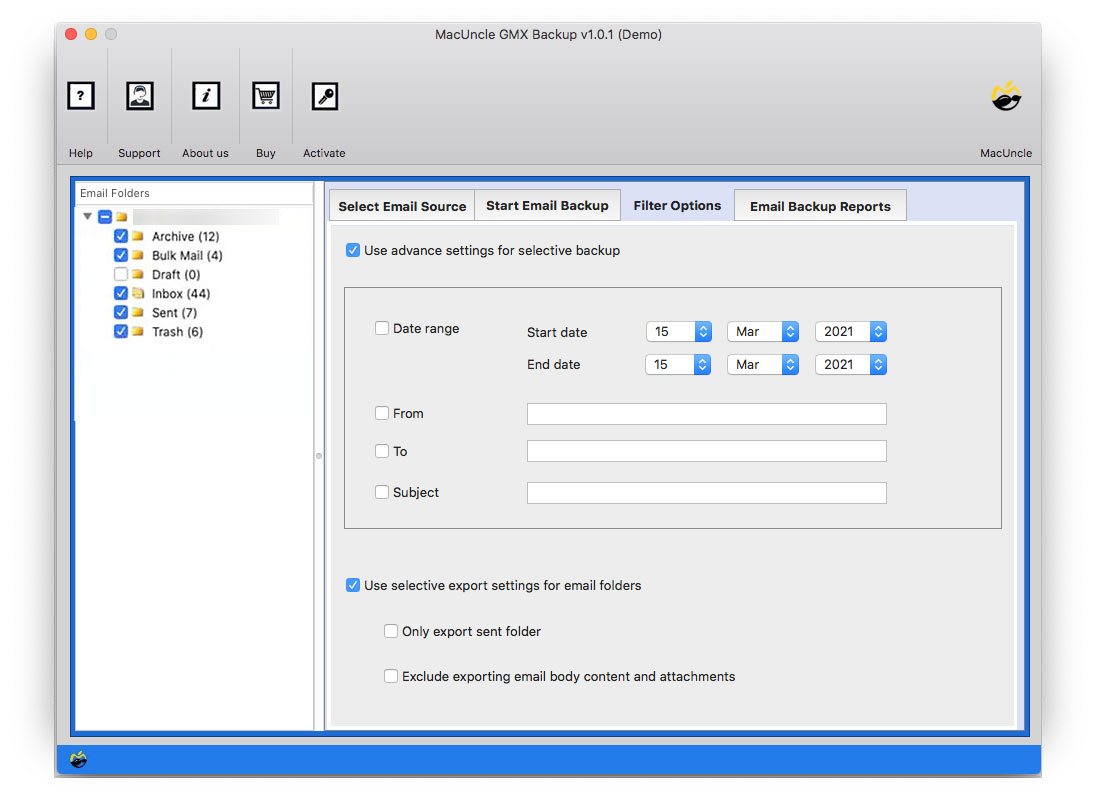 6. Now go back to Start GMX Backup and then enter the Outlook account credentials.
Finally, press the Start Backup button. 
Frequently Asked Question – GMX to Outlook Migration
How to import contacts from GMX to Outlook using this tool?
After logging in to the GMX to Outlook Importer tool, it scans & displays all the email files. From there, choose the Contact folder and proceed with the steps.
Do I need to have Outlook as a necessity for the migration?
No, without accessing Outlook, complete the procedure.
How many email files can be imported to Outlook from the GMX account?
Use the Pro version of the tool to import unlimited email data from the GMX account without any restriction.
The Final Opinion 
In the above blog, the perfect solution to Add GMX to Outlook on Mac is explained. We have recommended the best and most demanding tool for you to migrate GMX to Outlook 2013, 2016, etc. This tool quickly and efficiently configures your GMX emails to Outlook without any glitches and errors. The application comes with a user-friendly interface that allows even novice users to operate the software simply.