How to Export Evernote Files to Adobe PDF on Mac OS?
While using Evernote we all have been in a phase where we have to export Evernote to PDF format on Mac. Therefore, here we are with the best and most promising solution to convert ENEX to PDF or Evernote HTML to PDF. 
Evernote is common among business professionals and organizations as its ease in note-taking, organizing, archiving, task management, etc. The app is used to take notes consisting of text audio image saved web etc. Evernote is cross-platform works on all the top operating systems. Thus, in some scenarios, we might end up wanting to export Evernote to PDF Mac. Let's start with a query,
Hi, I am a blogger. I have been using Evernote since the beginning of my career. I used it for all my notes and to add my web content. Now I would like to print out some of the important notes. Could you please suggest any tool or software export Evernote to PDF format?
To clarify, it is a simple and common issue we all face. Therefore, we have provided the best application to convert Evernote ENEX to Adobe PDF format. 
Bulk Export Evernote to PDF Mac – A Tool for Mac OS 
The tool Evernote Converter for Mac OS – an independent tool trusted by Mac Users. Although we can export Evernote files in ENEX or HTML format. Therefore, the tool is designed with the compatibility of .enex and .html files. All the Evernote files to the software panel and convert ENEX files to PDF using the options given in Select Saving options. 
Steps to Export Evernote to PDF Document Format
Before using the tool, get the Evernote files locally to the system and then export Evernote to PDF Mac. Use the below-mentioned steps to extract files from Evernote: –
Start Evernote, select Notebook or note.
Right the notebook and select the Export button. 
Select any format – ENEX format, Single Web Page(.html), multiple webpage(.html).
Then enable the check box with required attributes.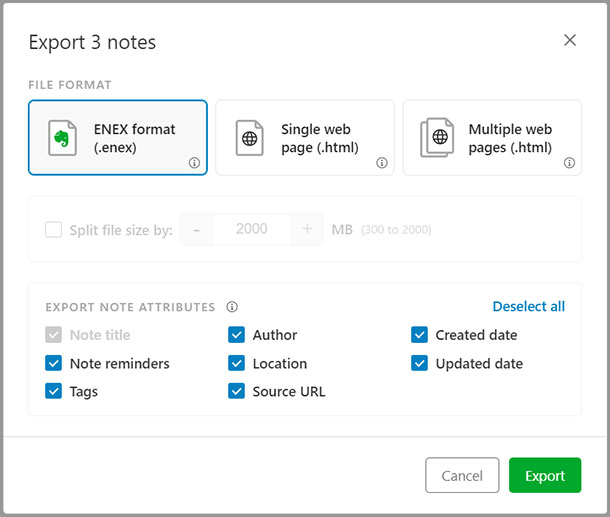 Now, hit the export button. 
Following up are the procedure to convert the ENEX files to PDF format:
Download and rub the tool on Mac OS X above 10.8 Mountain Lion. 
1. Use Add button to upload Evernote files in .enex to the software panel. And press the Next button to proceed.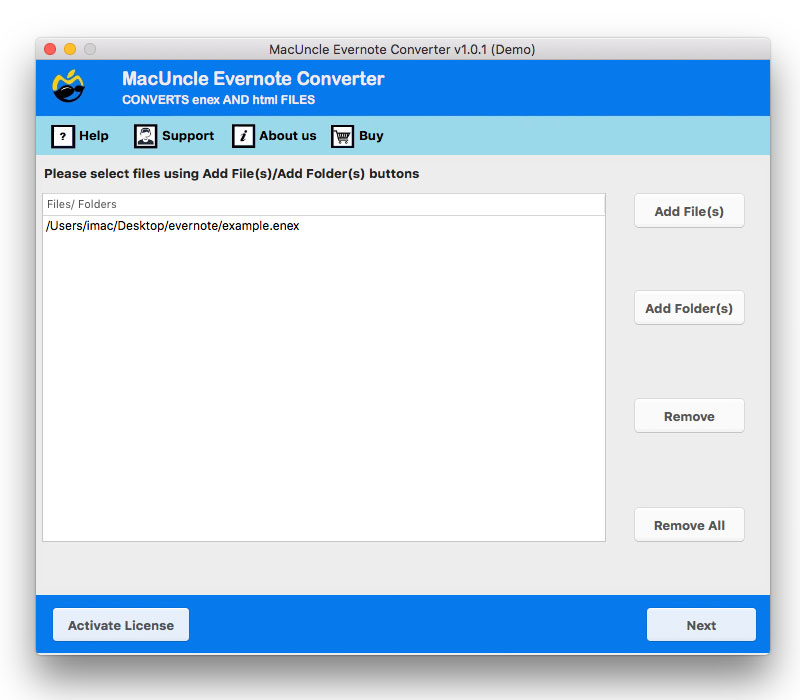 2. If you have added a folder, then all the files/subfolders will display on the screen. From there choose any file and again press the Export button.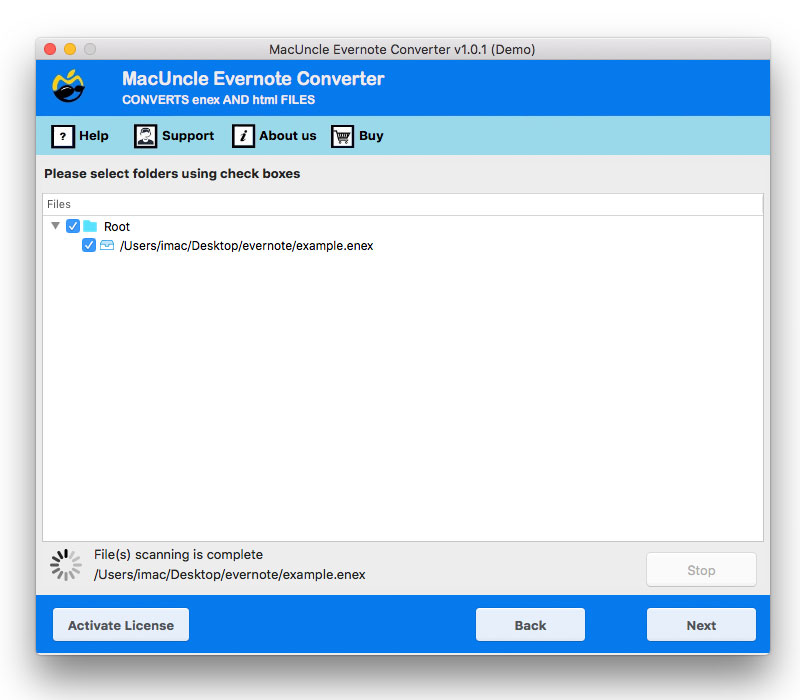 3. As a result, a new tab with a different field will display on the screen. Browse any destination location and select PDF from the Select Saving option.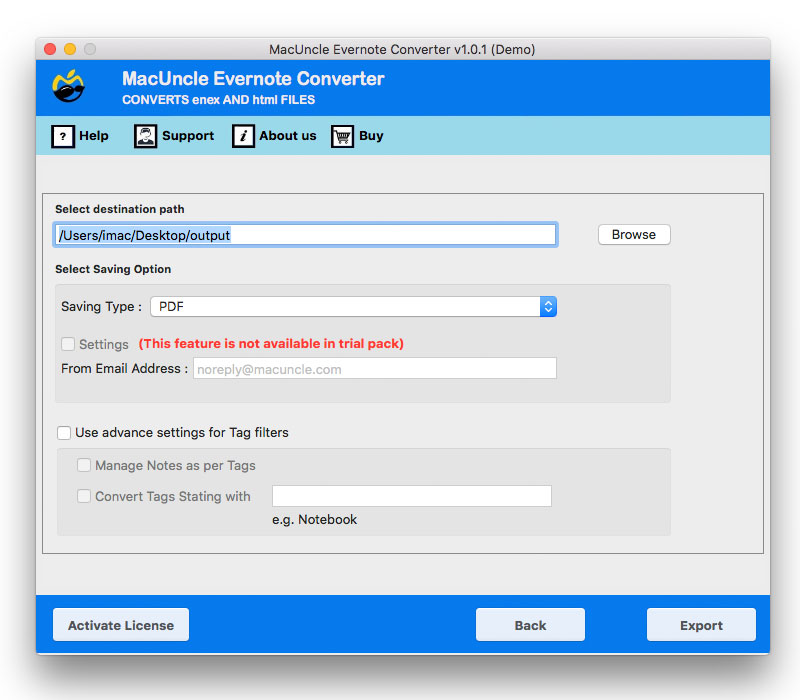 4. Use advanced tag filter, either select Manage Tag Notes as per Tags or Convert Tags stating with… Eg. Notebook. 
5. Finally, press the Export button to proceed with the Evernote to PDF Conversion.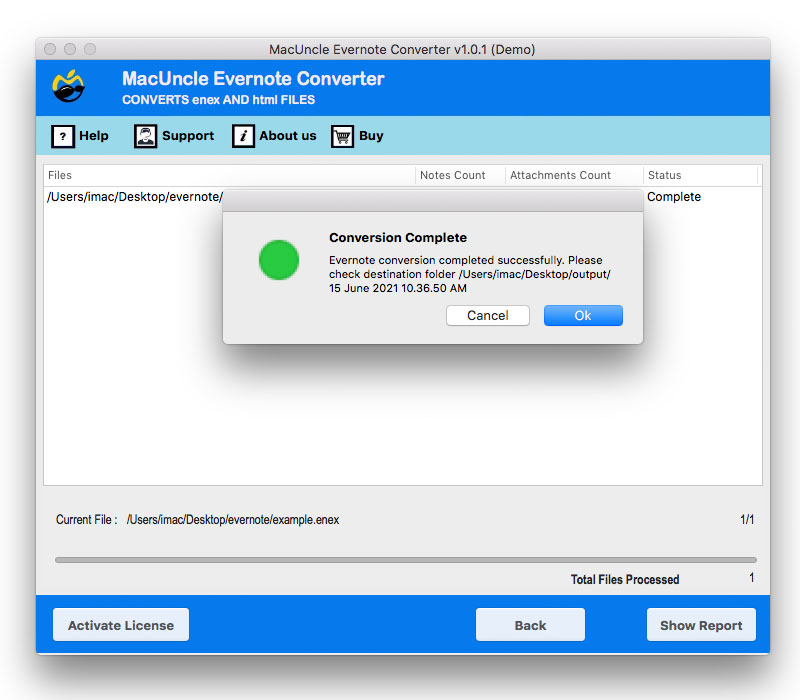 Pro Version of Evernote to PDF Wizard 
The tool comes in two different versions – The trial and Pro versions. The trial version is the free version with which converts several Evernote ENEX or HTML files to PDF format. To overcome the limitation, use the license key and activate the professional version of the tool for ENEX conversion. Above all get other advanced settings in the Pro version
Common Questions
Hi, I have the Evernote Exported files in .html format. Does the tool support HTML formatted files?
Yes, the software is built to export all types of files from Evernote – ENEX and single page or multi-page HTML webpage format.
Can I use this tool on my OS X El Capitan?
Yes, the tool is compatible with all the latest versions of Mac OS X above 10.8.
Do I need to have Evernote installed on my system to use the tool?
If you have the files from Evernote then, there is no requirement for Evernote installation. Complete the conversion without any external support.
Conclusion
The blog has derived the solution to export Evernote to PDF Mac with complete steps. From this write up you will get how to get the files from Evernote and then convert the files to Adobe PDF format. Using which one can easily print Evernote notes without any trouble. Use the two different additional options to perform batch conversion of Evernote Files.