Learn How to Export IMAP Mailbox to PST on Mac OS X
IMAP mail server always preserves a copy of the email files if your account is configured with IMAP. Backup is always a great idea, in this blog, you will get the simplest method to export IMAP to PST on Mac for all versions of Outlook 2016, 2013, 2010, 2019, etc.
IMAP is indeed the Internet Message Access Protocol, which allows a webmail server to access mail from your computer. But the problem occurs if you try to import emails from IMAP Server to email clients like Outlook. Technically speaking, this migration process needs technical skills if you are using a manual method.
Nevertheless, IMAP emails can easily be exported to PST on Mac with an automated solution.  The recipient solution will allow you to convert IMAP to PST on Mac-based computers with all email properties and attachments. Let's see the corresponding solution for dealing with the "how to backup IMAP to PST"; "how to export IMAP to pst in outlook 2013"; "export IMAP folders to .pst" problems.
Download IMAP to PST Tool for Mac OS
The software IMAP Backup Wizard for Mac is an excellent method for exporting IMAP to PST Outlook to Mac OS. The process has been made easy by email migration to Outlook from IMAP Server. In the below section the procedure is mentioned to backup IMAP emails to Outlook PST in the simplest steps possible.
Get the tool and install it to the Mac OS and follow the steps given below:-
1. Start the exporter tool and enter the account credential.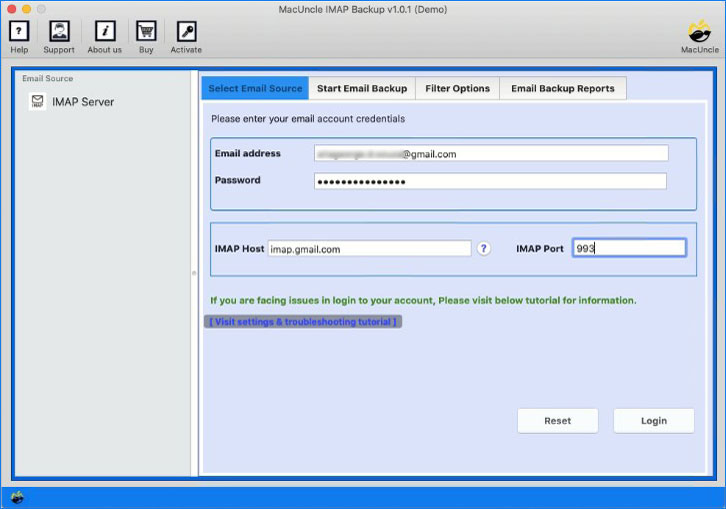 2. Select the email folder you want to convert and choose the PST Format.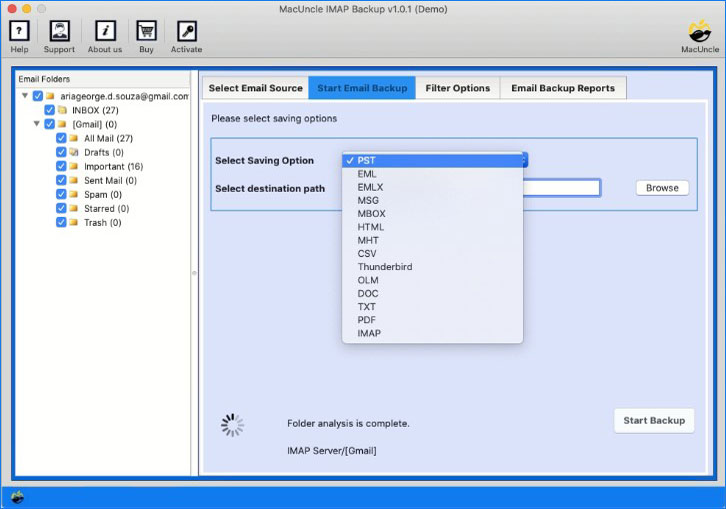 3. Click the Browse button to save the resulting file to the required location.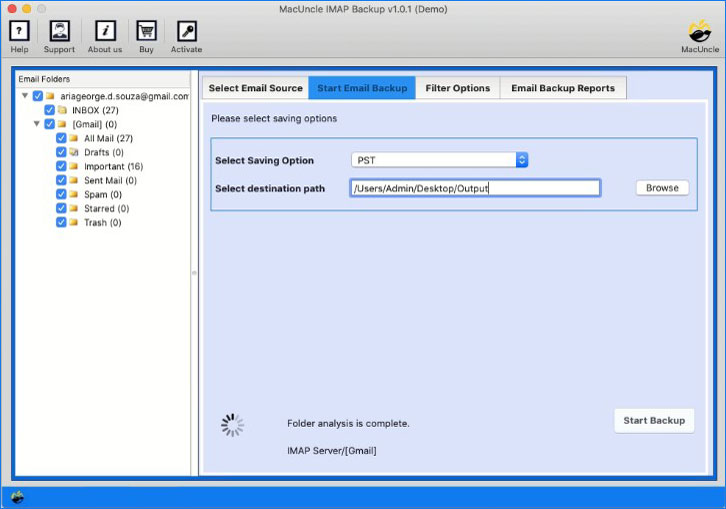 4. Advanced Filter option to backup specific date emails & export selective folders.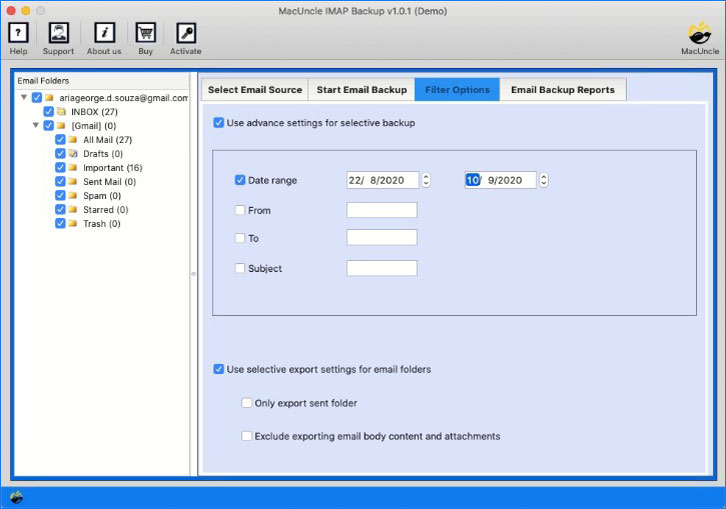 5. Then go back to Start IMAP Backup and click Start Backup.
6. In a few moments, a live IMAP backup will be started and soon the app will alert the conversion completion messages.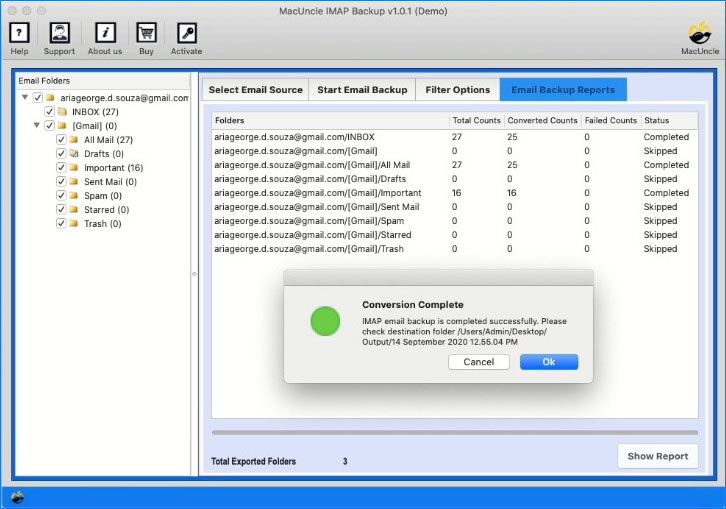 Now Open Outlook account to import the resultant PST files on Microsoft Outlook.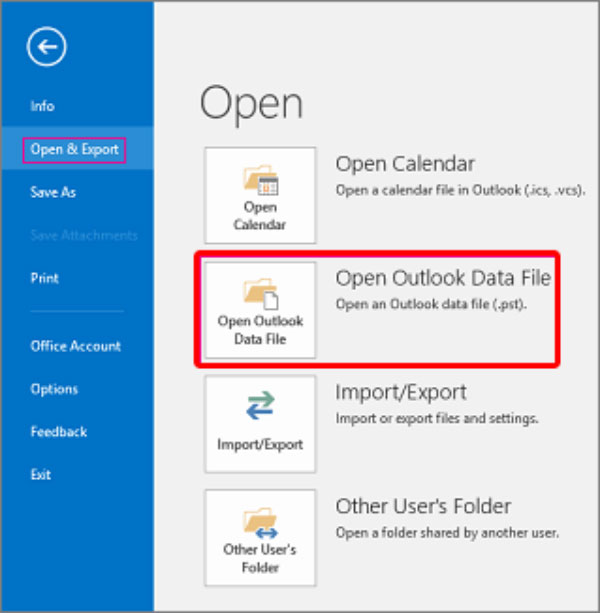 Aspects of IMAP to Outlook Migration on Mac Tool
Let's see some of the most stable features of the program.
Batch conversion: This excellent tool allows the backup in batch mode of IMAP email to PST. This offers users, during single processing, to backup multiple IMAP mailboxes to PST.
No data restrictions: It allows users to back up the PST file format in the IMAP mailbox without restrictions on the file. Without any hassle, you can convert unlimited emails.
Advance Mode option: The backup tool application includes an advanced option to filter the email file in date, From, To, and Subject. The filter option helps in selectively exporting IMAP email to PST on Mac.
Mac-compatible software: The application runs smoothly on all Mac versions such as 10.15 Catalina, 10.14 Mojave, 10.13 High Sierra, 10.12 Sierra, OS X 10.11 El Capitan, 10.10 Yosemite, 10.9 Mavericks, and 10.8 Mountain Lion.
Supports all Outlook versions: This software enables the users to export IMAP folders to *.pst for  Mac OS for any version of Outlook. It is compatible with Outlook 2019, 2016, 2012, 2010, etc.
Try Demo Version of the Toolkit
You can test the tools working before purchasing the Professional version of the software. Download the software Demo version, which helps to convert the first 25 mailboxes from the IMAP server to PST format easily. The trial version gives the complete working structure of the application to export IMAP mails to Outlook PST for Mac Machine. As a result, you can later activate the tool to the licensed version. It will enable one to export IMAP to PST files without any limitations. Click the button below to get the upgraded version.
Conclusion
As mentioned before, IMAP migration to PST is tough with manual solutions. Use this app to transfer IMAP mailboxes to PST and control IMAP Server mailboxes in your Outlook account. In this article, we explained a full technique for exporting IMAP account emails to PST format for Mac OS X-based machines.