Extract All Email Addresses from Gmail Account
Many users want to get email addresses from Gmail on Mac computers due to many reasons so here we will discuss some of the reasons and the method to extract email addresses from Gmail Account.
If you want to send an invitation to your family, friends, relatives, etc. on Gmail then surely, it's going to be a tedious task to search for every member's email addresses. Or else if you want to inform your professors about your job placement. Whatever the reason might be it is a tough duty to search for every mail id, therefore people/users search for alternatives as to how they can extract email addresses from Gmail in bulk, perhaps avoiding the inconvenience of searching ids again and again.
Extract Email Addresses from Gmail on Mac – Instant Solution
If you want to extract an email address from Gmail then here is the Robust and best solution. Here we recommend you Email Address Extractor for Mac, an easy-to-go method that can save all of your email addresses from Gmail at once in few moments solving all of your problems instantly.
It can extract email addresses from about 40+ email service clients including Apple Mail, Outlook, Gmail, etc. thus offering you a wide range of choices. It not only extracts the email IDs from the Two files but also CC, BCC fields. 
Guide to Save Email Addresses from Gmail
The Software is a standalone application and doesn't require any other application to get installed in your System. Here are a few steps which you can follow carefully to get done with your extraction process: –
Step1. Launch the email ID extractor on your Mac Machine.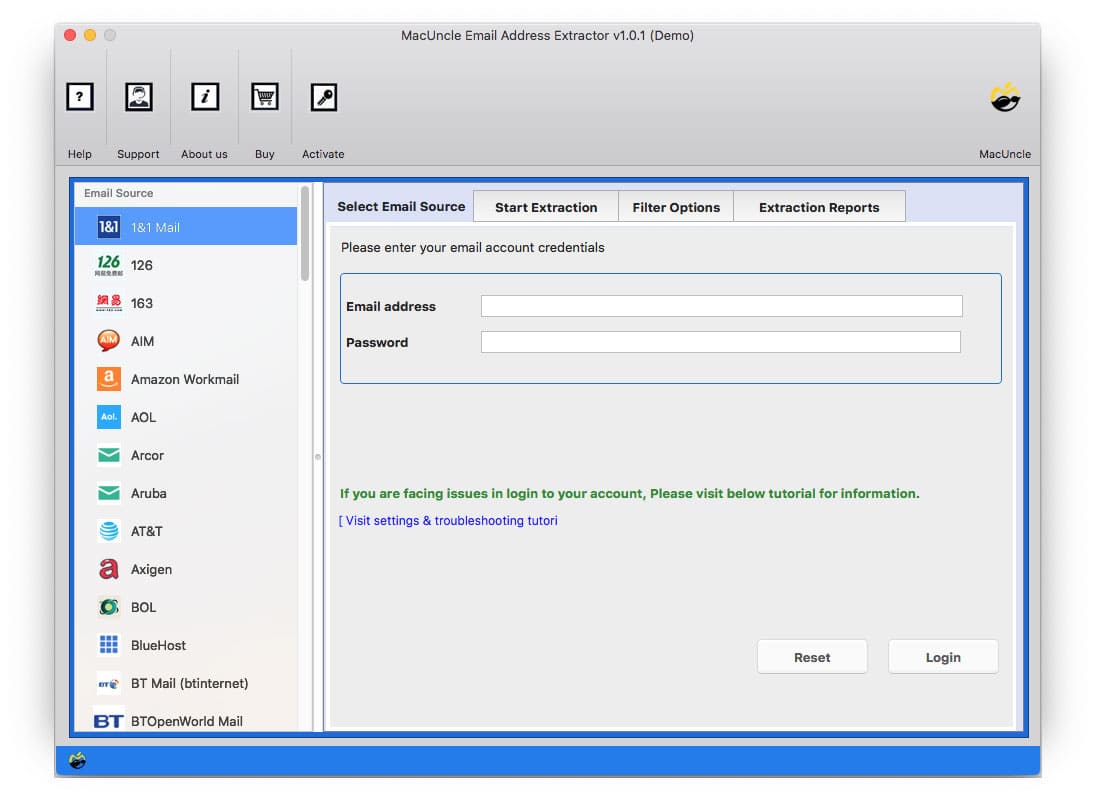 Step 2. Select Gmail from the Email Source tab on top and enter your credentials including your Email Address and Password.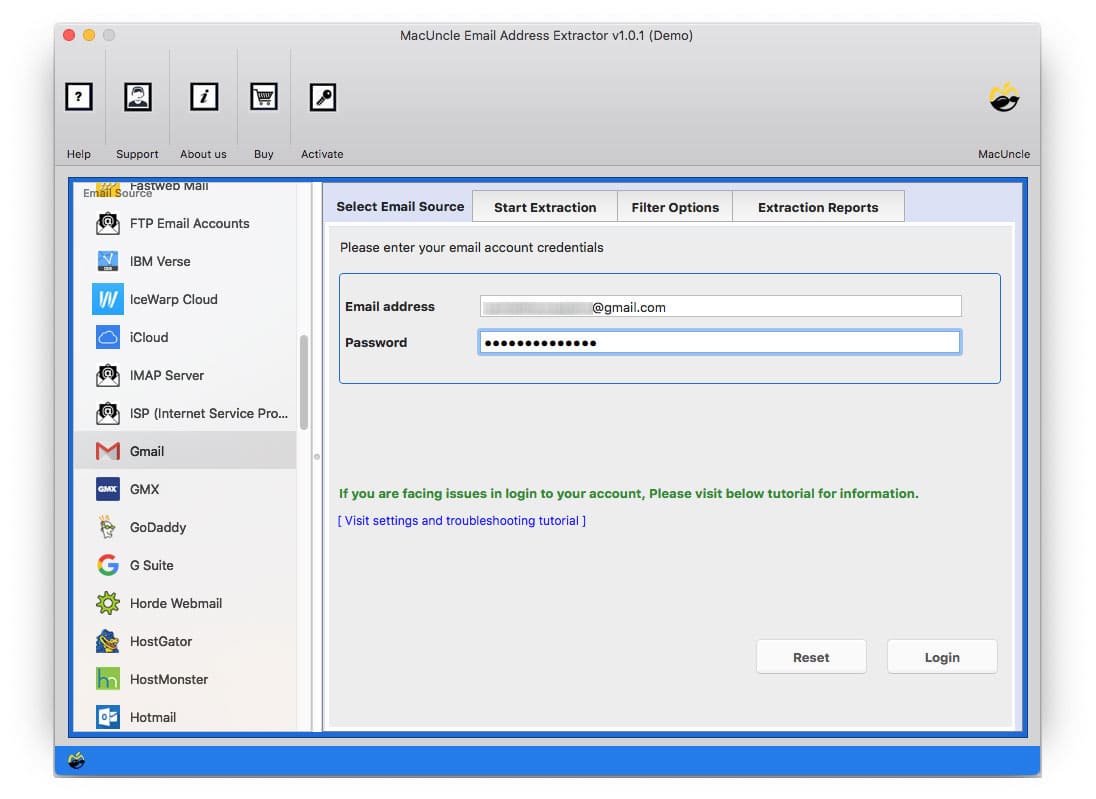 Step 3. Now choose the Inbox email file from which you want to pull your Email ID.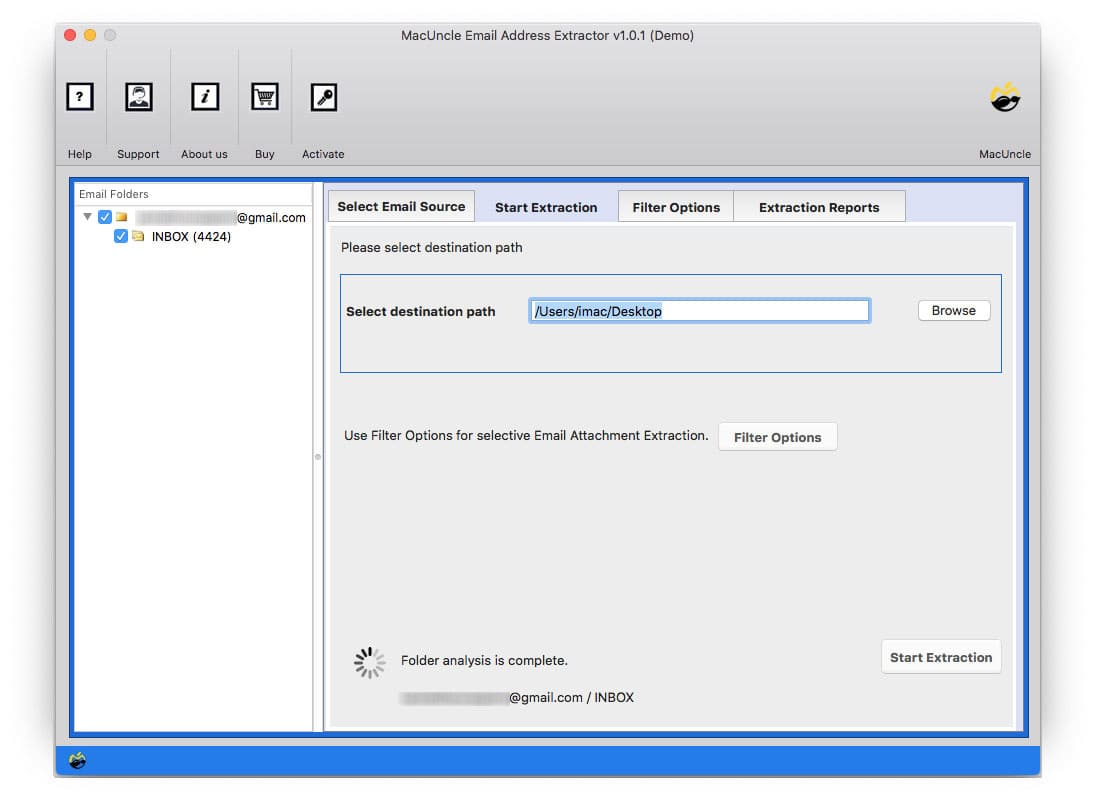 Step 4. If you want a selective selection then go for the Filter Option.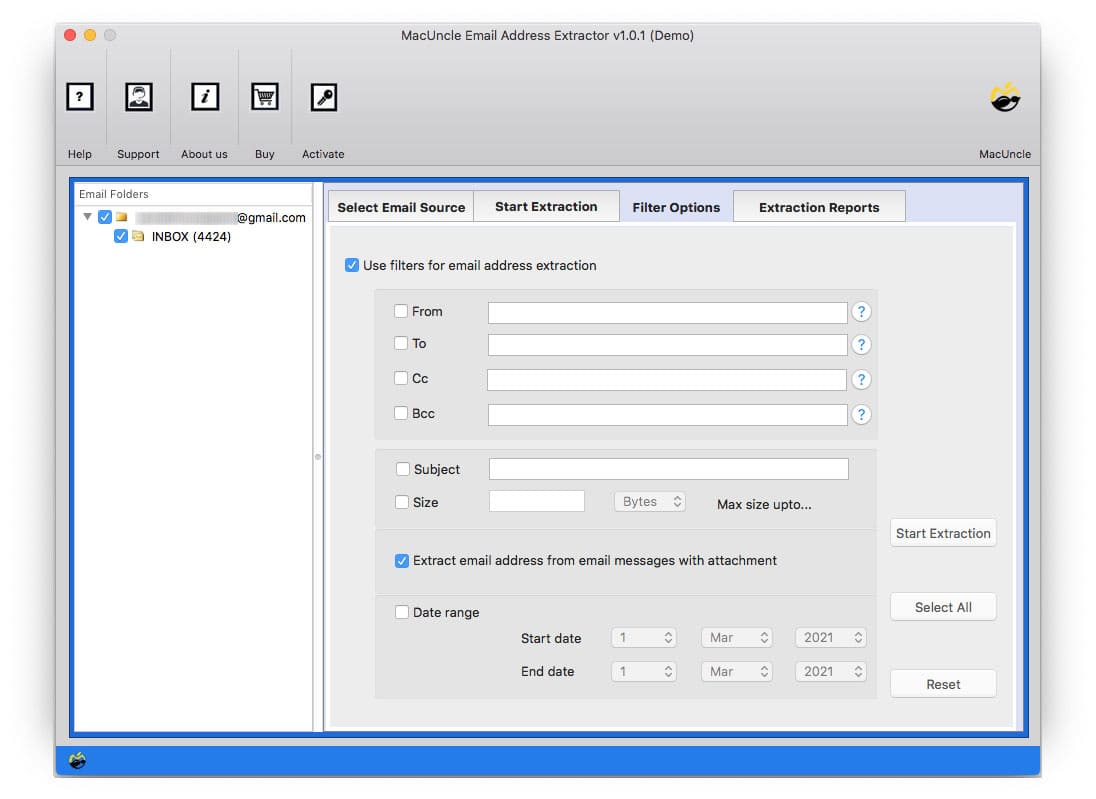 Step 5. Finally, click the Start Extraction button to start Email Address Extraction on your System. Then in few moments, the tool opens the location with a resultant CSV file consisting of email addresses.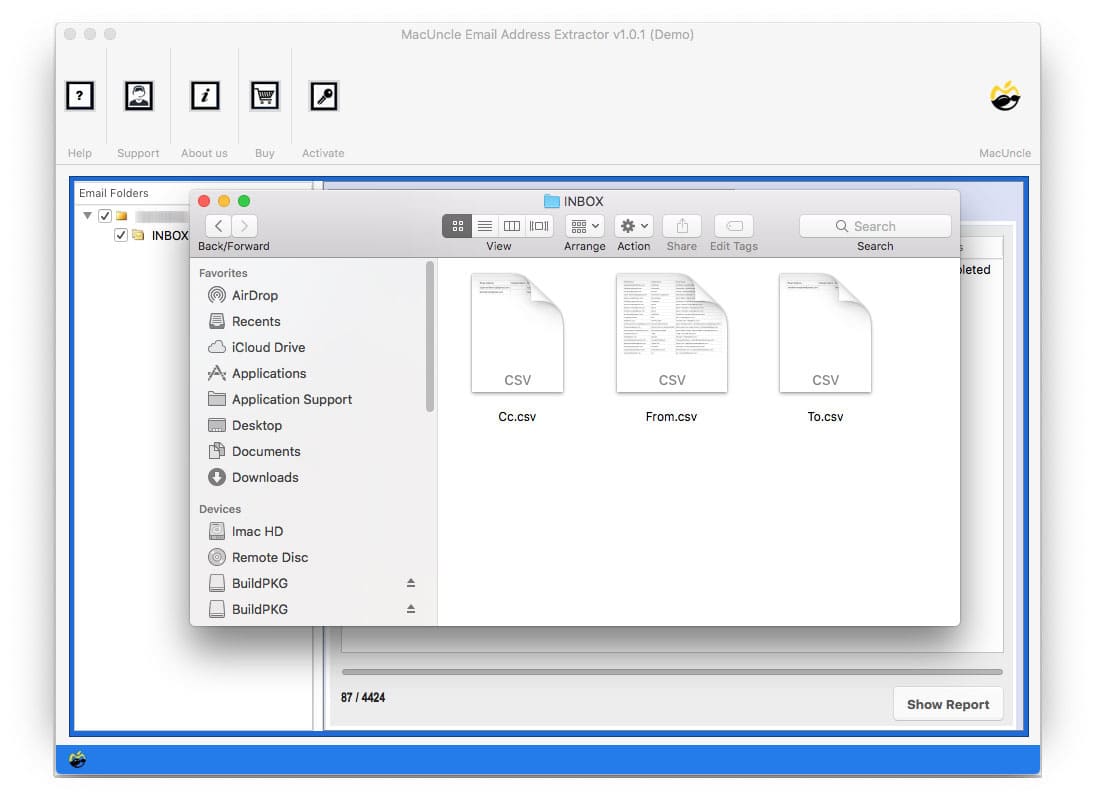 There it is, thus you can access multiple email addresses from Gmail Inbox messages.
Gmail Email Address Extractor for Mac – Advantages
Batch & Selective Extraction: The application offers you selective extraction from different files and folders present in your Gmail account while you can also pull email addresses in bulk from all the files and folders of the email client including from inbox, sent, deleted, spam, CC, BCC, etc. thus providing you the feature-rich and stable functioning.
Flexibility in terms of Storing: The application saves all your resultant email addresses on your local storage in just a few minutes easing your task of searching again and again for the email addresses. Therefore, reducing your overall time.
Compatibility: It supports all the latest versions of Mac OS like 10.8 Mountain Lion, 10.9 Mavericks, 10.10 Yosemite, etc. It comes with a 100% guarantee of safety and security.
Frequently Asked Question

Is it possible to use this tool on my Mac Catalina?
Yes, the tool works properly on all versions above Mac OS X 10.8 Mountain Lion.

Can I extract bulk Email ids from Gmail inbox messages files on Mac OS?
Yes, select the required folder or email messages and extract all the email IDs in the messages.

Does the tool offer solution to extract email id to any location?
Yes, the user is free to browse the destination location to the extracted email id.

I have entered my correct Gmail account information into the software, but it is showing some authentication error.

Before using the tool go to Less Secure App Setting and Enable the setting as shown in the figure. For more details go to Gmail Setting.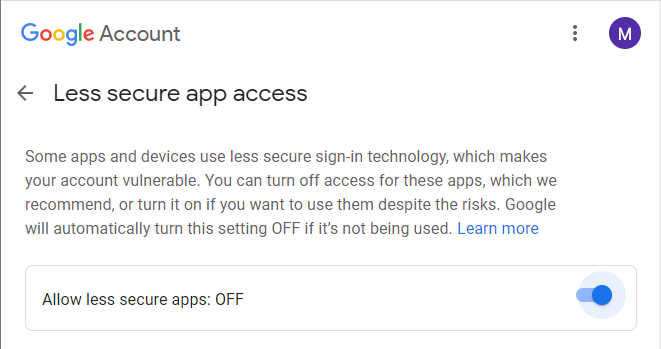 Summarize
Searching for email addresses will no more trouble you. We have suggested you a tool to get rid of all your problems and start extracting email addresses from Gmail on Mac in bulk, no more wasting time. The Email Address Extractor works the best providing you with exotic and rich features to pull email IDs. You can try its free version which extracts up to 25 email files for you free and then later opt for the Pro version which offers better filter options. It supports all the latest versions of Mac OS thus you can download and run it into your System easily without any glitches.