How to Save Yahoo Email as PDF on Mac OS?
The exchange of information from one end to another is at ease with email services such as Gmail, Yahoo, Outlook, etc. Users according to their comfort and trust choose their specific Email Client to share and receive emails. Yahoo is a commonly used Emailing Platform that acquires the third position among all Email Clients with 281 million active users. Students, Professionals, Legal Advocates, Businessmen, etc. use the email client vigorously to communicate. 
Users demand and search for ways to save Yahoo email as PDF on Mac systems due to a plethora of reasons. Many Businessmen or financers want their emails to be stored in the form of PDF as it allows external security options like you can keep a password-protected pdf file.
Therefore, we will provide users with 2-Alternative Ways to suit their requirements. The first Method will be a manual approach to print Yahoo emails to PDF on Mac and the Second will be an Expert and Best Solution to directly save your emails without any time consumption and glitches. The solution will save your email from any hacking, technical error, theft, etc. 
Why Switch to PDF Format only? | Benefits 
There are many Convert Yahoo Emails to PDF format on your System. Here are some:-
You can protect your sensitive emails using Password Protection as provided by PDF file format, thus avoiding theft, leaks, etc. 
PDF is a standard file format that is accessible from any device and anywhere independent of the OS. 
A Multi-Dimensional format that allows you to integrate various types of content like animations, videos, texts, hyperlinks, etc.
The PDF file format is compact and convenient to use. 
How to Save Yahoo Emails as PDFs on Mac Manually
Follow the below-mentioned steps to save Yahoo account emails to PDF:-
Log in to Yahoo Email and then click on the email message in which you want to store emails in PDF format.
Now, this will open the email and you have to go to More>>Print. 
On the opened window, set the 'Destination' row to 'Save as PDF'. 
Then, select the 'Save' button. 
Now, browse a saving location and click on the Save Button.
The above steps will save your Yahoo Emails to PDF document format on Mac System. 
Loopholes in the Manual Method
The Manual Method will work with selective Yahoo Emails only it will not be helpful if you want to save bulk Yahoo Emails to PDF on Mac. Also, the method is cumbersome as compared to the Professional Method, you can then opt for a third-party tool to perform the task for you in just a few minutes without any hassle. 
A Professional Solution to Save Yahoo Emails as PDF on Mac
For you the best and the most appropriate solution download the Yahoo Mail Backup Tool, it will provide you with a rich and worthwhile experience to keep all your Yahoo Emails safe and secure and convert them into PDF format. It supports a dual-mode of conversion both selective and batch conversion of Yahoo Emails to PDF format on the Mac System.
It preserves all your folder hierarchy and components as it was before conversion. by which, offering you a secure way to save your Yahoo Emails to PDF. You will be provided with various File Naming Options to save your resultant emails while you can also choose the desired location for your file. It comes with a guarantee of 100% of safety and security and supports all the latest versions of Mac OS.
Guide to Use the Tool
Carry out the steps mentioned below to print Yahoo mail to PDF format. Save Yahoo Email as PDF on Mac OS. 
Step 1. Start the tool to Save the emails on Mac Machine.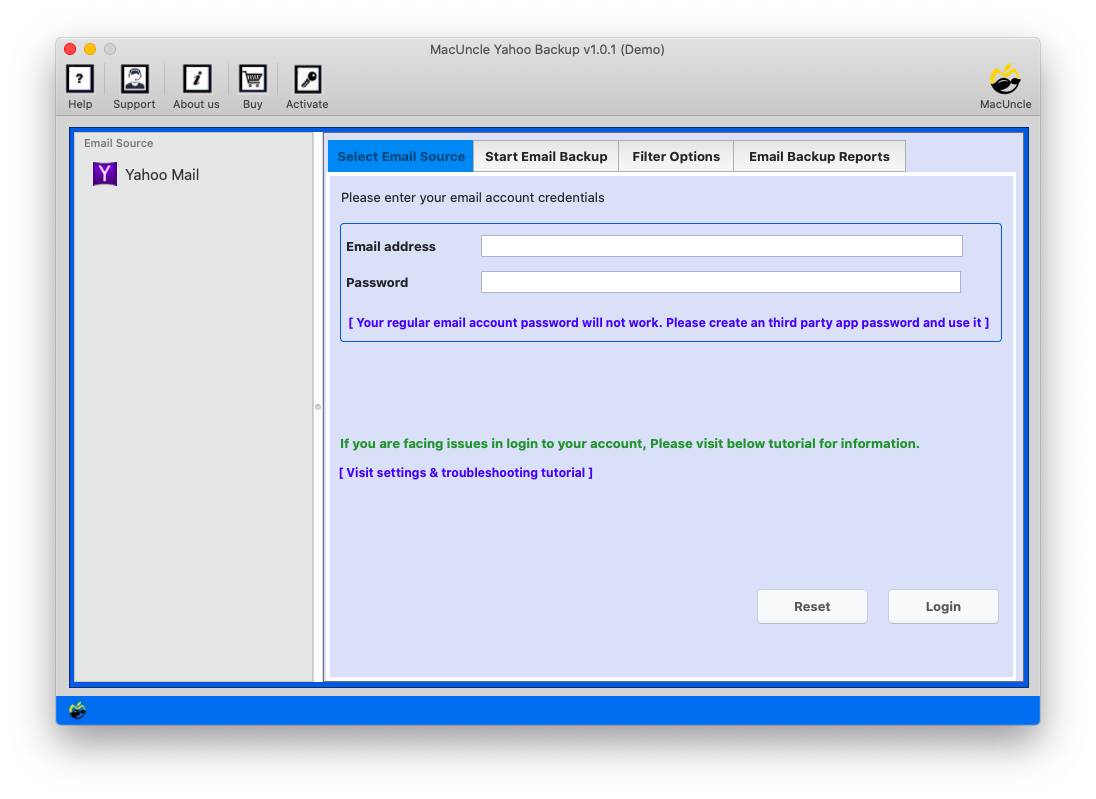 Step 2. Now enter the Yahoo Email Account Credentials– Yahoo Account Address & Password on the panel provided.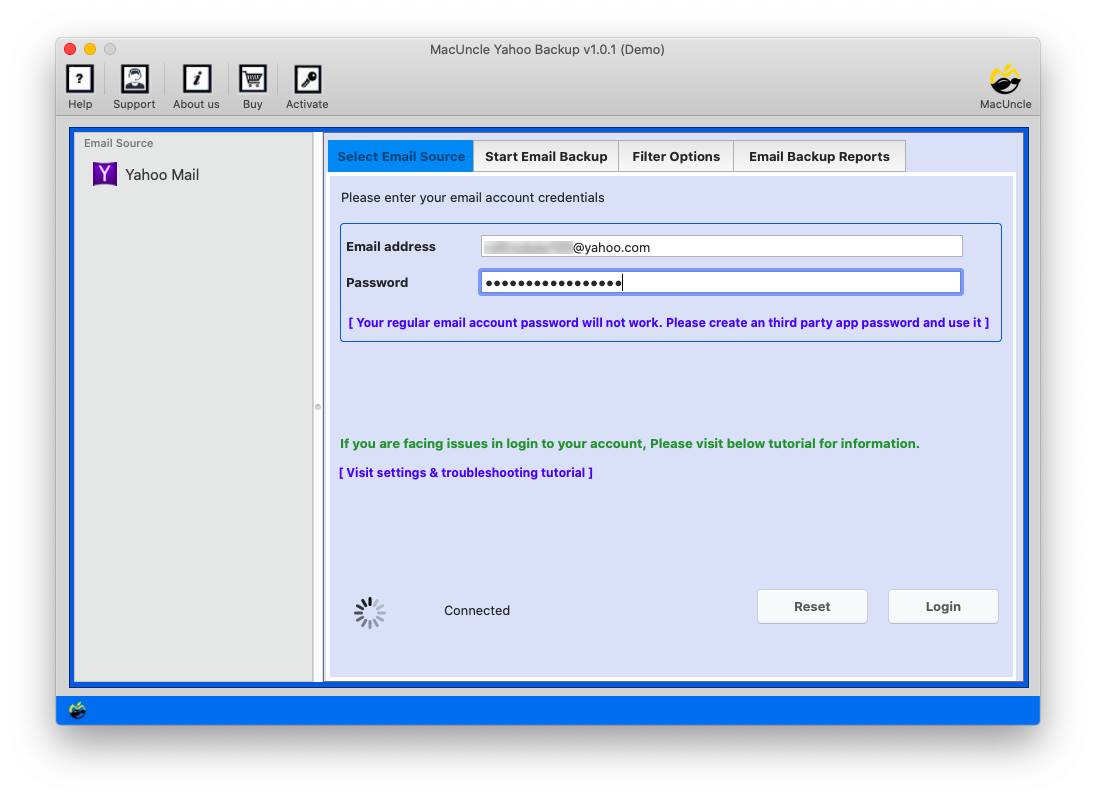 Step 3. Further, select the folder and choose PDF format from Select Saving Option. Now if you want to use the filters to select the date of the specific email if opting for selective conversion.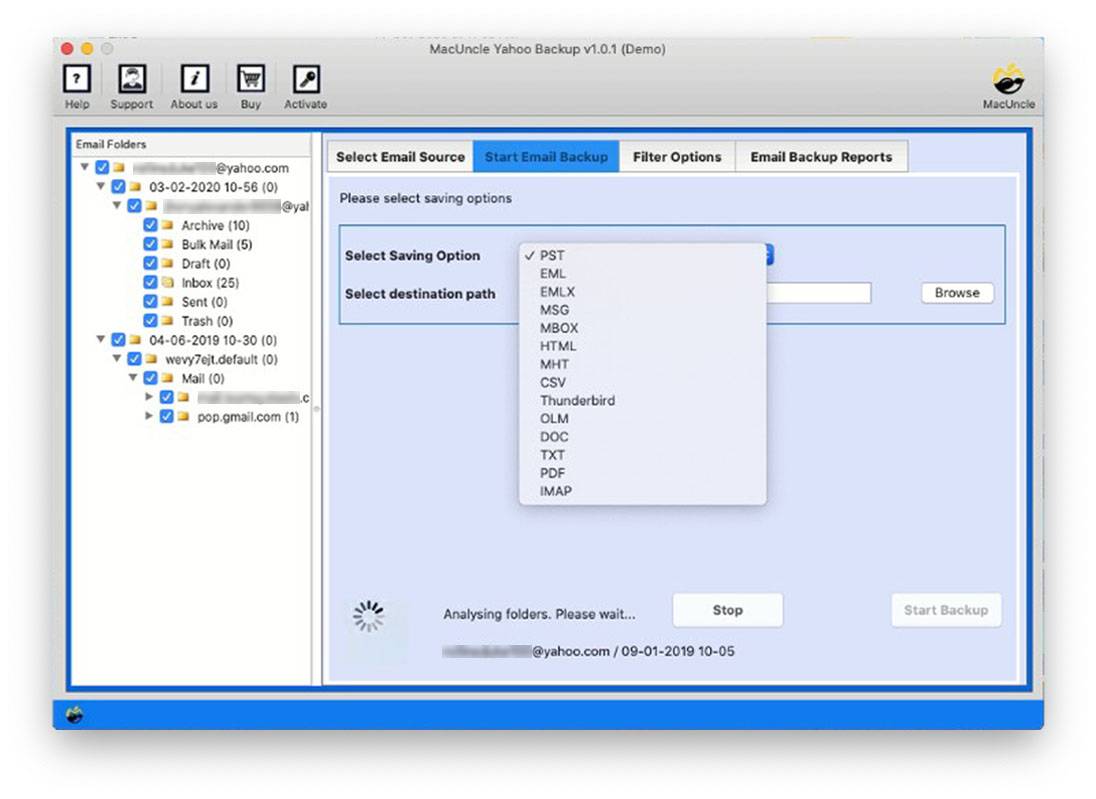 Step 4. Now Go Back to Start Email Backup and choose the Destination Path. Then click Start Backup to start the Yahoo Backup process. 
You will get notified after a few minutes regarding the completion of the Conversion and then you can browse to the destination folder to access your files. 
Final Words
The above article talks about the advantages of saving Yahoo Emails to PDF on the Mac System. You can save your data from corruption, data loss, etc. Also, you can provide additional security. Since PDF provides an option of keeping the file secured in the form of a Password. Thus you can save your emails in this way. Further, we have provided 2-ways to save emails to PDF format. One is the Manual Way to save it into PDF method but it can be helpful only if you opt for selective email conversion, not for bulk. And the Second Way is an Automated Solution. That can convert bulk or selective emails to PDFs all at once without glitches.