How to Convert Maildir to MBOX Files on Mac OS System ?
Let's discuss how to convert Maildir to MBOX on Mac OS – Apple Computers, Macbook, etc. without any issue. As several Mac users are searching for a simple solution to export the Maildir files to MBOX format. Hence from this article, you will get the complete information to convert the Maildir to MBOX on Mac OS.
Maildir is an email format used to store email messages. Every message is stored as separate email files. It's a more organized and systematic way to store mailbox data. The Maildir directory is divided into three different subdirectories, including * .tmp, * .new & * .cur.
Whereas MBOX is the most common file format in different email clients. Save messages in a concatenated format where each message is stored after the next one, starting with the "From" header. This MBOX file is supported by several e-mail applications, i.e. Apple Mail, Pocomail, Entourage, Spicebird, Eudora, Seamonkey, Mac Mail, Netscape, etc.
Convert Maildir to MBOX Format on Mac OS
Email files in Maildir can be converted to MBOX file format with the help of the utility Maildir Exporter for Mac. The whole conversion process, i.e., from uploading the Maildir files to the software to getting the preview of the resultant folder, can be executed within a few steps.
The tool is compatible with all the latest versions of Mac OS above X OS 10.8 Mountain Lion such as Catalina macOS 10.15, 10.14 Mojave, 10.13 High Sierra, 10.12 Sierra, OS X 10.11 El Capitan, 10.10 Yosemite, 10.9 Mavericks
Maildir to MBOX on Mac OS – Two Different Versions
Maildir to MBOX Converter Mac has two different versions – Demo & Pro / Licensed Version. Both versions comes with different features while converting the Maildir to MBOX format. Get the Tool as per the requirement –
Demo Version: Try this version for free of cost. As it allows us to convert 25 email files in Maildir to MBOX format. Use the Demo version to know how the tool actually works.
Pro Version: Get the version by purchasing the license key in order to upgrade the tool to Pro. Export unlimited Maildir files to MBOX format without any restriction. One can easily convert bulk Maildir to MBOX format using the Pro version of the software.
How to use:
1. Start off by downloading the software and then, set up the tool on Mac OS.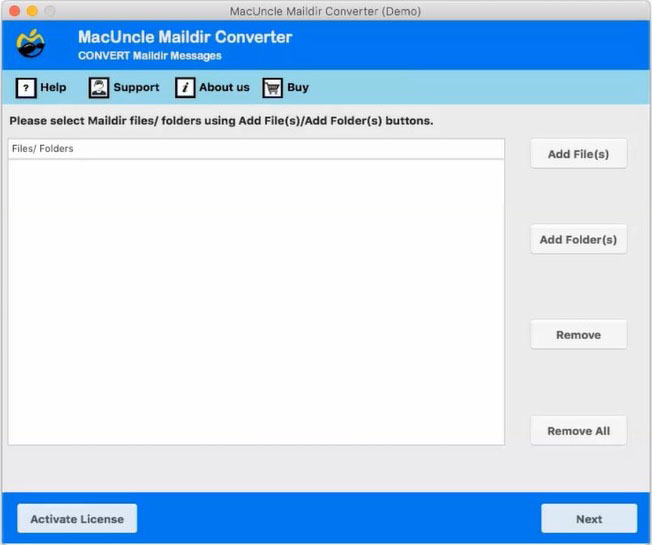 2. From the options Add File(s) or Add Folder(s) upload Maildir files from the system to the software panel. Select Single or multiple files using these options.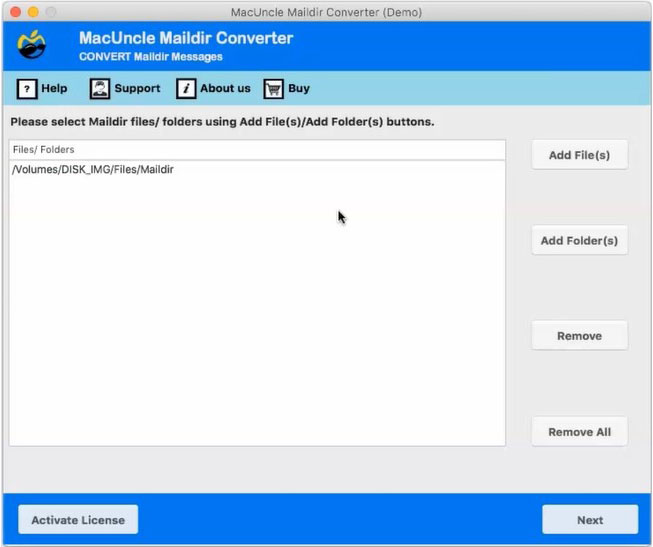 3. Click the Next button, then select specific files or folders for conversion. Then, click the Next button.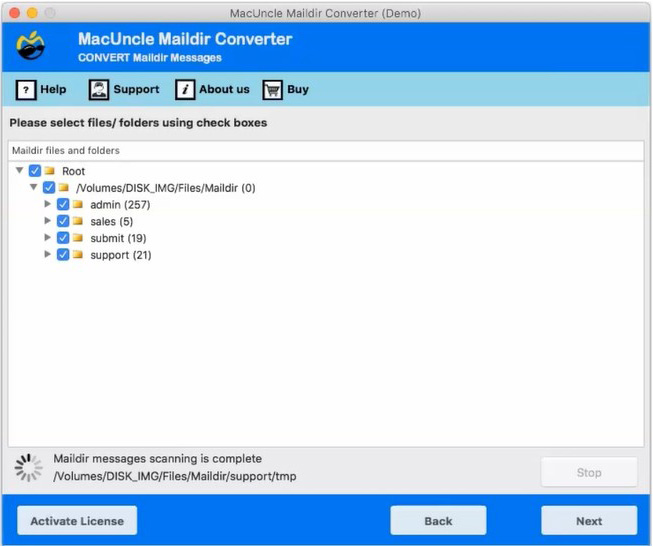 4. Choose MBOX format from Select Saving Option and Destination Path where you want your result file to be saved.
Also, Convert Maildir to EML with the software.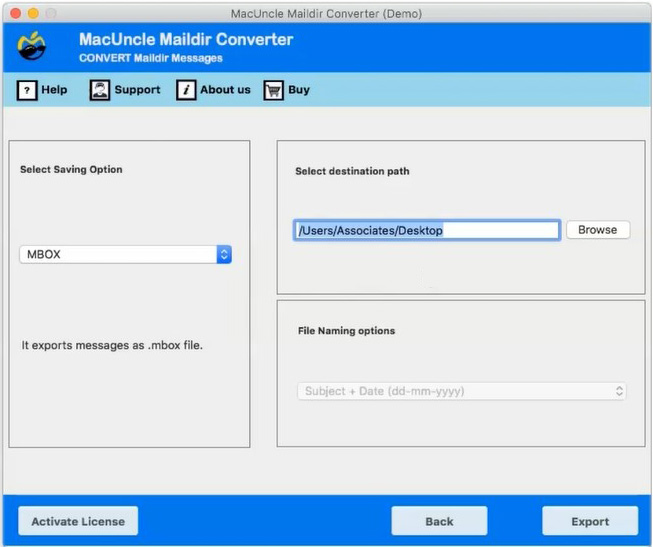 5. As a result, the live conversion of Maildir to MBOX on macOS takes place.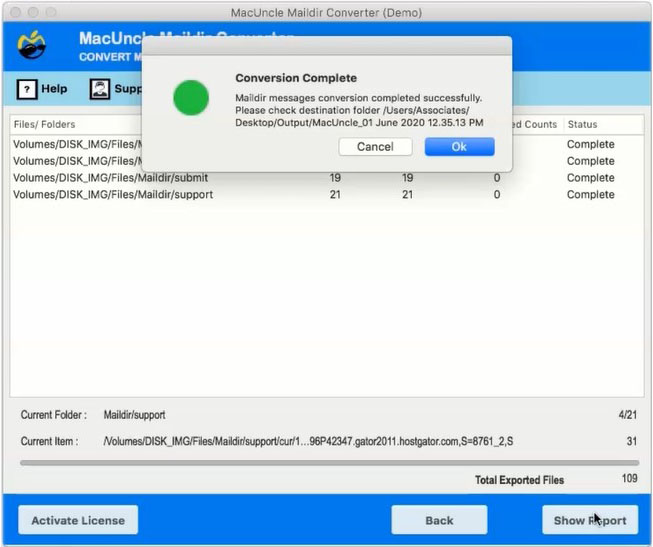 Further, a few messages about the conversion of Maildir files and Trial package limitation appears on the screen. The preview of a log report consisting of the details of the software will be provided by the software. As soon as closing the current log report the software will preview the folder with resultant MBOX files.
Traits of the Mac Tool
The toolkit comes with advanced features which make sure the email files are converted quickly with accurate results in the end. As you can see from the above section that the conversion of Maildir is effortless, which is possible with the help of the following aspects of the tool:
Backup Maildir in MBOX format in a short amount of time.
Two different options for uploading Maildir / Maildir++.
Support both selective conversion and batch conversion.
To be able to select specific files to export to MBOX format.
No file size restriction while migrating Maildir files.
Maintain the hierarchy of email file folders.
Direct conversion of Maildir to MBOX email format on Mac OS.
In Conclusion,
It is not possible to access Maildir files in all email clients. Users are therefore looking for a solution to convert Maildir to MBOX format. In this article, we learn how a user can successfully Export Maildir files to MBOX files. The resulting files are of a universal format that can be imported to a variety of email clients, including Apple Mail, Mac Mail, Entourage, Eudora, Netscape, and Pocomail on Windows, Mac & Linux.