Learn How to Convert MBOX Emails to DOC Files on Mac OS
Are searching for a solution to convert MBOX Email to Doc on the Mac system? Then here we go, in this article, you will get the complete details on converting the emails in the *.mbox file to Doc. Users can modify the email files as per the requirement.
Word is a powerful document editor at present. And when it comes to converting MBOX email files to Doc for Mac, we developed a direct solution. Now, within just a few moments you can easily export mailbox emails to document file format.
Some Features of Doc File
Therefore, as most users are looking for a solution for converting MBOX to document format, let's see the advantages of Doc files over MBOX email files –
Doc Files are easy to share with other users through different messaging applications such as Facebook, WhatsApp, Telegram, Skype, etc.
Users can conveniently access and open MS Word documents using several Text programs.
Microsoft Word documents can be edited easily and users can insert multiple things in Word documents.
This produces smaller, lighter files, easier to read and copy from anywhere.
Expert Solution to Convert MBOX to Doc on Mac
For the time being, there is no free tool to convert MBOX to Doc on Mac. As you want to export MBOX to Word Doc, it is recommended that you get the best email file converter for Mac OS-based machines. The software MBOX Converter has a simple and user-friendly software GUI. This application provides the user with a direct alternative to converting mailboxes to Word Docs. The software is designed to convert MBOX files from different email clients Gmail, Apple Mail, Thunderbird, Opera Mail, etc. in the Word DOC format.
Get the Trial version of the software from here:
Features of MBOX to Doc Exporter for Mac OS:-
Effortlessly convert the MBOX emails to Doc format.
The tool supports selective as well as batch conversion of the MBOX files.
The software upholds data integrity and retains the Metadata properties of source emails.
This program provides a dual method of loading MBOX files either through files or through Folders.
The software is fully stand-alone to perform its work and does not require the installation of third-party applications.
This application is a convenient and efficient way to import MBOX into your Mac OS account.
5 Step Procedure to Export MBOX Files to Word
1. Start the application on Mac OS-based computer.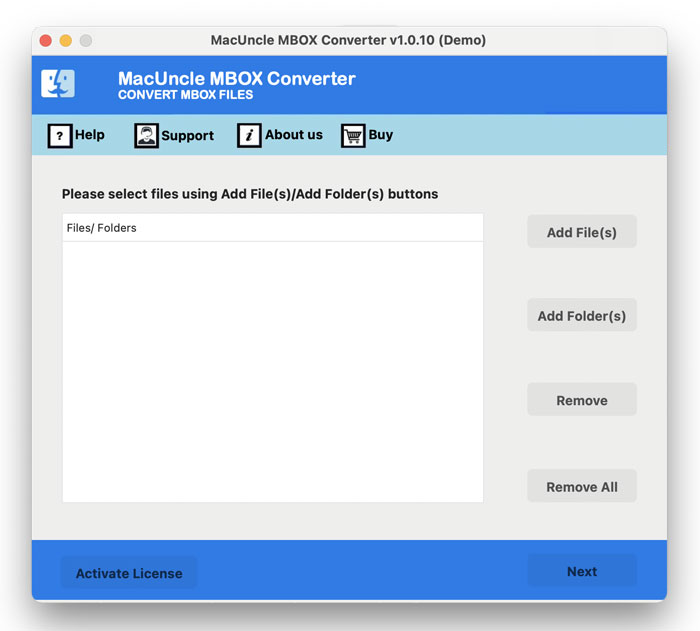 2. Here the application offers two different options to add MBOX files to the software. The user can use Add File(s) to upload single MBOX files or Add Folder(s) to upload MBOX files consisting of folders. Then, click the Next button.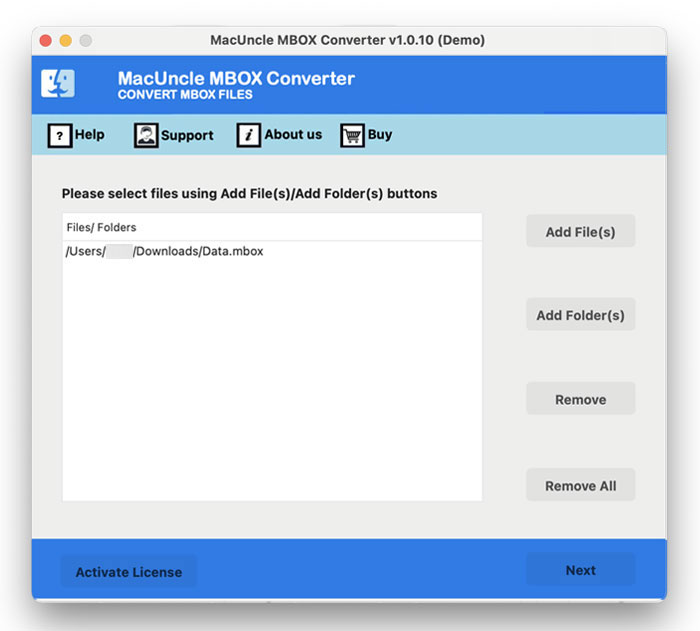 3. Choose the DOC Format from Select Saving Option to convert.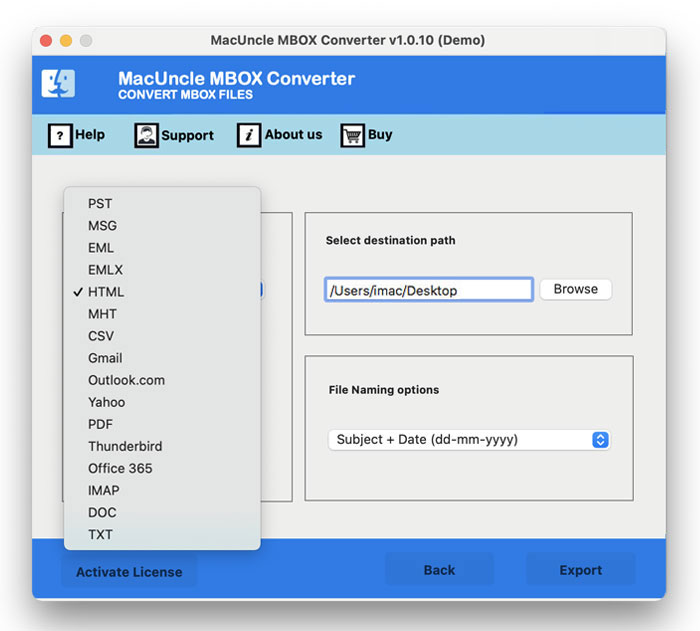 4. Then, choose the desired location and file naming pattern to store & name the resultant files respectively.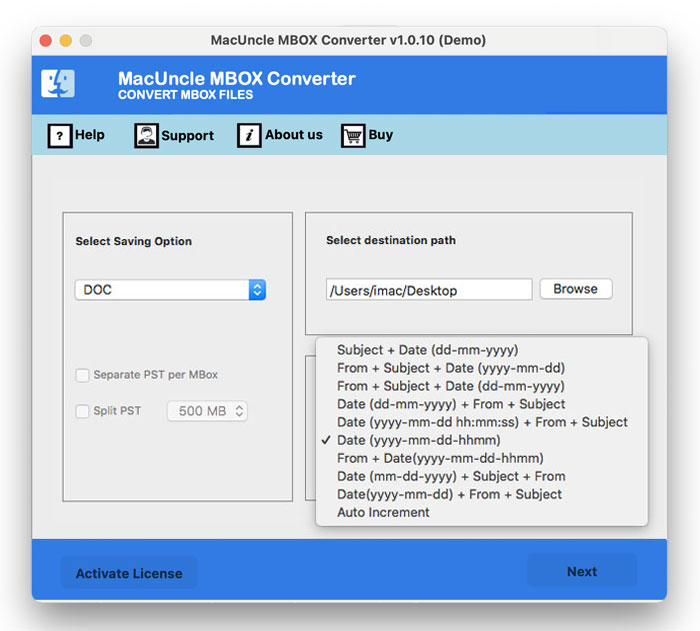 5. Afterward, click on the Export button to start the live conversion. Wait for a while as you will receive a few messages and a log document.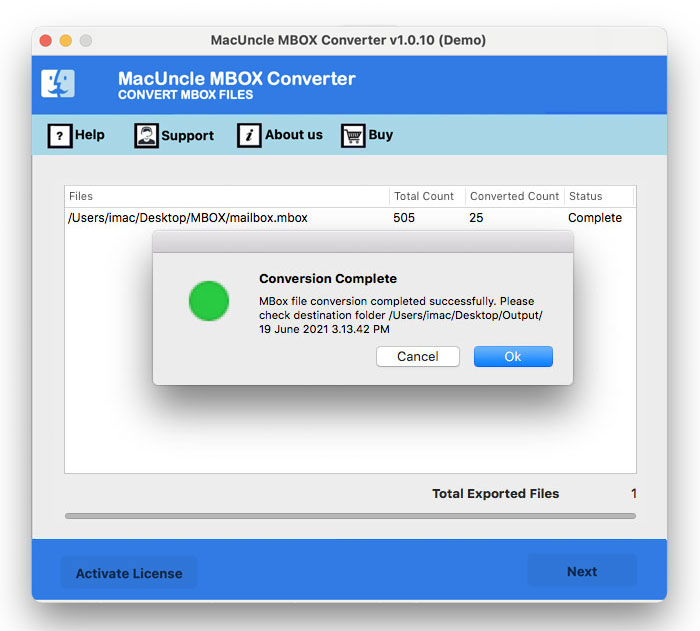 6. As soon as the conversion completes the folder with the resultant file i.e., Doc files displays on the screen.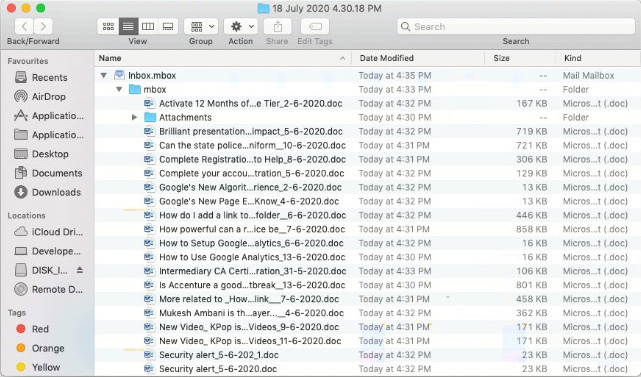 Final Verdict
In the above article, we have illustrated a complete solution on how to easily convert MBOX to DOC format. If you want to convert multiple mailbox data items to MS Word DOC files, then the most ideal choice is this Mac MBOX to DOC conversion tool. Using this, you can convert MBOX files to DOC format as well as MBOX to PDF Format on Mac easily, without any trouble. Also, this software allows you to easily migrate *.mbox emails to MS Word 2019, 2016, 2013, 2011, 2010, and the versions below.
FAQ – Convert MBOX to Doc
Does the software support Thunderbird Mailboxes?
Yes. All types of MBOX files are compatible with the software panel.
How many files can be converted at once?
Add multiple files to the software panel using two different add buttons.
Does the tool work on Windows OS to export MBOX to DOC?
Yes. The Windows edition of the software is also available.