Export Emails or Contacts from Outlook PST to CSV on Mac Machine
If you are looking for a solution on the internet to export Outlook Contacts to CSV. Then you have landed on the right page and article to perform the task simple in just a few steps. Many people search for alternatives to convert PST to CSV on Mac without Outlook for various reasons.
Sometimes users find it hard to manage large databases in PST format or don't have Outlook installation. Therefore, they opt for CSV which stores your data in tabular format, enabling an easier way to manage your information.
What are CSV & PST Files?
CSV stands for Comma Separated Value and stores your data in tabular format. They are normal spreadsheet-like file formats and make it easier to share your spreadsheet with other clients. It can carry complex data in a simpler and more precise way. They are supported by various platforms like Google Contacts, Outlook applications, etc. While you can also access it in Excel, Google Sheets, etc.
On the other hand, PST stands for Personal Storage Table which stores information from your Outlook application. It is a multi-dimensional storage file format that stores your emails, calendars, tasks, and events. Thus, it acts as a more personal information manager.
This article will explain to you the best and right solution to Convert PST to CSV on Mac. We will provide you with the 2-best methods to go for, the first is the Manual Method – the #1 Method, but it comes with a prerequisite, you have to have Outlook installed in your system. If the files are encrypted then unlock the password protected pst file and convert it to *.csv. while if Outlook isn't there, then for sure go for the #2 Method.
Manually Convert PST to CSV on Mac with Outlook
Follow the below-mentioned steps if you have Outlook installed on your Mac system: –
Start and open the Microsoft Outlook application on your machine.
Then import all your PST files into the Outlook application.
After you have completed the import process, click on the File menu.
Hit the Open button and then select Export/Import.
Hit the Export button and then click on the Next button.
Then click Comma Separated Value and then again press the Next button.
Now select the Contacts folder from the imported PST account and press the Next button.
Then choose your preferred destination location with a file name.
Finally, press the Next button and click on the Finish button.
Prerequisite: Installation of Outlook application is mandatory to perform this method
Effortless Method to Convert PST to CSV without Outlook
The most trusted software PST Converter for Mac. This utility doesn't make it obligatory for you to have an Outlook application, you can convert the same even without an Outlook application. The tool makes it an efficient and faster way to convert PST to CSV on Mac effortlessly. The wizard converts the entire Meta components of Outlook data files to CSV without any glitches and errors.
Export Outlook contacts to CSV using the tool with a 100% secured solution. The wizard is user-friendly and comes with a coherent GUI that enables people to operate it effortlessly. The tool preserves and maintains your folder's hierarchy during and after the procedure. The application offers a dual mode to upload PST files in the software, either in bulk quantity or selectively using the Filter options. You can also avail of free conversion of up to 25 PST files to CSV.
Use the same toolkit to Import PST files to Office 365. 
How to Operate the Application
Get the tool and install it to Mac OS 10.8 Mountain Lion or above versions. Start the tool & follow the steps mentioned here:
Now choose the files that you wish to convert to CSV using the Add file (s) or Add folder (s) options.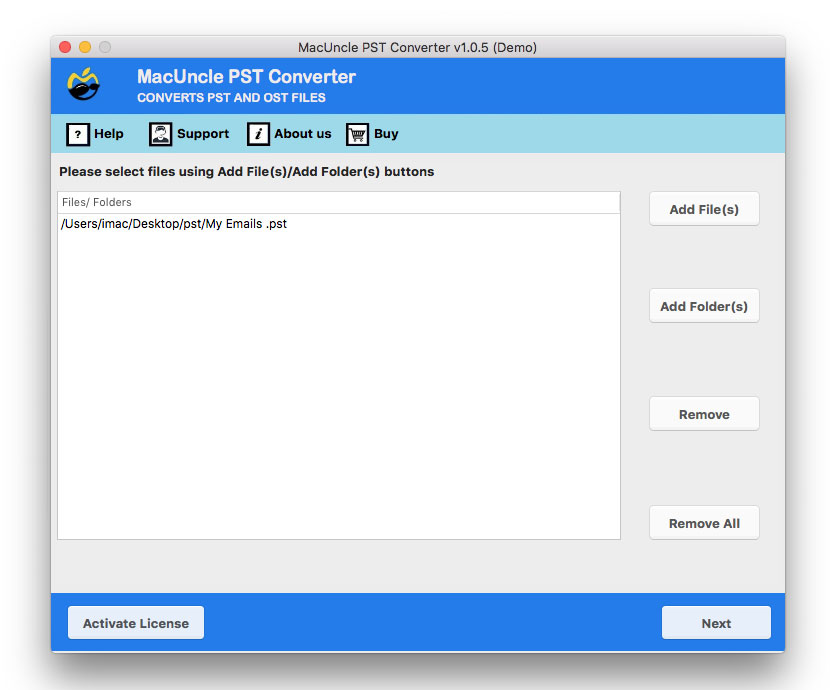 Then, select CSV from the Select Saving option list.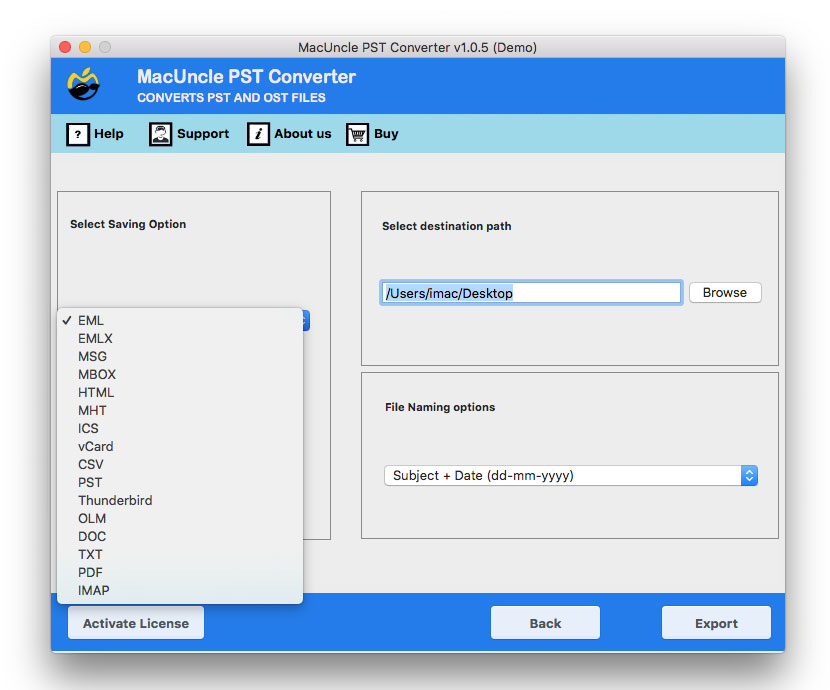 You can also choose your preferred destination location and file naming conventions.
Finally, press the Export button.
Not only email files, but also Export Outlook Contacts to CSV format using the above-mentioned method.
The Conclusion
The blog explains to you the right technique to Convert PST to CSV on Mac. we have provided the 2-best approaches for you. The first is the Manual Method which works only when you have an Outlook application installed on your machine. The second method is the most appropriate and secure method of all, it works even when you don't have an Outlook application installed in your system.
Common Queries
Do I need to have Outlook to convert PST to CSV format?
No, there is no need for Outlook installation to perform PST to CSV conversion.
Can the converted file be opened in Excel?
Yes. After converting the Outlook PST files you can easily open the files in any Excel version.