How to Export Outlook for Mac Contacts to vCard ?
Generally, sending MS Outlook Contacts to any others is not convenient, unless we convert it to any file format. So VCF file format is one of the well-known formats used for storage. Hence let us read how to export Outlook for Mac contacts to vCard from Outlook 2011.
Manually it is difficult to export contacts from Outlook to vCard on Mac Operating System. Hence the best method to export the files is using a third-party converter tool for safe and secure transmission.
What is vCard? 
As you all know that vCard is the standard electronic business card file format and is used for importing and exporting "contacts" to address books both online and inside mobile environments. The .vcf file extension recognizes vCard files. These files are often attached to e-mail messages.
Reasons to Transfer Mac Outlook Contacts to vCard
The major reasons and advantages why we export Outlook for Mac contacts to vCard are –
VCF is the standard file format to save the contact information.
vCard files are compatible with all email applications.
VCF is a lightweight format that allows only contacts to be saved so users prefer using vCard instead of Mac OLM for contact-related purposes.
Able to store several numbers of Contact lists at a time.
OLM files are Mac Outlook files that can't be opened on another platform whereas VCF can be accessed easily on Windows, Mac OS, iPhones, etc.
Open Outlook for Mac Contacts in vCard Format Professionally –
Use OLM to vCard Converter to export the .olm files to .vcf file format. Get the contact folder from the Mac Outlook email application to VCF format without the assistance of any external application. The tool has user–friendly GUI, which allows one to easily convert the OLM file and open it in .vcf.
This is the perfect solution to export OLM files of Mac Outlook with complete accuracy. One can easily carry out the whole conversion procedure with ease without worrying about any termination of processor error in the files.
How to Export Contacts from Outlook for Mac to vCard?
Get the software from the below-given link –
Now follow the steps given below to easily transfer the file to vCard –
1. Start the device and choose one option from Add File(s) or Add Folder(s) to upload OLM Data.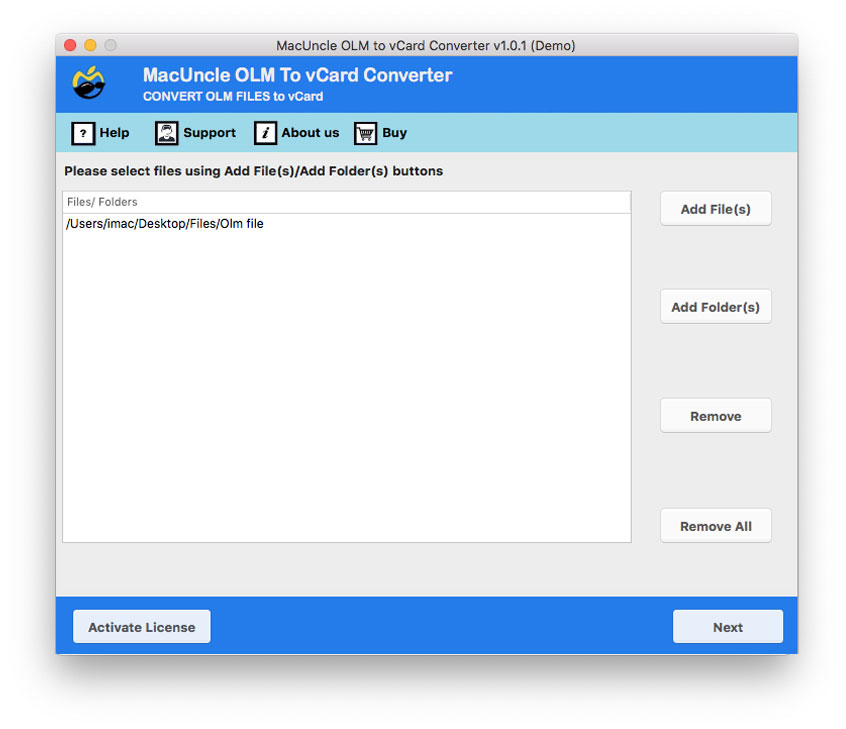 2. From the option, select the vCard file format as the save format.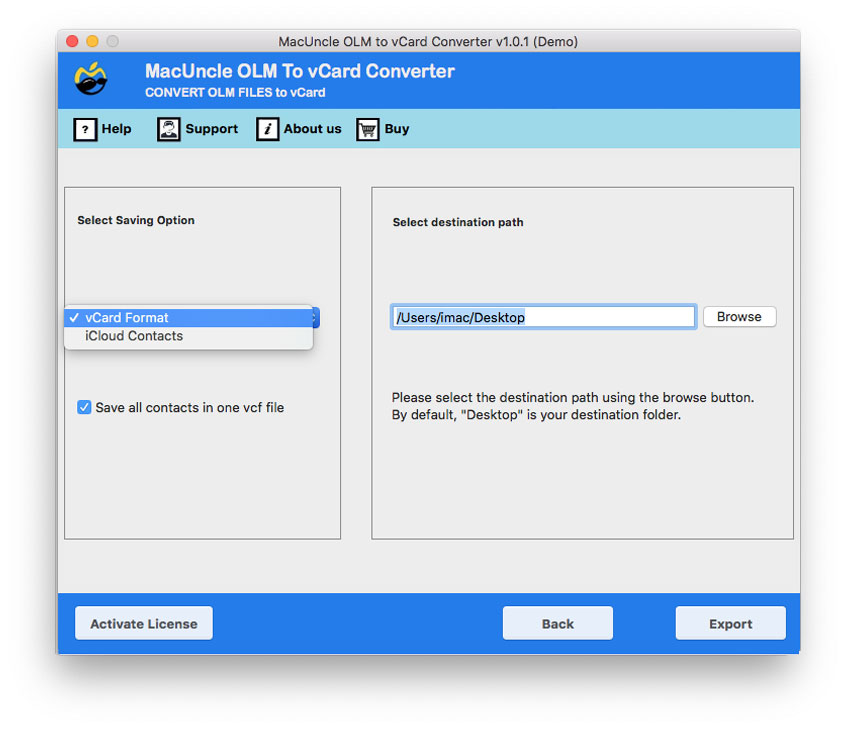 3. Browse the destination path to save converted files and press Export.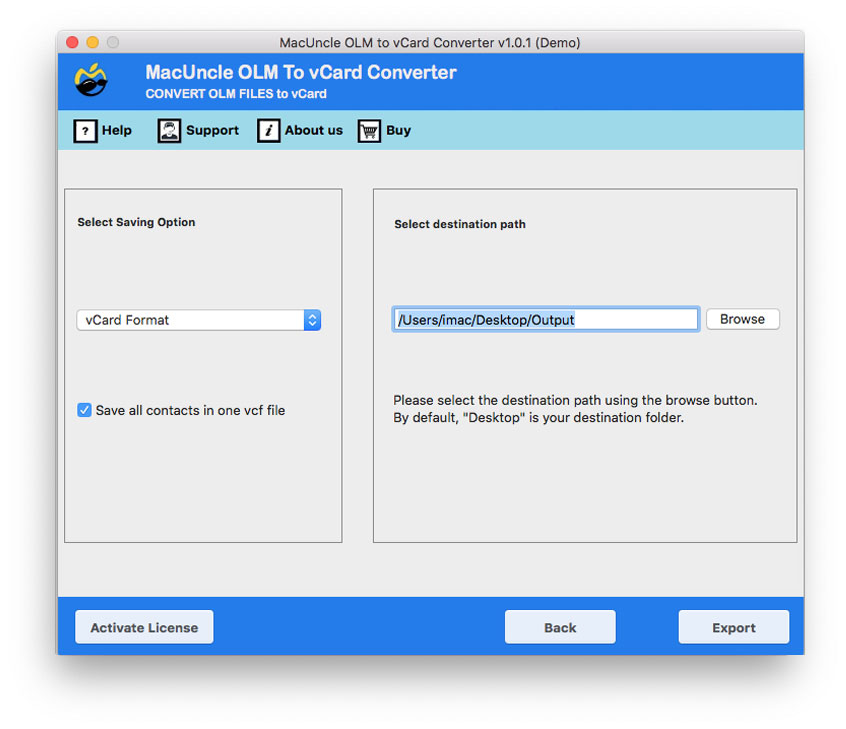 4. As Mac OLM to the vCard process, please wait a while.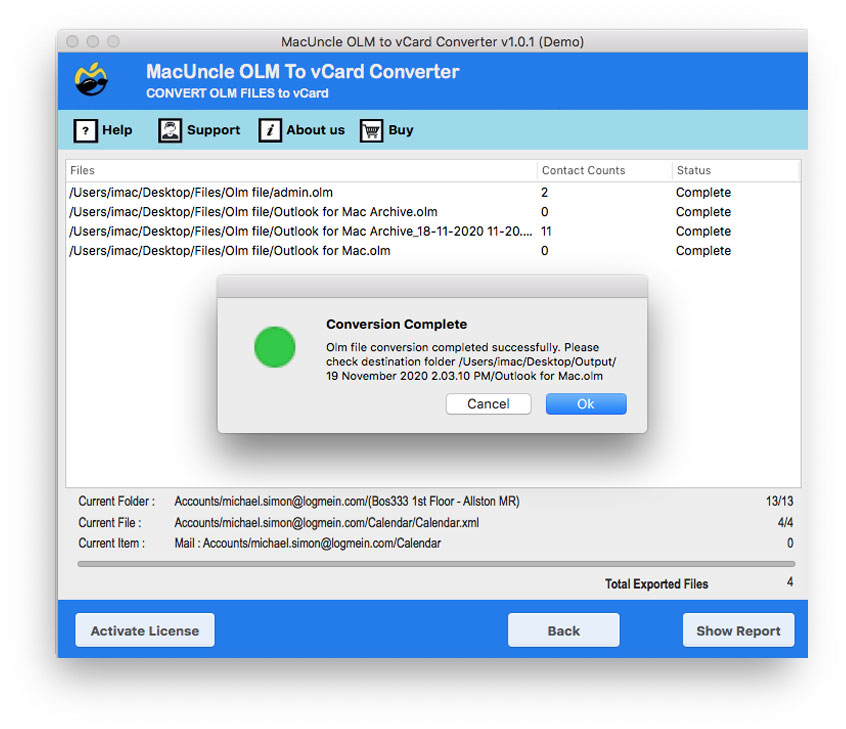 Thereafter, the conversion completes and you will get a few messages like conversion completes successfully and Trial package limitation. Then, a long document that has complete information about the whole process such as Destination location, File format, etc. And the location where the resultant file is will open up automatically. After completing all the processes check the converted file.
Unique Features of the Software
The below mentioned are the few distinctive features that make the software stand out –
Get the Accurate Result: The conversion process does not make any changes to the email contact list. Using the software you will get the same files in another file extension i.e., .vcf file format.
100% Secure Application: The software has advanced technology as it is dealing with email files. Hence offers safe and secure features during the conversion of Outlook OLM files.
Bulk conversion of OLM Files: There are two different options to add OLM files to the software to export the files. One can easily select a particular file or folder of Mac Outlook file using Add File(s) or Add Folder(s) respectively.
Compatible with all the Latest Mac OS: It supports all the latest Mac OS editions which is 10.8 Mountain to all the above editions of Mac OS.
To Conclude
Anyone can easily Export Outlook for Mac contacts to vCard after reading the above information, without losing any data. Outlook for Mac file to VCF Converter comes with a free trial version, which allows you to convert a few of your OLM to VCF file contacts, helpful to use before you buy license keys to test the device.