How to Export Mac Outlook Contacts to Excel?
Let's discuss here, how you can export Mac Outlook Contacts to Excel files. Once you have exported your Mac Outlook Contacts to an Excel file, you can easily read them and can also import them into any address book or contacts management solution.
As we all need to export contacts from Mac Outlook to Excel for some reason once in a while. That might be the reason to update the contact, backup contact, or make a list of contact in a different category to carry out easily in the future. 
More about Mac Outlook and Excel
Microsoft Outlook for Mac is a Mac-based Outlook developed by Microsoft. It is similar to Windows Outlook which is also used as a personal information manager. It works in the same way as the rest of the email applications consisting of the calendar, task manager, contacts, journal, etc. 
Excel is Microsoft Office Suite's proprietary software that maintains all user data through Spreadsheets. Microsoft has developed Excel applications for Windows, macOS, Android, and iOS. The data & its values can be easily managed using Excel, as it offers advanced calculations through functions, graphical tools, pivot charts & tables, as well as additional data formatting as needed.
Now we can learn how to Export Mac Outlook contacts to Excel easily since we know what exactly are OLM Files and how to access OLM Files in an Excel sheet. 
Learn How to Transfer OLM Contacts to Excel
Mac users are searching for a simple solution to export contacts from Outlook for Mac to Excel. To export the Mac Outlook Contact without altering any data inside the email files simply follow the below-given sections.
Before exporting the contacts one must convert OLM contacts to CSV format, and then easily export the same to Excel within a few simple clicks. The complete process of the conversion of Outlook for Mac files to CSV on Mac OS is very simple to carry out.
Try MacUncle OLM Converter Software to move contacts and emails from Outlook for Mac to Excel sheet. Users can export information from the Contacts & Address Book to Excel Workbook from large numbers of users. There is no need for Excel system installation to perform the conversion process and you can quickly move Mac to Excel Contacts from Outlook.
Procedure to Export Mac Outlook Contacts to Excel 
Download OLM Outlook for Mac to CSV Exporter –
Here are the easy steps, you need to perform to convert Mac Outlook Contact to a CSV file.
1. Install and Run Mac Outlook to Excel Migrator and then follow the next step.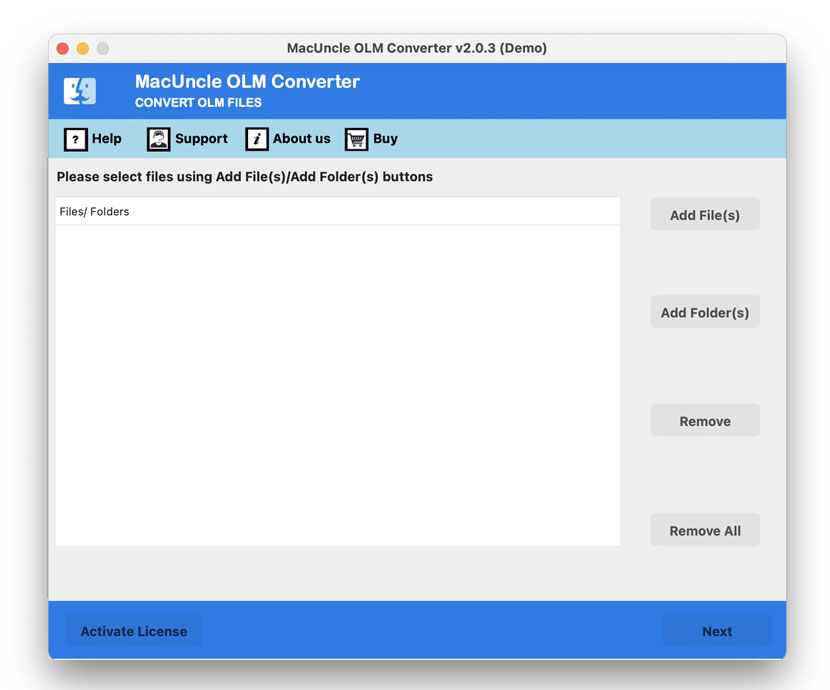 2. Upload the Mac Outlook OLM Contact files using either Add File(s) or Add Folder(s) & further click the Next button to proceed.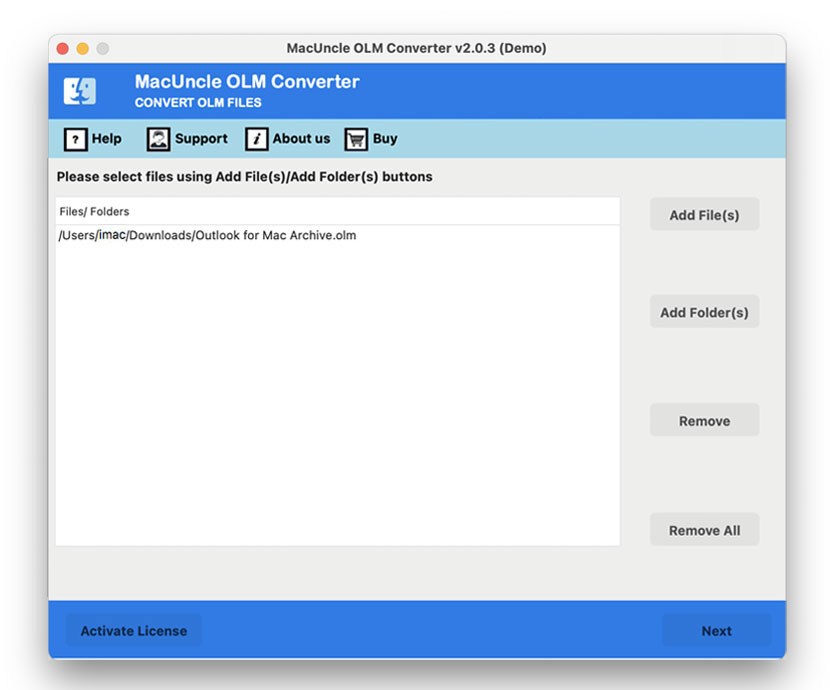 3. Choose the Folders to Export and click the Next button.
4. From Select Saving Option chooses the CSV file format. Set up all the required options like choosing a Destination path.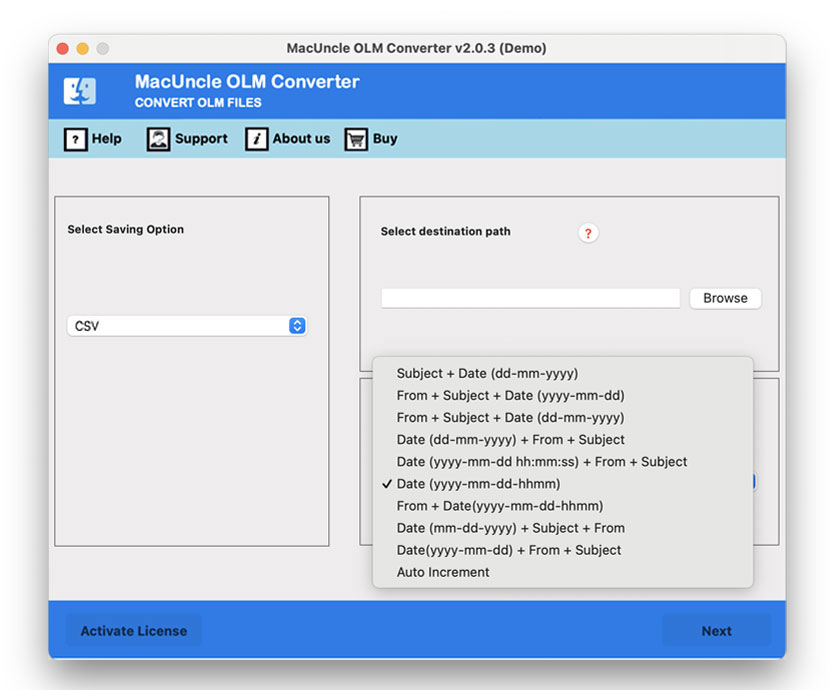 5. And Press the Export button to start the conversion. There starts the live conversion process.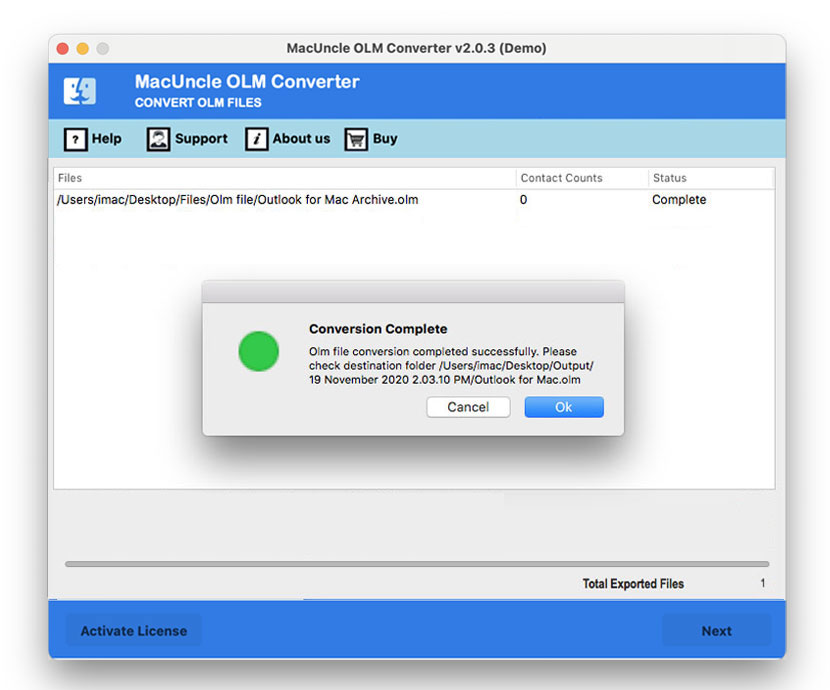 6. After the whole conversion completes access the resultant CSV file from the location.
Aspects of Using CSV Files for Outlook Contacts
Exporting Outlook for Mac OLM files to CSV format brings out a vital advantage for the user. The whole process of conversion helps the user transfer Mac Outlook Contacts to Excel quickly. The migrator tool here possesses different functionality during the conversion process.
Some of the features of the Export Mac Outlook Contacts to Excel files are –
CSV is one of the most commonly used file formats.
For professional to non-technical users, the CSV file is easy to understand. 
CSV is capable to store any number of contacts.
Easily import CSV files to email clients such as MS Outlook, Mozilla Thunderbird, Gmail, Google Apps, Yahoo Messenger, etc.
The tool permits storing the resultant .csv file in the desired location.
It is the ideal way to save time and energy by converting huge Mac Outlook Database files to CSV format.
The migrator tool is compatible with Mac OS edition OS X Mountain Lion and the above editions.
Common FAQs – Mac Outlook to Excel Exporter Tool
Does the Software Support Mac OS 10.14 edition?
Yes, the software supports Mac OS 10.8 Mountain Lion and all the above editions.
Does the software export all the folders of Mac Outlook?
That is up to the user's requirement, you can easily select the files or folders that are supposed to be converted.
Is there any limitation on file size?
No, you can easily export files of any size and get accurate without any alteration.
Concluding
Each section of the article gives a piece of detailed information about the perfect software solution to Export Mac Outlook Contacts to Excel. With the help of the above-mentioned toolkit, you can easily convert OLM files from Outlook for Mac to CSV and further export the file to the Excel sheet.