Export / Extract Email Addresses from Apple Mail ?
The Users have many reasons to export email addresses from Apple Mail/Mac Mail. Users might want to import Mac Mail email addresses to any of the other email clients. Or they do not want to invest money in expensive email marketing systems. However, they want to reach out to every potential client to send emails for an event or seminar. Then in the above-mentioned cases, there is a need to first extract email addresses from Apple Mail.
Extracting email addresses to send invitations to your colleagues, friends, relatives, etc. is a smart way to save time. As it would consume a lot of time to send emails to particular email IDs at a time. Therefore, we will provide you with a suitable and appropriate method to download email addresses from Apple Mail. 
Read the blog to know more about it. 
How to Extract Email Addresses from Apple Mail  
The Manual method will be a tedious process and it also needs expertise in technical skills. The email address extraction procedure entails learning AppleScript to give SQL commands. Thus, a very tough procedure will not only consumes a lot of your time but also requires an additional set of technical skills in the users. 
You can go with the application Email Address Extractor for Mac which involves basic computational skills and thus doesn't need any technical skills and the process can be done without any technical assistance. It is a standalone software thus it does not need the installation of any other application; it will run smoothly and independently. 
Export Email Addresses from Apple Mail – Steps to follow
Export email addresses from Mac Mail to Excel using the steps here. You can extract email addresses easily with the help of the tool. Download email IDs from fields like, To, From, CC, BCC, etc. Every email field would be covered during the extraction process.
Download the Email Extractor and follow the below stated steps to run the software: –
Step 1. Start the software on your Mac System to proceed. 
Step 2. Now select iCloud from the Email Source and enter the Email Address and Password from which you need to extract email addresses.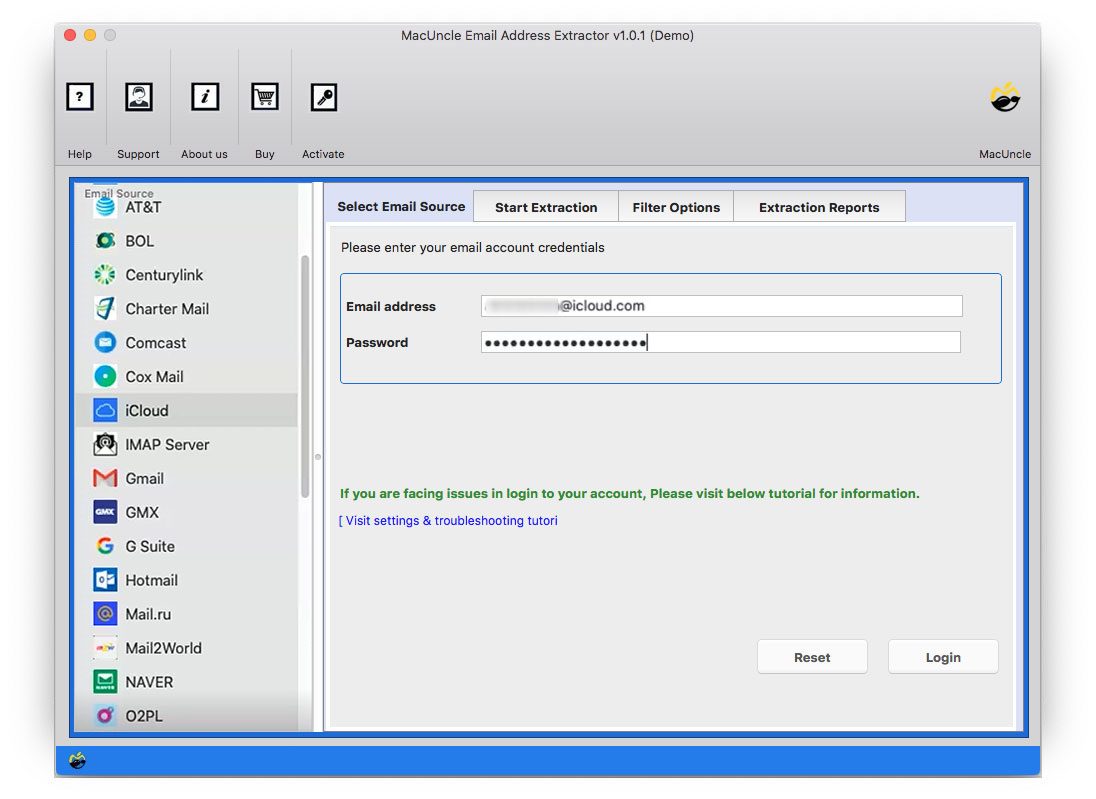 Step 3. Choose the required email files to extract Email Addresses and choose the destination path for the resultant extracted email addresses.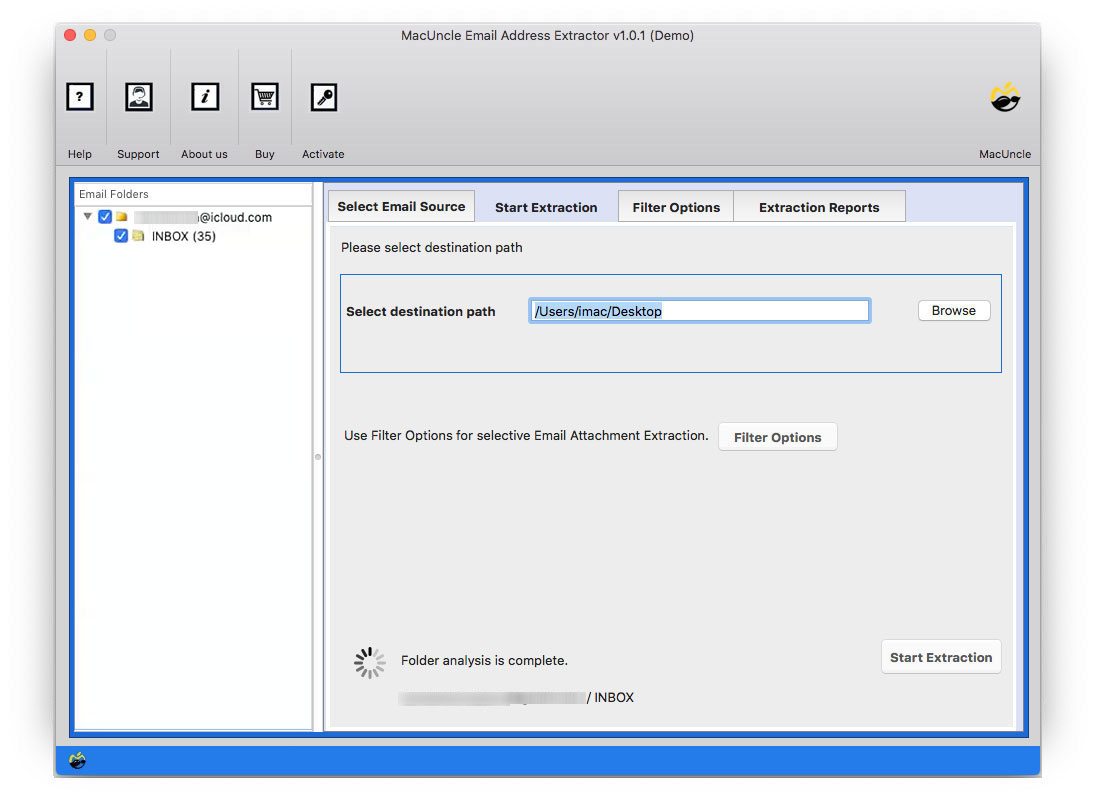 Step 4. If you want a selective Email address extraction to go to the Filter Option and fill in the required details.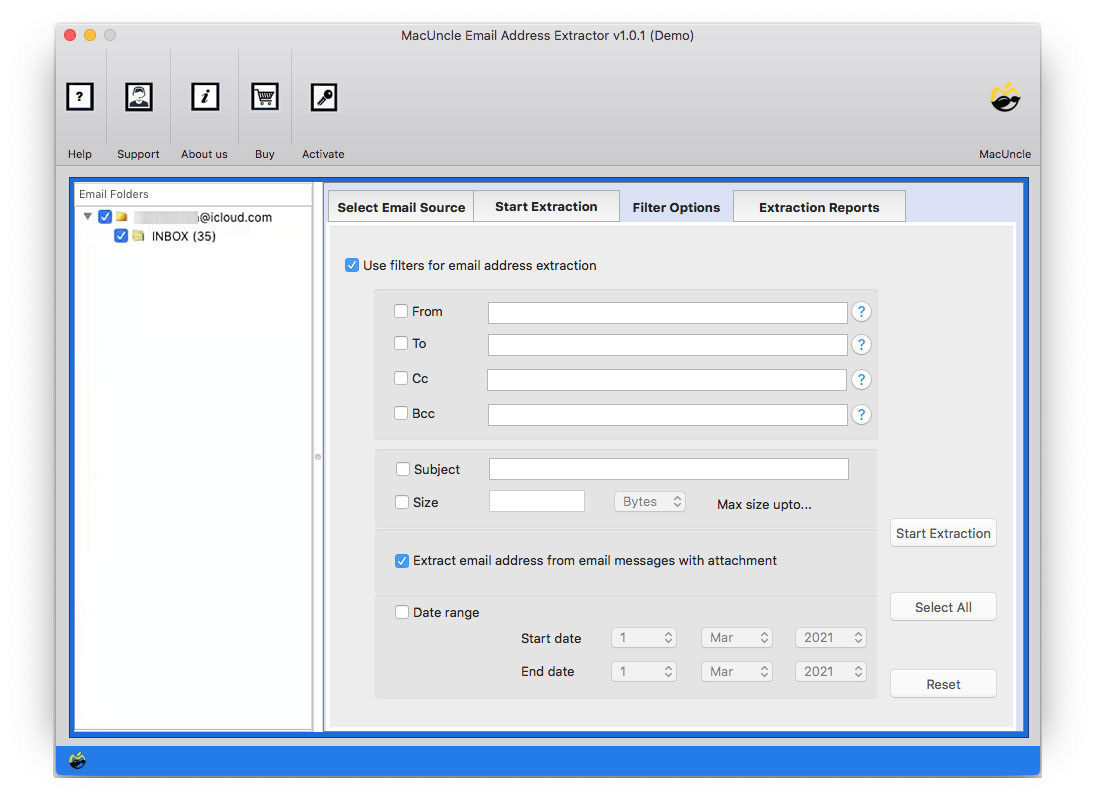 Step 5. Now click the Start Extraction button to start the Email Address Extraction.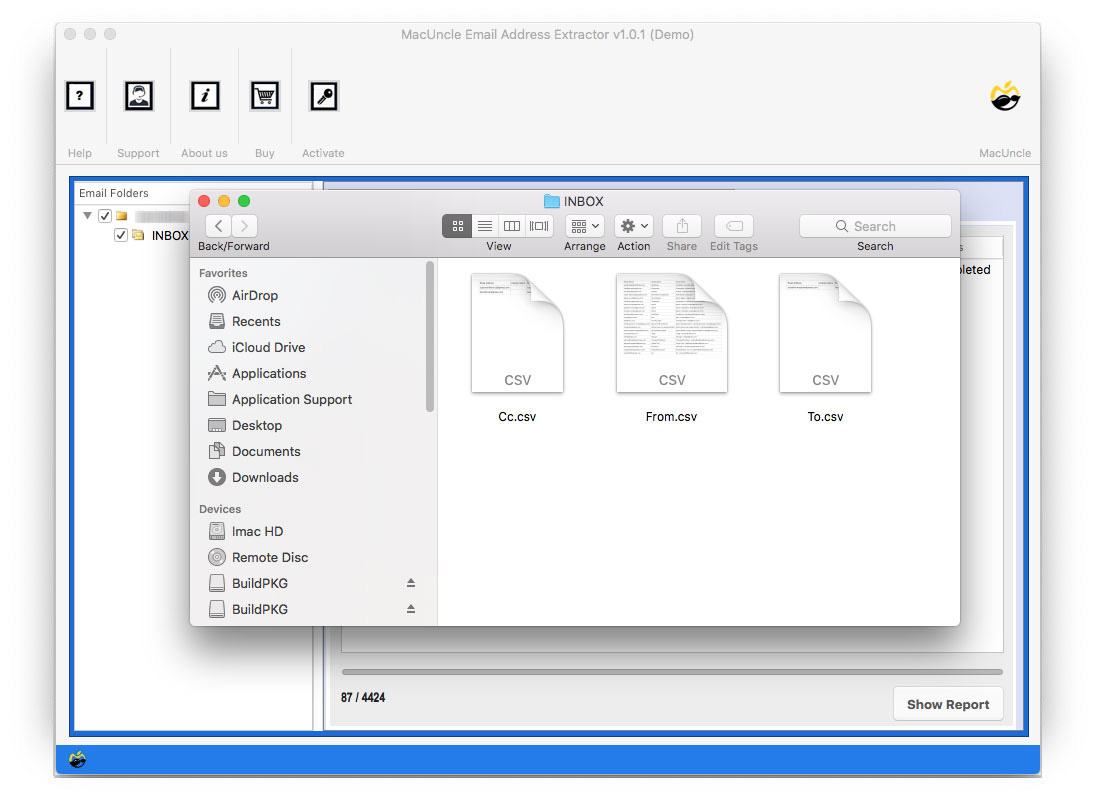 In a few moments, the tool opens the destination file location with a resultant CSV file consisting of email addresses from Mac Mail. Using the tool export email addresses from Apple Mail to Excel.
Provisions of the Wizard
Experience the exotic and rich features of the tool using its free trial version which enables you to extract IDs from 25 emails. And then, if you like it you can go for its Pro version with more advanced features. 
Here are some of the amazing features of the tool: 
50+ Email service providers: – You can extract email addresses from more than 50 email clients. Altogether it runs smoothly and has a user-friendly interface that enables you to have effortless and easy extraction. 
Flexible: – The Software offers you to extract email IDs from any of the folders of your webmail. Thus offering you a range of extraction at once and for all, you need not go at every mail.
Selective Extraction: – You can also opt for selective extraction of email addresses from Mac Mail. The tool can extract from selective fields like, From, To, Date, etc. to enhance your extraction even more. 
Easy to use: – The software provides you with an easy-to-use interface for effortless extraction. And you can also browse the destination path according to your convenience. 
Decision time!
We have highlighted the need and the technique you can opt for to extract email addresses from Apple Mail. You don't need any other application or software for its installation, this comes with independent functioning. You can also go for selective or bulk extraction from any of the email folders, the choice is yours. Also, it comes with a 100% guarantee to provide safety and security and works with all the latest versions of Mac OS.