Transfer / Import DBX Files to Yahoo Account on Mac OS
In this blog, we will show how you can transfer your DBX files to your Yahoo Mail Account in just a few easy steps. If you are struggling with this problem then wait, here is the instant and permanent solution for your never-ending problem. Many users agonize about this problem and try to do it manually but stop! That's not the correct way. You have to dive in and then seek the solution, for now at least, there is no manual way to import DBX to Yahoo Account on Mac so go ahead with this article and in the end, you will probably get the best of the solution. 
Here is one of the queries our service team received,
"I have been searching for a direct mode on Yahoo Mail to import DBX files, and couldn't find any. I have more than 200 DBX files that I would like to transfer to my Yahoo Mail account. Is there any alternative for uploading the DBX file to Yahoo Mail?"
Go through the article to find the apt solution for this problem.
What is DBX File?
Here comes another question, what exactly is a DBX File? Outlook Express is a desktop-based email application by Microsoft. It provides all the necessary services like emails, contacts, etc. It was a default email client in earlier versions of Internet Explorer but was later replaced by Windows Mail. 
Outlook Express stores email folders by default in DBX file format. It saves all the emails that you have received from the email client. DBX File stores all your emails in folders like an inbox.dbx, sent.dbx, etc. you can then access it easily. 
So, if you are having your Outlook Express DBX File saved and do not want to open Outlook Express or currently not using it, but want to import it to your Yahoo Mail Account. Here come the automated tool and an instant solution, Outlook Express DBX Exporter for Mac users.
How to Import DBX to Yahoo Mail Account ?
The most commanding tool in the current scenario is the utility DBX Converter for Mac. Using non-technical users can also easily get their job done without any glitches and problems. It will allow you to convert your DBX files to Yahoo Mail Accounts directly on your Mac Machine in just a few minutes! 
This wizard is user-friendly and very convenient in its functioning. The attachments in your emails will be well preserved while there is no size restriction in importing DBX Files you can transfer large files effortlessly. Migrate Outlook Express data files to Yahoo Mail account without Outlook Express.
It comes with a 100% guarantee of safety and security and supports all the new versions of Mac OS, like OS 10.8 Mountain Lion, 10.10 Yosemite, 10.12 Sierra, etc.
Step to Migrate DBX File to Yahoo Mail
Migration of DBX Files to Yahoo Account is effortless using this mac tool. Start by downloading the Mac software's Demo version using the above-given link.
1. From Add File(s) and Add Folder(s), select DBX files. We have the DBX folder selected from the system here.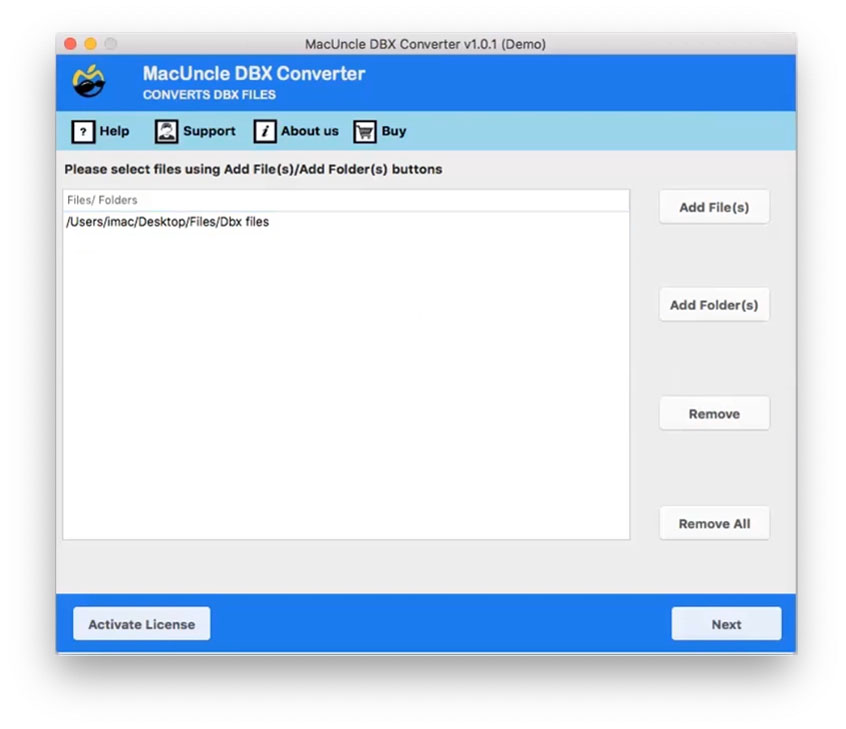 2. Chose the appropriate sub-folder and press the Next button.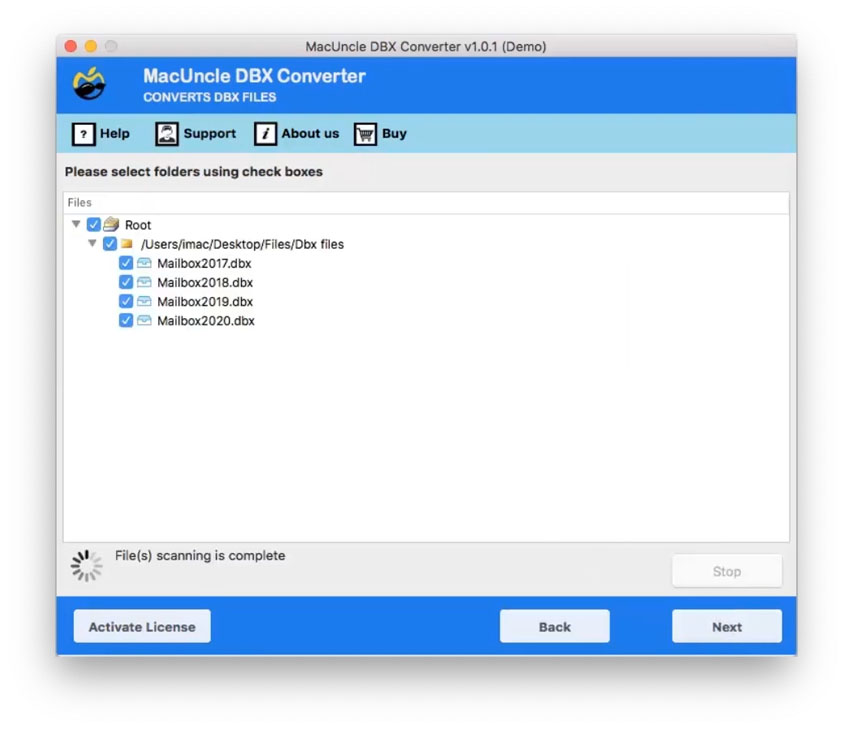 3. Now, choose the IMAP option in this phase to import DBX to your Yahoo Account.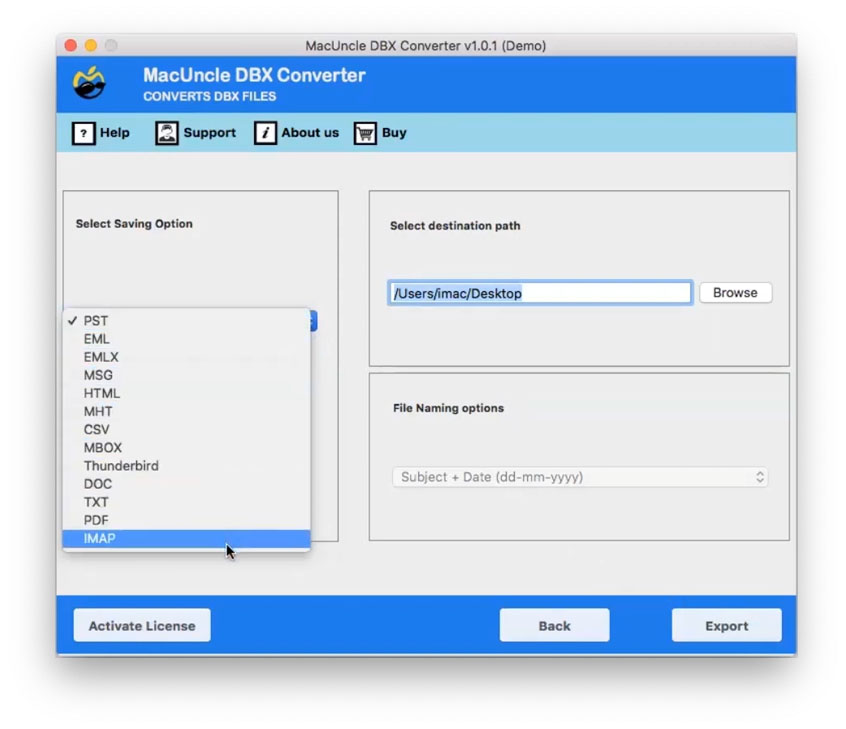 4. Then enter the address and password of Yahoo Email and IMAP details: IMAP HOST & IMAP Port No.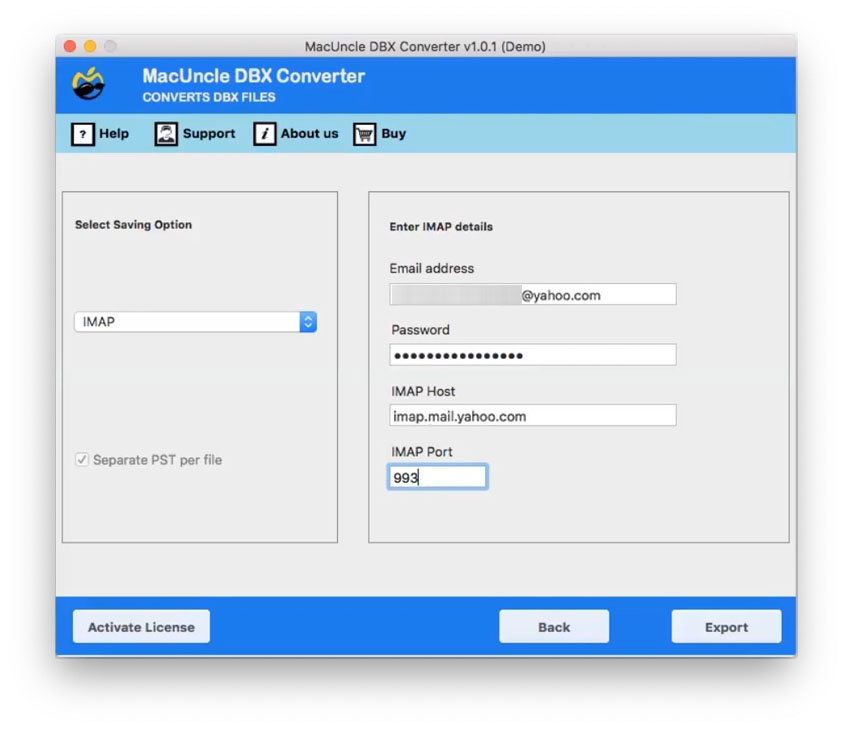 Perks of DBX to Gmail Migrator for Mac
The Software delivers an exotic range of features. Here is a glimpse of some of the features that would help you to get things right at your end effortlessly:-
Preservation Outlook Express Email Components:  The DBX email and its attachments are well-preserved and maintained by the tool, you don't have to worry about its conversion it retains the originality of the emails with your attached files. 
Flexibility: The DBX File Converter offers you a wide range of options including 25+ formats for saving DBX File such as MBOX, EMLX, PDF, DOC, HTML, etc. you can not only alter its format but can also migrate the DBX File to another email client like Outlook.com, Gmail, Office 365, IBM Verse, etc. thus, it makes it accessible to almost every platform. 
User-friendly interface: The tool itself serves as a guide to every user therefore there is no need for any technical assistance. It comes with an easy-to-use interface that allows you to perform the task without any hassle while also conserving the user's time. 
Previewing Emails: You can preview or see your DBX emails before uploading them to your Yahoo Mail account, this acts as a cover where you can see all of your emails and also can perform a selective email import process. 
Supports on all latest Mac Versions: DBX File Converter supports all the latest versions of Mac OS like OS X 10.11 EI Captain, 10.10 Yosemite, 10.9 Mavericks, 10.8 Mountain Lion, etc. 
Wrapping Up
To conclude, the article enriches the users with quality information and an expert solution. Import Outlook Express DBX Files to Yahoo Mail Account on Mac System. The blog lists some of the distinctive features of the tool. And also provides you with some background and needs of importing DBX Files to Yahoo Mail. Make a smart and efficient move to use the tool. It not only works smoothly but also gives you valuable experience.