How to Import Mail from Outlook Express .dbx Files to Thunderbird?
You can import DBX Files to Thunderbird manually using Thunderbird itself. But going for a third-party tool to move all DBX files to the Mozilla Thunderbird application. 
As we know that with Windows Vistas, Outlook Express was suppressed by Windows Mail. As both Microsoft Outlook and Outlook Express share a common software interface, more often users get confused. Therefore, there are multiple reasons why users are more inclined to Mozilla Thunderbird.
From this article, you will get the complete details about the two email clients and why users want to migrate to Thunderbird. 
Outlook Express and Mozilla Thunderbird
One of the most widely used email clients by Windows users is Microsoft Outlook Express. However, Outlook Express has been replaced by Windows Mail because it does not fulfil some consumers' needs. The majority of users, however, do not find Windows Mail to be as useful as Outlook Express. 
Mozilla Thunderbird, on the other hand, is a very popular email client among users. It's an open-source program that offers all of the features of any other email program. Mozilla Thunderbird has a useful function that accomplishes this without causing any inconvenience. Now let's learn why users are planning to import DBX Files to Thunderbird accounts. 
Need to Import DBX to Thunderbird Account
There are multiple reasons why users are looking for a solution to convert DBX to Thunderbird format. Here we will point out some common points switching to Thunderbird – 
The performance timing of Outlook Express is more than that of another email client.
Thunderbird is free webmail with advanced features in email management. 
Thunderbird offers several file extensions.
Unlike other emails, client Thunderbird provides high-security protection with anti-virus, Spam, and firewalls. 
How to Transfer DBX Email Files to Thunderbird – Manually
Try the manual method first to move all DBX files to Mozilla Thunderbird. Following are the steps for Outlook Express to Thunderbird Migration. 
Start Thunderbird application
Go to the Tools option in the Menu bar. And select the Import… option.
On the Import tab, select the Mail option. Then hit the Next button. 
Further, choose Outlook Express, and press the Next button. 
Thereafter, the Outlook Express Emails, Contacts, Calendars, etc start to import to Thunderbird. Wait till the process completes. 
Limitations of the Manual method: Sometimes the import option of Thunderbird won't for Outlook Express email files. The mentioned are some other drawbacks of this method. 
Inapplicable for a large amount of Outlook Express Data. 
Need technical skills to check whether the files are transferred properly.
The process is time taking and has a large possibility of data loss.
Professional Method to Convert DBX to Thunderbird Format
Get the expertise solution DBX Converter Wizard, to import DBX files to Thunderbird on Mac Machine. The tool works smoothly on all the latest macOS X 10.8 Mountain Lion and above versions. To transfer the DBX files to Thunderbird, the user needs to convert the Outlook Express DBX files to a format supported by Thunderbird. Therefore, here a direct option Thunderbird is available. The Thunderbird option converted the DBX files and stored them in the default folder of Mozilla Thunderbird. 
Try out the trial version to test the conversion, and then later activate the professional version by purchasing the license key. 
Step to Import DBX Files to Thunderbird,
Step 1. Firstly, Start the tool and add .dbx files to the panel.
Step 2. Now, select the required Outlook Express files. And press the Next button.
Step 3. Select the Thunderbird option from the Select Saving option. The tool automatically fetched the Thunderbird folder to store the converted DBX files.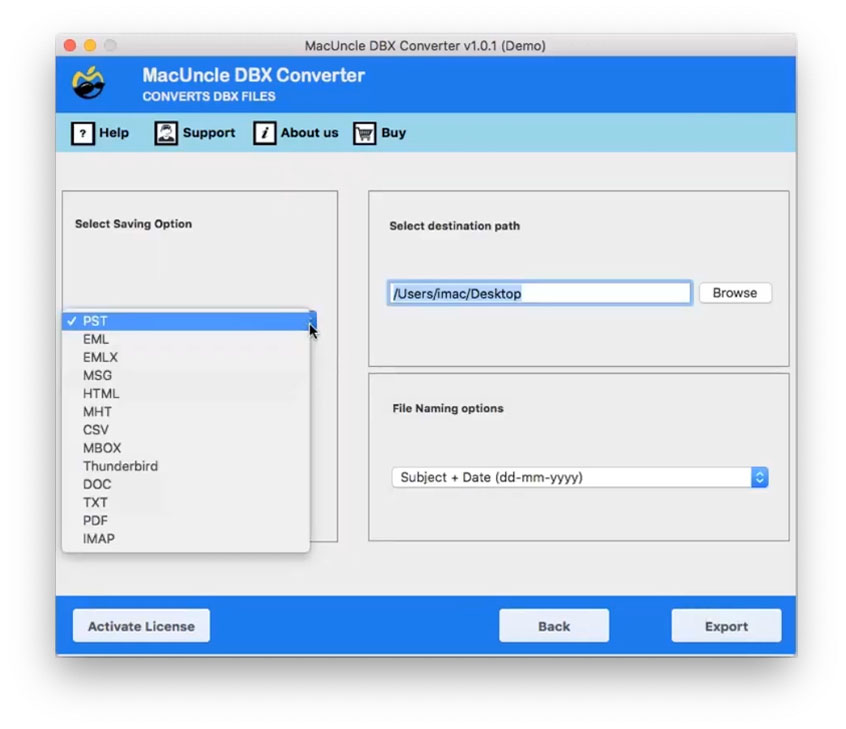 Within minutes you will receive multiple notifications about successful conversion completion and a log report with complete details. 
Blog Outline
In conclusion, we have come up with two methods to import DBX files to Thunderbird. Both the methods, Manual and automated methods are illustrated in the best way possible for all the users including computer novices. As the usual manual method is done with multiple steps and technical skills, we would recommend you use the mentioned tool. Using the tool migrate multiple .dbx files to Thunderbird in a single attempt.