Open and Read OLM Files on Mac without MS Outlook
OLM files are the Mac Outlook database file format which came in 2011. Microsoft launched Outlook for Mac email service for the Macintosh Operating system. OLM saves all Outlook Emails, Contacts, Calendars, Notes, etc. OLM files can only be opened with Mac Outlook versions. Therefore, here we will discuss the perfect solution to Open OLM File on Mac without Outlook.
Last day my colleagues send me a bunch of Email files in OLM format. I haven't used Mac Outlook for the last few years. For now, I just need to read those files and then later need to import the emails to my Mac Mail. Is there any simple method to read OLM files without having Mac Outlook"
You will find different OLM reader on the internet, but the major concern is doing these tools provides a secure solution. Uploading your email file to the internet is not a good approach. Thus, read the article and know how to read Mac Outlook email files right away.
How to Open OLM Files on Mac Without Outlook Installation
For the user who wants to read OLM files on Mac without Outlook then the perfect solution is OLM File Viewer for Mac. The toolkit is completely user-friendly and can be used by any user from novice to professional. Get the tool from the below download link and use it instantly. The software interface is itself a guide. The next section will guide you on how to use the tool.
You can also use the professional application OLM Converter for Mac solution to open OLM files on another Mail service. When it comes to converting an Outlook OLM file on a Mac, it's an exceptional application. It works for all Mac versions above and including OS X 10.8 Mountain Lion. You can easily export the OLM file to a file format that suits your needs by using an effective feature. The solution is completely secure, simple to use, and fast.
Simple Step-by-Step Guide to Open OLM File
Following up are the steps to get the information in OLM files:
Step 1. Install and start the OLM opener tool on your Mac System.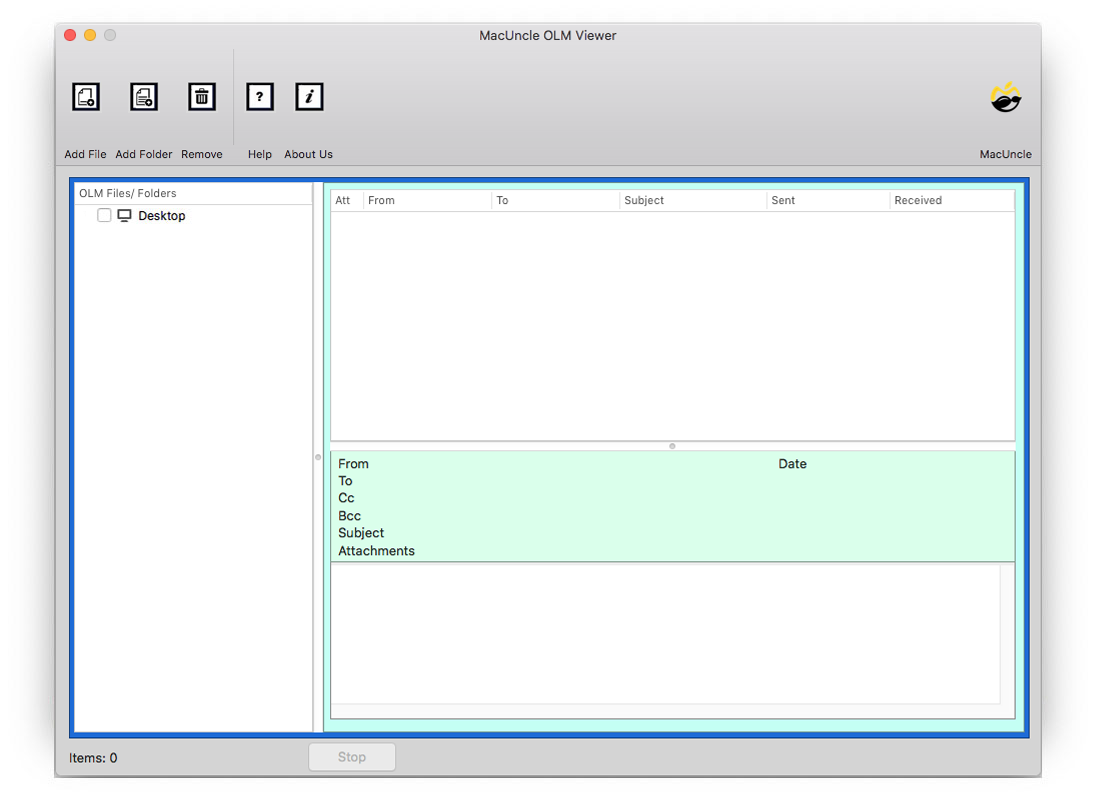 Step 2. Use either Add File or Add Folder to upload the OLM file to the panel.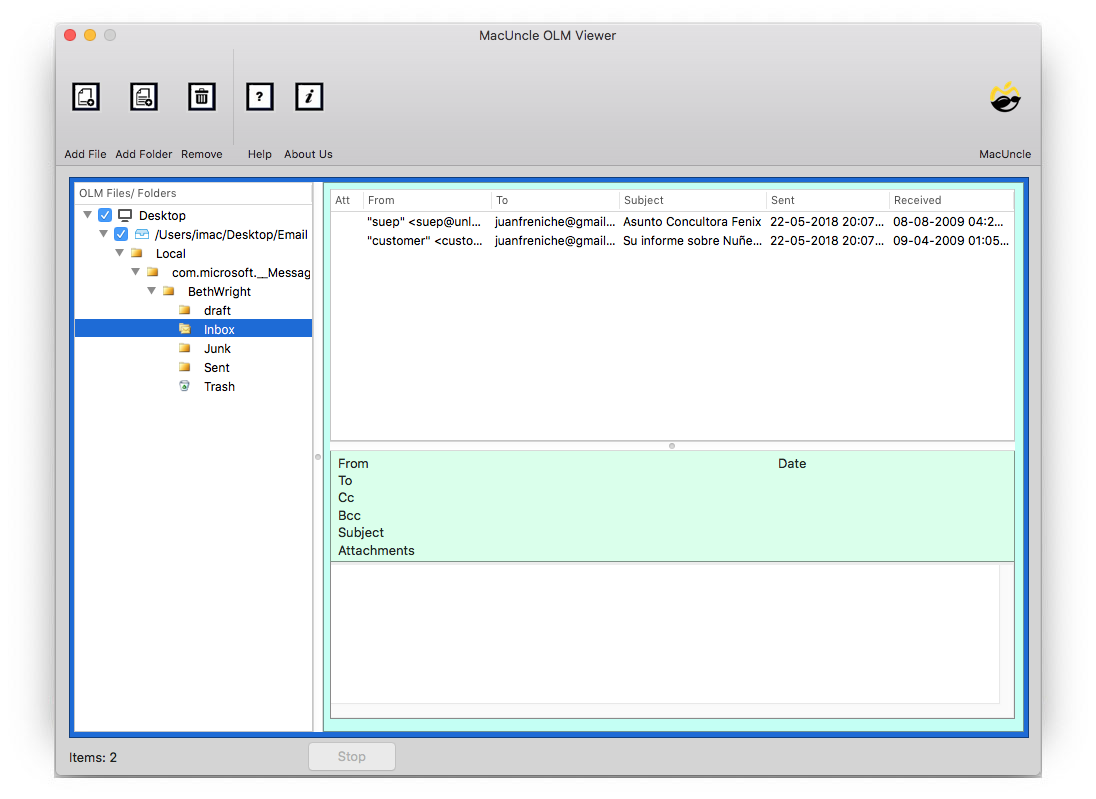 Step 3. The software scans all the Mac Outlook and from that selects the preferred folder.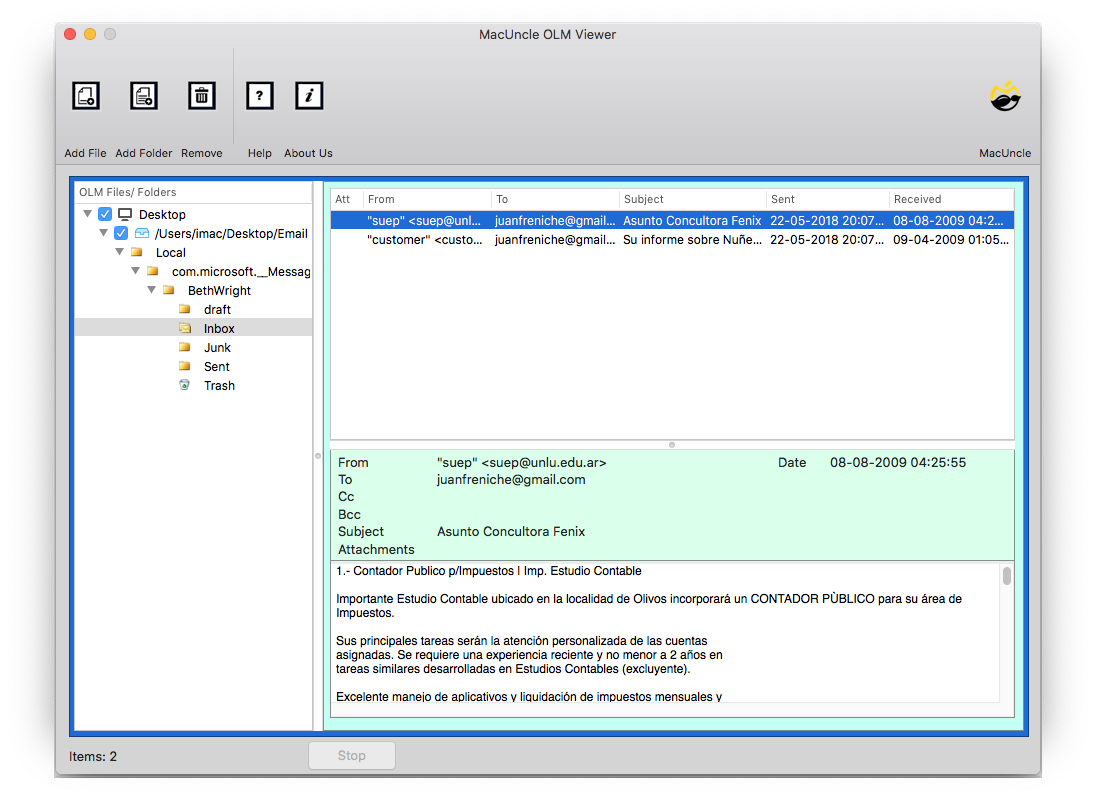 Step 4. Read of the OLM file along with all the attributes such as From, To, Subject, Size, attachments, etc.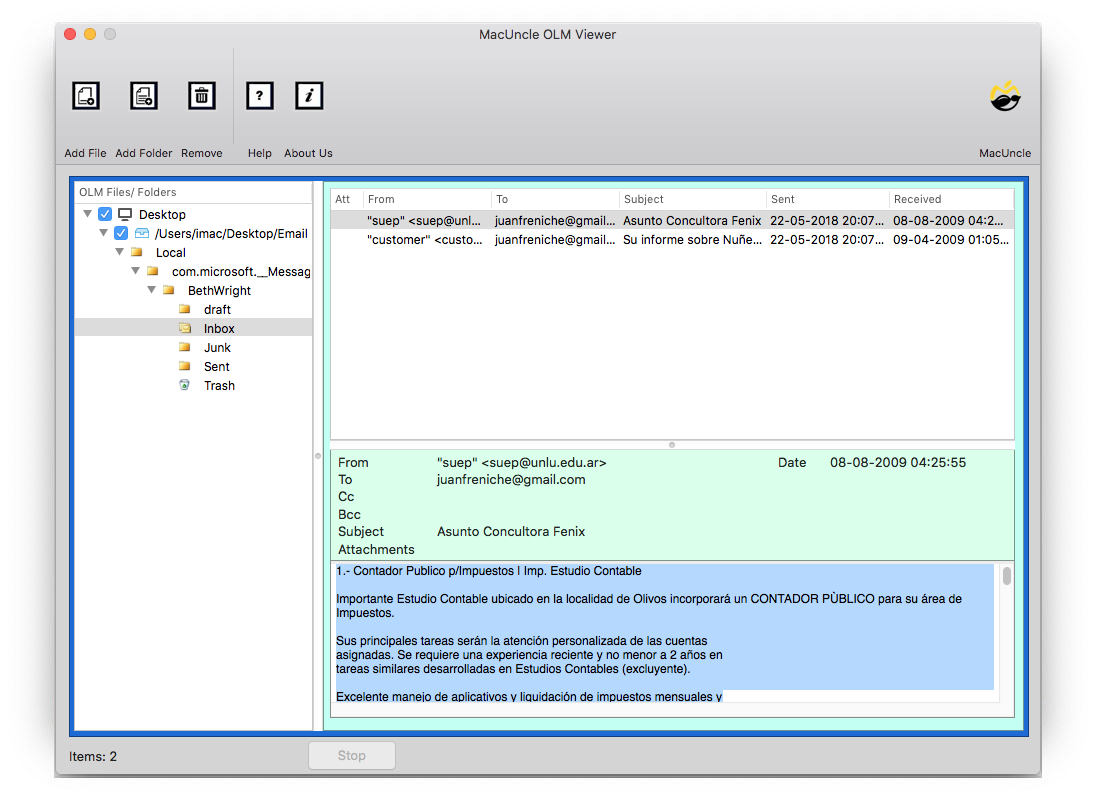 That's it. Open your OLM data files quickly using the read application on Mac. From there you can read and copy the email files for future use. 
Traits of using Free OLM Opener on Mac
The reasons to get an OLM reader on Mac are the simple and advanced features of the tool. Learn why the tool is outstanding.
Read OLM files for Free: Microsoft OLM reader is free software that allows you to open, display, and analyze .olm files. It works with .olm files from Microsoft Outlook 2011, Mac Outlook 2016, and Mac Outlook 2019. Also, the app has a user-friendly interface that allows even novice users to open OLM email files.
Get a complete insight into all the Email Items: Using the reader tool you can learn the information in all the Mac Outlook files along with all the email items and components. The tool scans the OLM files and Reads Mac Outlook emails with Subject, To, From, Attachment, Size, etc.
Open Multiple OLM Files without any Limitations: The tool does not possess any restrictions if you want to read multiple OLM files. Read batches of OLM files at once free of cost. 
FAQ – Read OLM File on Mac Machine
How can I access OLM files in Excel on Mac?
To get *.olm files in Excel sheets we must perform a conversion from Mac Outlook files to Excel and then open the files effortlessly in Excel sheets. For more details, Read: How to Open OLM file in Excel Mac?
I want to import my OLM files to Mac Mail. Does the tool provide any OLM export or import option?
No, the OLM reader tool gives a free solution. To export OLM files you can try our upgraded version else follow the steps mentioned below. 
For more information read: How to Transfer or Import OLM File to Mac Mail? 
How to get OLM files into Outlook for Windows from Mac Outlook?
Use the recommended tool to open OLM files to read the emails first and then add the respective files to OLM to PST Converter Software to import OLM after converting to the file format supported by Outlook for Windows OS. 
Outline
"I don't have an Outlook mail client, so how do I open an OLM file?" This post has clarified the answer to this problem. The above-mentioned freeware toolkit is the expert-recommended for opening OLM without Outlook installation.