Migrate Mac Mailboxes to Office 365 | Access Mailbox in O365
We are here with the solution to "how to transfer Mac Mailboxes to Office 365". Here you will find out the best technique to migrate different types of Mailboxes to a cloud server i.e., Office 365.  
Before getting to the solution, read the query mentioned to know whether you are in a similar situation. 
Hi, I have a few old Mac Mailboxes in two different folders. And I want to transfer all of them to Office 365. Can you suggest the best application to migrate all Mailboxes to Microsoft 365?" 
If you are also on the same page, then read the complete article to figure out the best practice to transfer mailboxes to O365. 
Reason to Migrate Mailbox to Office 365
As we know Office 365 is the topmost cloud-based productivity suite provided by Microsoft. O365 has a number of vast users from different organizations from small to large also for personal and professional uses. It has only increased the productivity of enterprises due to its high-quality features.
Therefore, users are numerous reasons to transfer Mac mailboxes to Office 365. Following are a few benefits of Office 365: –
Due to the O365 cloud storage service, users can access documents, emails, calendars, contacts, etc. regardless of the device or browse. 
Office 365 comes with a high built-in security allowance. All the mailboxes, contacts, and other data are secured here. 
The data in Office 365 is synchronized. That is if contacts, calendars, etc. are updated from one device, then it automatically updates on all devices. 
These are some hand-picked benefits of MS Microsoft 365. Now, let's move further with the solution, there are no such manual methods to transfer Mac Mailboxes to Office 365. Even if you find any, it is best to use the batch migration approach. 
Directly Transfer Mac Mailboxes to Office 365 in Batches
The tool AppleMail Converter is perfect to import mailboxes from Mac to Office 365. The software is known for its simple and adaptable user interface. Use the tool to migrate either emails or contacts from Mac Mail to the O365 mailbox. Get all mail data or selective Mac Mailboxes to Office 365 by selecting the email file/folder. Also, import attachments from the Apple Mail folder with Mailboxes. 
Download for Mac Download for Windows
Trial and Pro Version
First test the demo version to understand the working of the tool. As the trial version comes with all advanced features to migrate 25 Mailboxes to Office 365. The version will guide you on how to use the tool and will provide proof of 100% accurate results. Then later get the upgraded pro version to transfer unlimited MBOX files to O365 without any restriction. Also get other saving options such as PDF, EML, PST, HTML, MHT, Thunderbird, etc. 
Procedure for Mailboxes Migration 
Download the application from the link provided, the launch the tool on Mac OS X Version above 10.8 Mountain Lion.
Step 1. Add Apple Mail Emails using any other options as shown in the figure.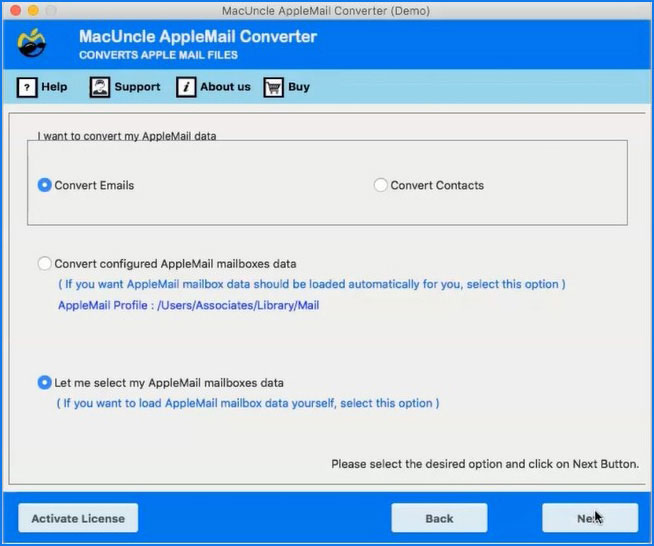 Step 2. Here, we will go with the "Convert Configured AppleMail Mailboxes Data" option. Then, use Add button to upload Mac Mailboxes to the software. Again press the Next button.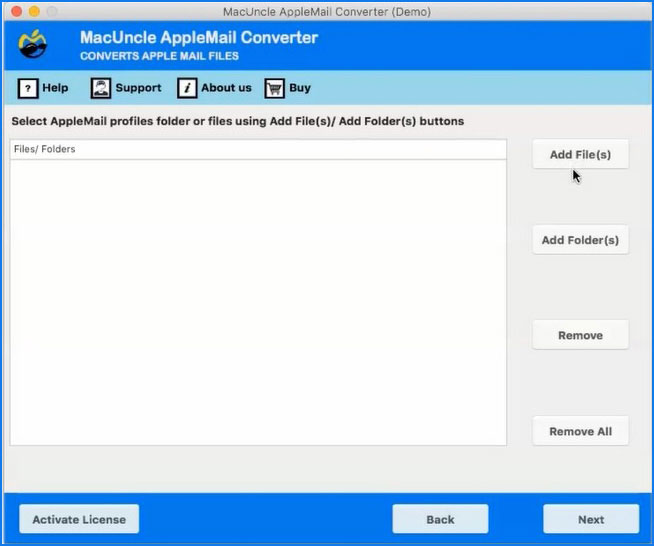 Step 3. From the new windows click Select Saving Option, and choose IMAP. Further, a few fields with Email Address, Password, IMAP Host, and IMAP port display. Fill up the field and press the Export button.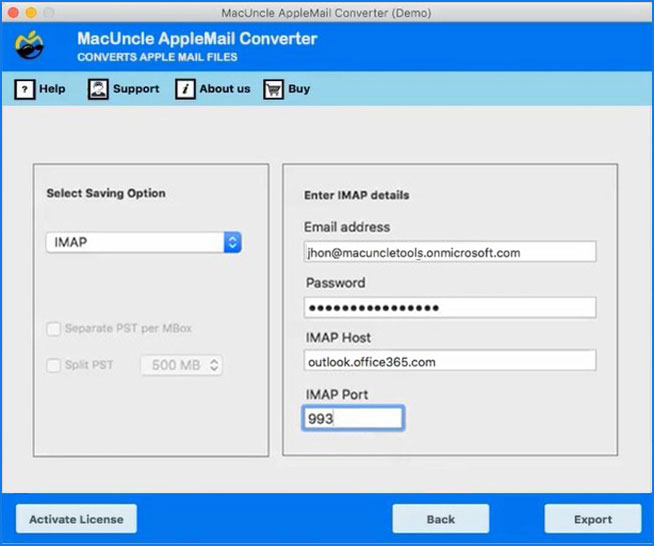 Step 4. Soon all the Mac Mailboxes will to migrated to the O365 mailbox.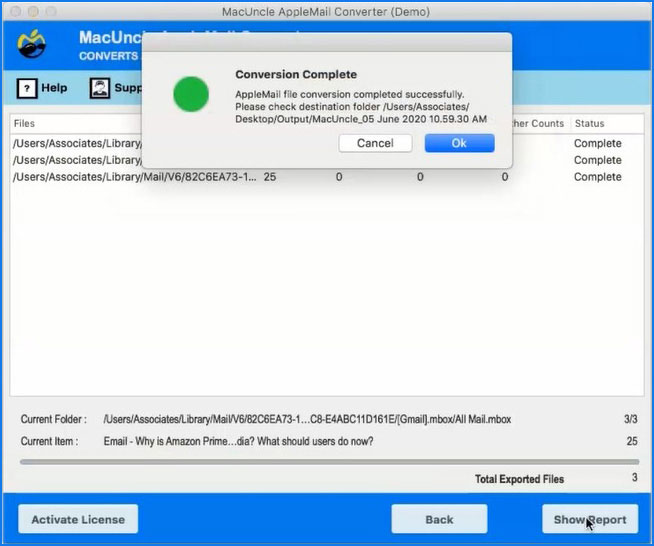 That's it. 
Why you should get this Tool?
The reasons to migrate Mailbox to Office 365 might get in the aspect of professional to personal. However, the tool is designed for all users from experts to computer novices. Here are some of the vital traits of the application:
Transfer Emails or Contacts: With the tool, you will find two different options "Convert Emails" or Convert Contact. For those who want to migrate Mail Contact to Office 365 select the contact option and proceed. 
Fetches AppleMail Folder automatically: The Apple Mail Mailboxes are stored in /User/Associates/Library/Mail. The tool will fetch the mailboxes from the default location automatically after selecting "Configured AppleMail Mailbox data". 
Bulk migration of Mac Mailboxes: Either choose the complete folder with Mac Mailboxes or select a few email files. As the tool offers batch migration of Mac Mailboxes.
Other Advanced Option: Other than migrating Mac Mailboxes to Office 365, you can also transfer Mac Mailboxes to another email client such as Thunderbird. Or use IMAP to import Mailboxes to Gmail, Yahoo, etc. 
Common Question – Mac Mailbox to Office 365 
How can I transfer only the contacts from Mac Mail to O365?
Use the option "Convert Contacts" before the process begins. Then, proceed with the procedure. Finally, the contacts will be transferred to Office 365.
Do I need to open my Apple Mail account during migration?
No, the utility works by itself without the support of any external application.
Final Verse
In conclusion, the article has covered the direct solution for most troubles used by Mac users. Transfer Mac Mailboxes to Office 365 without going through any technical process. Any number of email mailboxes can be imported to the Micorosft O365 directly. Complete the migration within the tool and then later check Office 365 Mailbox for imported files.