Extract Attachments from Hotmail Account on MacBook, iMac, etc.
Let's Discover the Doubts and Queries of Users related to "Download Attachments from Hotmail Account on Mac" 
There are many queries that users post for us, and expect them to be get solved in the blink of an eye. So, we provide them with Instant & Reliable Solutions to get their problem solved. 
Here are some of the major queries posted by the users: –
"I am a current user of Hotmail and having a pleasant experience. A few days ago, I received some important documents and files which I need to download on my desktop. I have tried and found various alternative solutions but none of them worked for me. Could you please help me regarding that?"
"I want to extract my Hotmail Attachments in bulk quantity all at once but I am not able to find an appropriate solution for it. I need an urgent solution to get my problem solved as I have to print it further and submit it to my boss."
If you are facing a problem and are unable to download attachments from Hotmail. Then this article might help you to get your work done immediately. People want to get Attachments from Hotmail Accounts on Mac due to various reasons possible – one might want it because of some important files or documents it might contain; or due to increasing security issues. At times it is necessary to download the files and documents in their local storage. 
This article gives you the possible way to extract attachments from Hotmail Account. The user can rely on it blindly, we have given the Exotic Tools of all time which can be really helpful and produce great results. The method is trouble-free & efficient and works with 100% accuracy. 
Why you should Get Your Attachments from Hotmail Account? 
Here are some of the focused reasons why people want to download attachments from Hotmail: –
In this digital world, you should be careful of viruses of all types that might hamper your desktop. Thus, downloading it could be a safer option. 
Hackers are searching continuously to steal your valuable data and leak them if sensitive, to avoid these you should download the attachments even before opening them. 
While many people want to get their attachments downloaded for their physical use. 
Thus, there are many reasons for you to get your attachments downloaded from your Hotmail Account, so you should definitely do it. 
Trusted Way to Download Attachments from Hotmail for Mac
The reasons that we have listed above for you to immediately extract attachments from Hotmail Accounts are necessary. You have to protect your data and files from theft, you should follow our smart way, Mac Email Attachment Extractor. This utility extracts and downloads your attachments from your Hotmail account easily and effortlessly. This tool not only downloads attachments from Hotmail accounts in bulk quantity but also extracts them selectively using the Filter options. 
You can extract attachments in one go from all the folders of the email client. You can save your attachments in various formats like DOC, PDF, GIF, etc. whatever format you like. The software is user-friendly and comes with a coherent GUI which enables people even from a non-technical background to access and operate it easily. Instantly download and install it on your desktop. 
Stepwise Guide to Use the Tool
Follow the below-mentioned steps to extract attachments from Hotmail: –
Step 1. Start the utility on your Mac Machine. 
Step 2. Now choose the Hotmail email application from Email Source and then enter Email Account details in the application.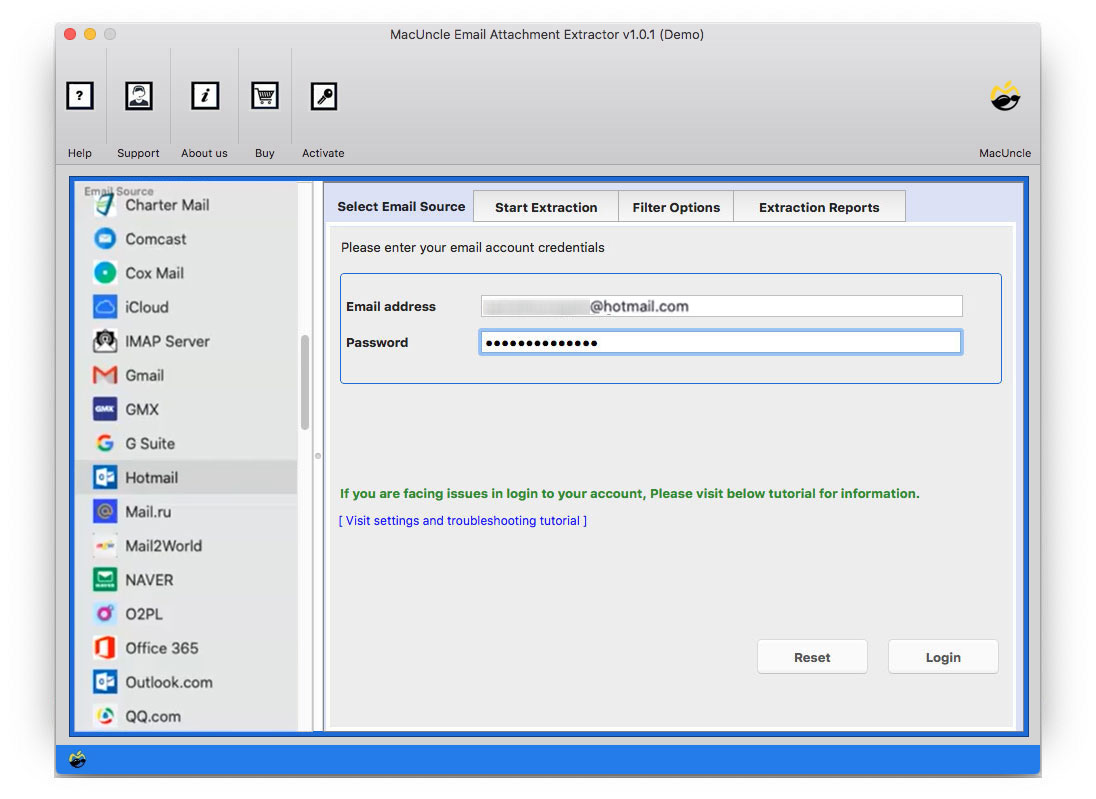 Step 3. Now then choose the Email file with the attached document from which you want to extract attachments from the Email file.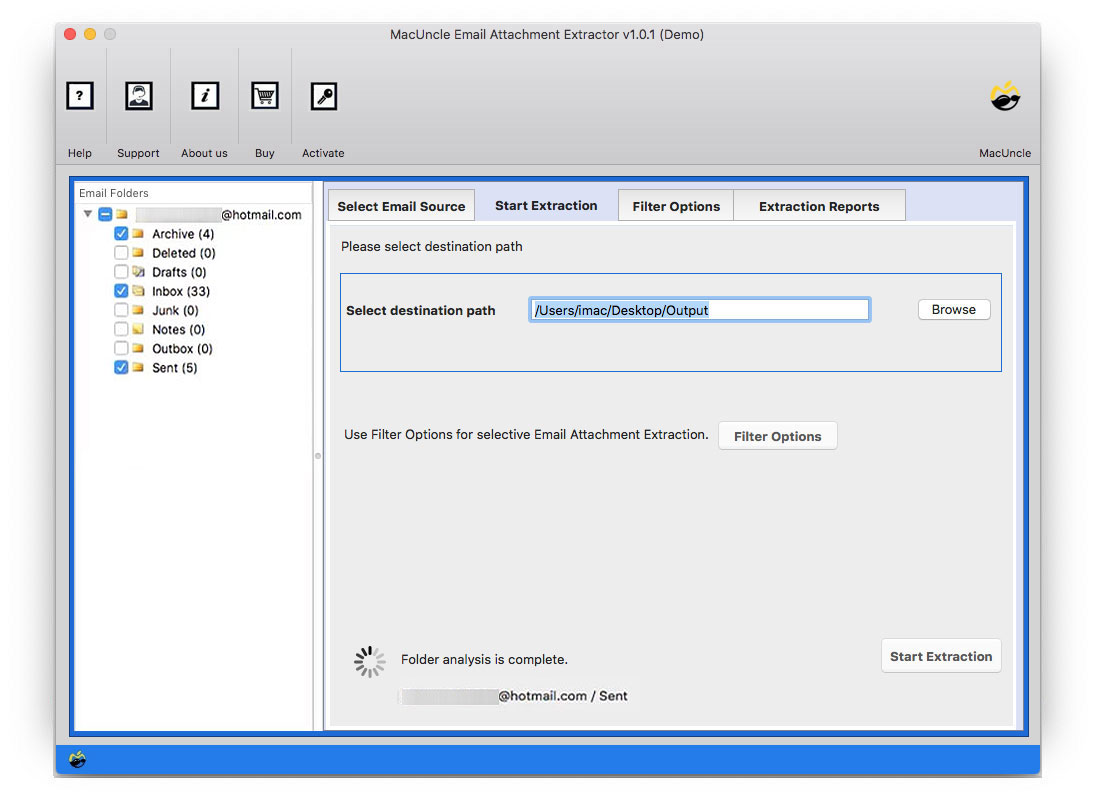 Step 4. If you wish to selectively extract attachments from a few emails, then go to Filter options.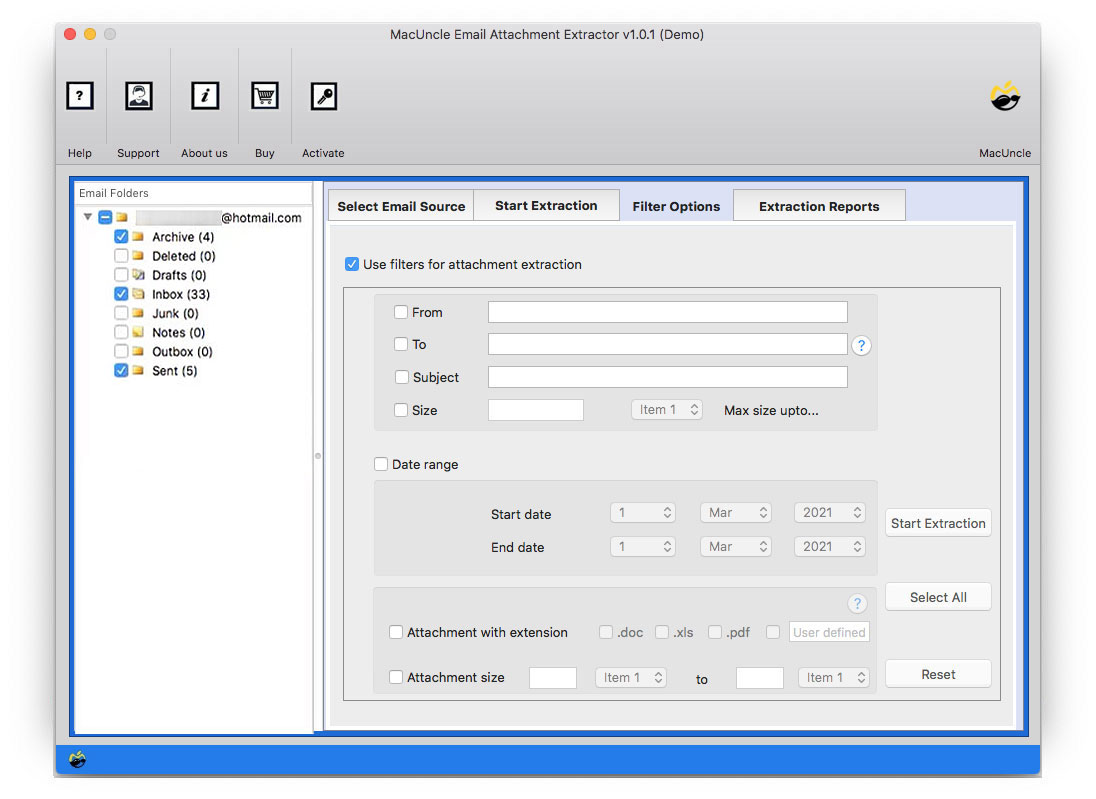 Step 5. Then finally, press the Start Extraction button present on the display. 
You will in a few minutes receive notifications regarding the successful completion of the Extraction procedure. 
From the article find out How to Add Hotmail to Apple Mail Mac.
Extraordinary Traits of the Wizard 
The tool is great and comes with rich features, here are some of the major traits of the tool: –
The tool is quick and produces accurate results in just a few minutes. It performs the extraction effortlessly. 
The wizard provides you with dual-mode to upload files, you can either opt for bulk extraction or selective download. 
Save Hotmail email attachments selectively with filter options.
Download the attached documents without any restrictions or delay.
The software supports all the latest versions of Mac OS like 10.9 Mavericks, 10.8 Mountain Lion, 10.13 High Sierra, 10.12 Sierra, etc. 
Judgment Time
In conclusion, the blog gives you the perfect tool to download attachments from your Hotmail account. There are various reasons why people want to do the same, there could be theft issues, security issues, or some important files and documents. Therefore, you should definitely go for and extract attachments from Hotmail. We have given you the perfect tool for you to perform, the tool works perfectly fine and produces 100% results for you. 
Frequently Asked Questions
How to download the attachments from one particular email ID?
Go with the steps provided in the above writeup, and enter the desired email IDs in the particular field.
Do I need to sign in to the Hotmail account to work on this tool?
The user must enter the credentials of Hotmail to the given field and then then the tool will extract the email attachments from the email messages.
How do you move all attachments from Hotmail together?
In the software, all the emails will get loaded after configuring the Hotmail account. Select the desired number of emails, and the tool will fetch all the attached documents at once.