How to Export Office 365 Emails to EML Format on Mac in Batches?
Migrate your important Office 365 emails into the most widely used EML file format. So, in this write-up, we will go to discuss the automated tool to export Office 365 emails to EML on Mac format and the about Office 365 and EML file format. Let's have a quick look at what EML exactly is read the upcoming section carefully.
Let's take a quick look at Office 365 and EML files before going any further.
Office 365 is a Microsoft subscription-based service that offers different services, such as Word, Excel, One Note, Outlook, etc. On a subscription basis, Office 365 offers both desktop-based and web-based applications for its customers. Data sharing and app upgrading at no extra expense are the main advantages of an Office 365 subscription.
EML is the file format for storing email messages. Several email clients used to store EML-formatted emails. Mozilla Thunderbird, Outlook Express, eM Client, Gmail, and so on are some of the main email clients. The EML file includes a single message containing file attachments.
Export Emails from Office 365 to EML Format on Mac
You can find some freeware software to do so, but we do suggest that you use the licensed tool that provides you with the safeguard of your details and also has plenty of functions to simplify this operation. Get the application Office 365 Backup tool that gives an outstanding solution to export the Office 365 account locally. In the next section, we will discuss more features and the procedure for Office 365 export to EML on Mac. The tool ensures data protection, and accuracy, and enables the transfer of e-mails from Office 365 to the EML file format directly.
Aspects of the Tool
Import Office 365 emails in 8 + formats.
Export selective emails from MS Office 365 accounts using the Filter option.
Offers Pause & Restart in the process.
Provide the different Office 365 Naming conventions.
Supports in all new versions of Mac OS X above 10.8 Mountain Lion.
Step-by-Step Procedure to Use the Tool
Learn how Office 365 Export to EML Format procedure takes place.
1. Launch the tool on Mac OS 10.8 Mountain Lion.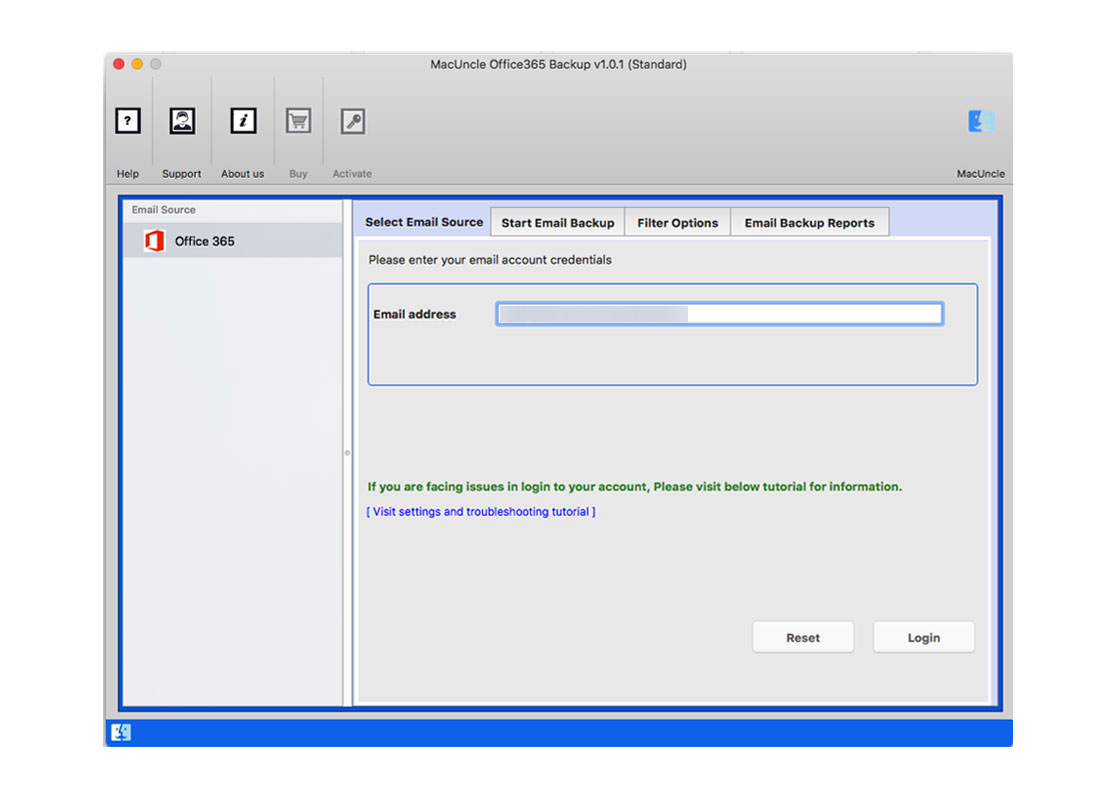 2. Now enter Office 365 credentials to the software. To continue, press the login button.
3. As illustrated in the image select the desired folder and select the EML file format.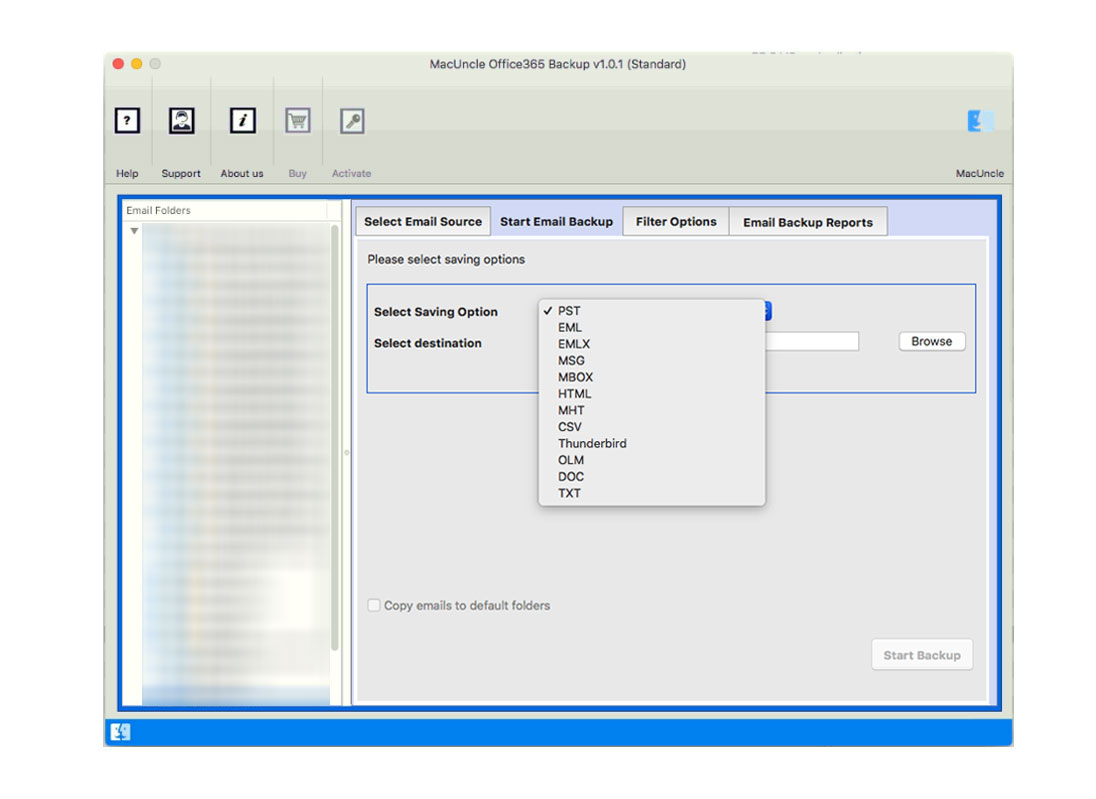 4. Filtering the Date, To, From, etc. export email files option.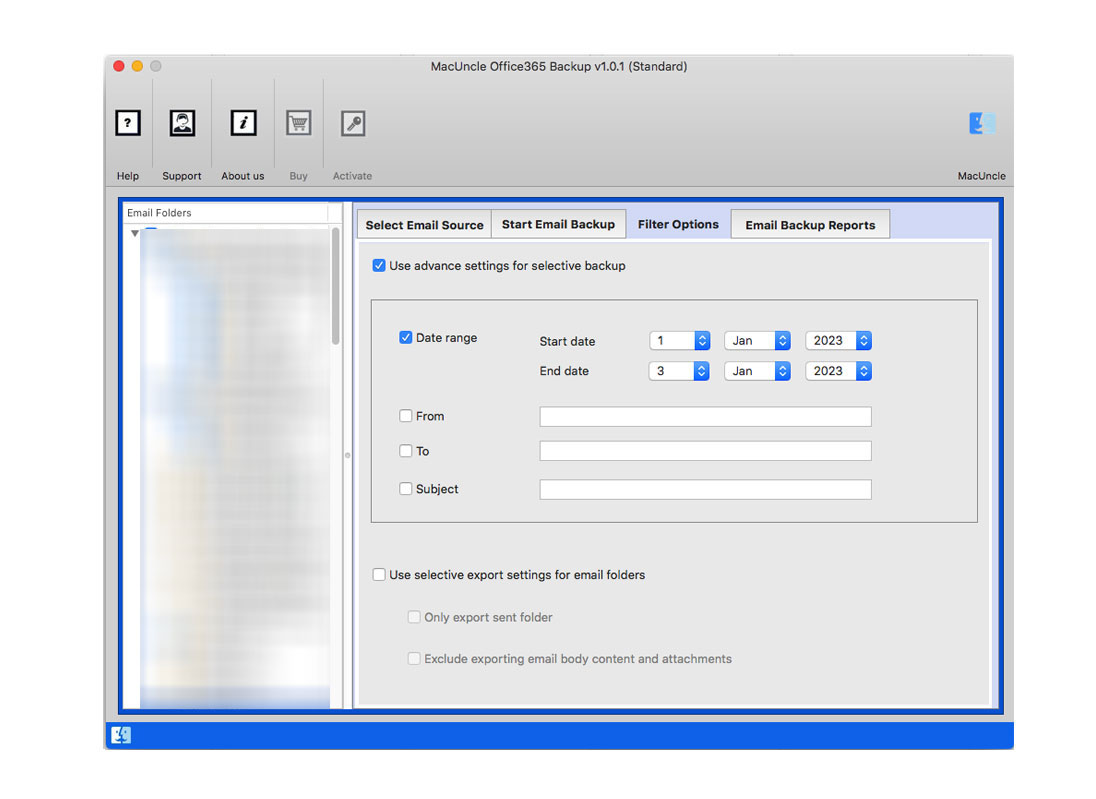 5. To save the resulting EML file from Office 365, select the destination path. To start the backup Office 365 on the local Mac Computer, press the Start Backup button.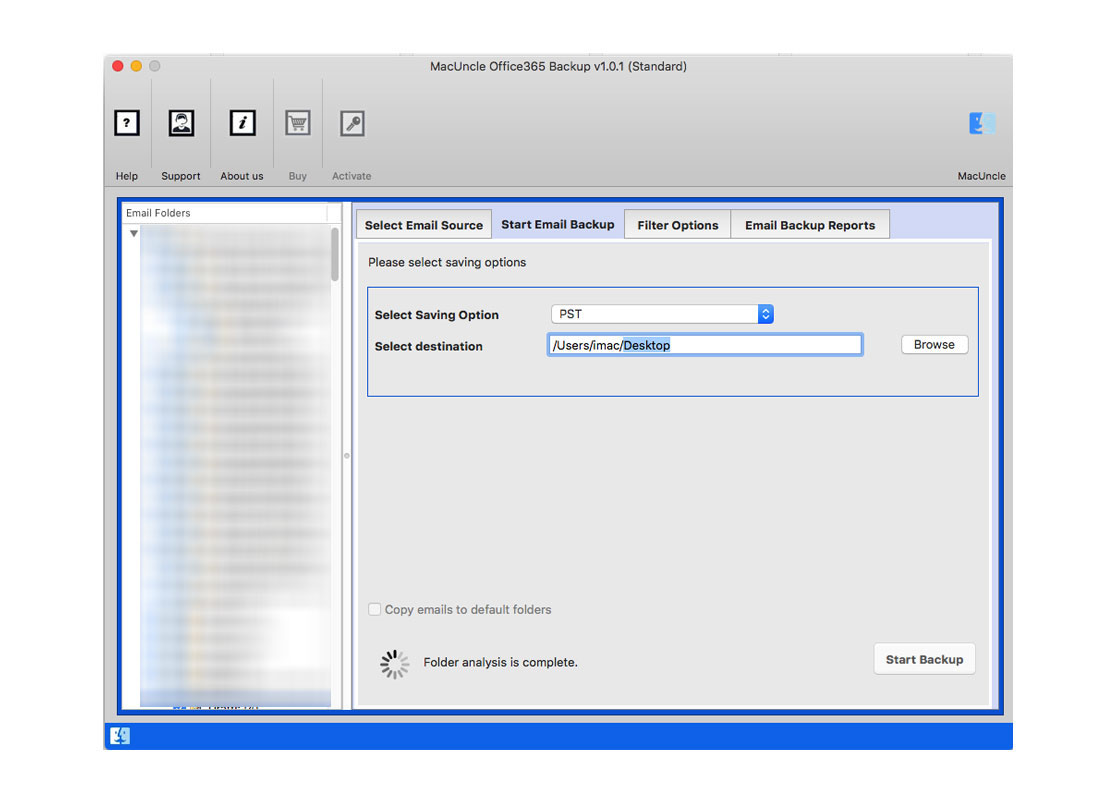 Once the process finishes the software displays a completion notification on the screen.
Why Office 365 to EML Tool for Mac
Batch Conversion: Export bulk emails from Microsoft 365 to EML files without any restriction. This allows you to save time and money to concentrate on your job.
Include attachment files: An essential part of the e-mail message is attachments. Most of the data is sent in an attachment file and received. That is why all attachments are programmed to keep intact throughout the conversion process.
Preserve Meta properties: Software preserves both the main elements and the electronic's Meta properties. CC and Bcc, from, date and time stamps, hyperlinks, Unicode messages, etc. are all main components.
Maintain the folder structure: After Office 365 Export to EML, the folder structure and subfolder structure of emails remain the same.
Multiple Output Formats: This software will convert Office 365 in PST, MSG, EMLX, PDF, HTML, etc. file formats, except for Office 365, to EML conversion.
Cloud Migration: You can also send Office 365 to Gmail, G Suite, Yahoo Mail, Yandex Mail, Thunderbird, Zimbra Mail, Lotus Notes, etc. using this app.
Wrapping Up
I hope you have resolved the issue to migrate important Office 365 Mailboxes locally on Mac PC. Now, you can access them separately according to your work. This all-in-one tool maintains the original folder hierarchy and also a non-technical guy can easily export Office 365 emails to EML on Mac using this tool.
FAQs
How can I save an Outlook 365 email as an EML file?
Follow the steps mentioned in the above section to save emails from Office 365 to EML formats.
Does the tool export Office 365 public folder to *.eml format?
Yes. The user just needs to select the desired folder from the software interface and perform the migration.
How long does the method take to export Office 365 to EML?
With a good internet connection and proper system requirements, the software executes the conversion within a few minutes.