How to Import OLM (Outlook for Mac) Files to Mac Mail?
Do you want to import OLM to Mac Mail? If yes, then you can stop searching as from here you can find the most trustworthy method to migrate Outlook for Mac to Apple Mail / Mac Mail Account.
MS Outlook is a desktop-friendly email client that is available on both Mac and Windows platforms. Although we primarily concentrate on Outlook for Mac in this writing-up.
Some Mac Outlook users want to switch to Mac Mail for different reasons. The e-mail software supports various formats of files. However, the user cannot transfer Outlook OLM directly to the Apple Mail Account. Use third-party solutions that convert your contacts and events into a format that is compatible with macOS contact and calendar apps if you want to import not only your mailbox but also your Outlook contacts and events. To do this, the Outlook for Mac OLM must be converted into MBOX format supported by Apple Mail. 
Learn More About OLM and Mac Mail
The OLM file is a database file for Mac Outlook 2011, 2016, and 2019 that allows saving email addresses, contacts, journals, calendars, etc., and offers the facility for future use to backup emails in Mac Outlook archived OLM format. You can easily import or export an OLM file to Outlook for Mac.
Apple Mail / Mac Mail is a desktop email client that comes as a default email client for several Mac-based operating systems, i.e., macOS, iOS, etc. The Apple Mail client supports different types of email message-sending and receiving protocols, such as SMTP, POP3, Share, IMAP, etc. With Apple Mail, also known as Mac Mail, users can customize their current email ID.
Common Method to Transfer OLM Files to Mac Mail
Launch Outlook on your Mac system.
After that, choose the mailboxes that you want to transfer to the Mac Mail program from Outlook.
Drag and drop the selected mailbox into the desktop interface in the next step. It will be saved as an MBOX file format automatically.
After that, repeat the above process until the MBOX file is converted into all the mailboxes.
Next, save all the MBOX files in a single folder.
Now Open Apple Mail Account.
Now, choose the File >> Mailbox option.
A new dialogue box appears on the screen as soon as you press the Mailbox button. From the dialogue box, select the MBOX format option and press Continue.
Browse the folder containing all of the MBOX files. Then, to continue the process, click on Choose.
A new window previews all the .mbox files. To remove any mailbox, uncheck the corresponding box for that mailbox.
Finally, to import OLM to Mac Mail, click on Proceed.
Limitations of the Manual Method
There are some limitations in the above-described solution that converts OLM to Apple Mail that is mentioned below:
It is quite clear from the mentioned steps that it takes a lot of time to import OLM to Mac Mail.
Sometimes the process breaks in between the migration.
Migration of orphan .olm file to Apple Mail is not possible.
Thus considering these drawbacks you can try the approach mentioned below to transfer/Import OLM files to Apple Mail without any hassle.
Reliable Solution to Import OLM to Mac Mail
You might find a different solution to import OLM files to Apple Mail online, but when it comes to emails one must get a secured solution to transfer the Outlook for Mac files to Mac Mail Account. To Open OLM files on Mac OS, it is, therefore, necessary for users to choose trusted software. They can thus save their precious money and valuable data. One such toolkit that users can trust with its efficient functionality is the OLM to MBOX Converter for Mac program.
OLM files can easily be transferred into MBOX through this method. Users can conveniently import the MBOX file into Apple Mail without causing any modification to the email files. 
Use the below steps to export Outlook Email OLM to Mac Mail
1. Download the Demo version of the tool and install the Tool
2. Select OLM files from Add File(s) and Add Folder(s). Here we have selected the OLM folder from the system.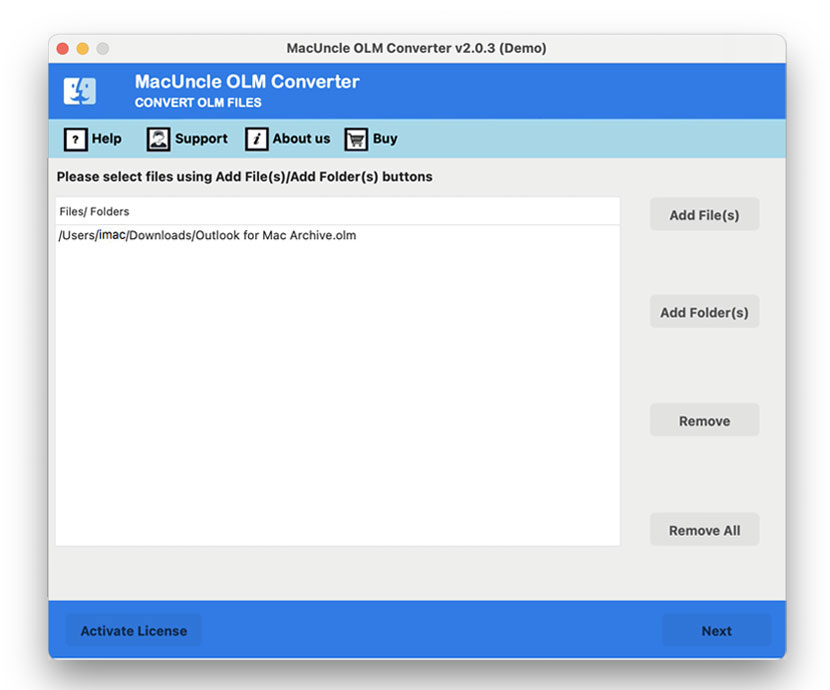 3. In this step, you have to select the Saving format from the option MBOX.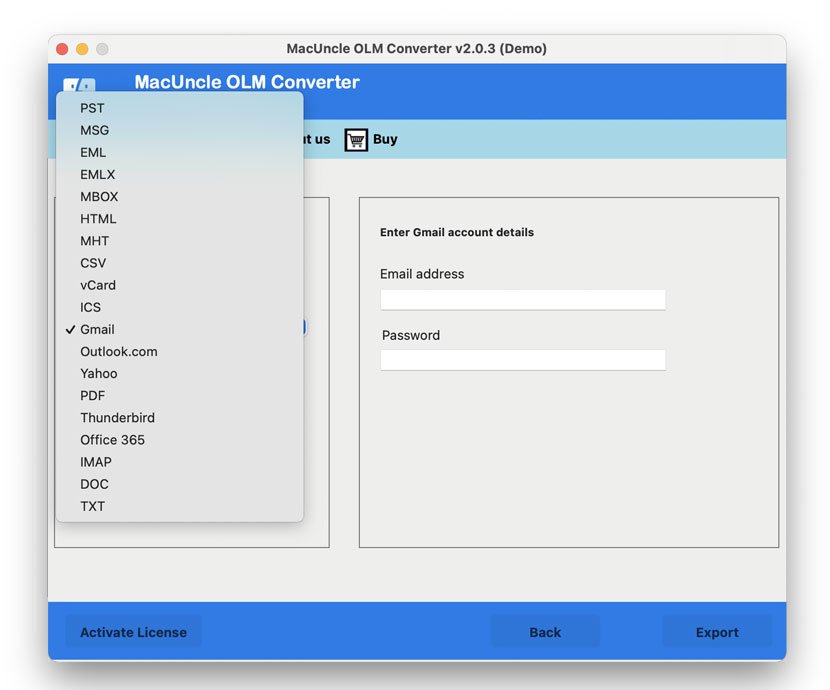 4. Then browse the desired destination location and File naming Option. Finally, press the Export button.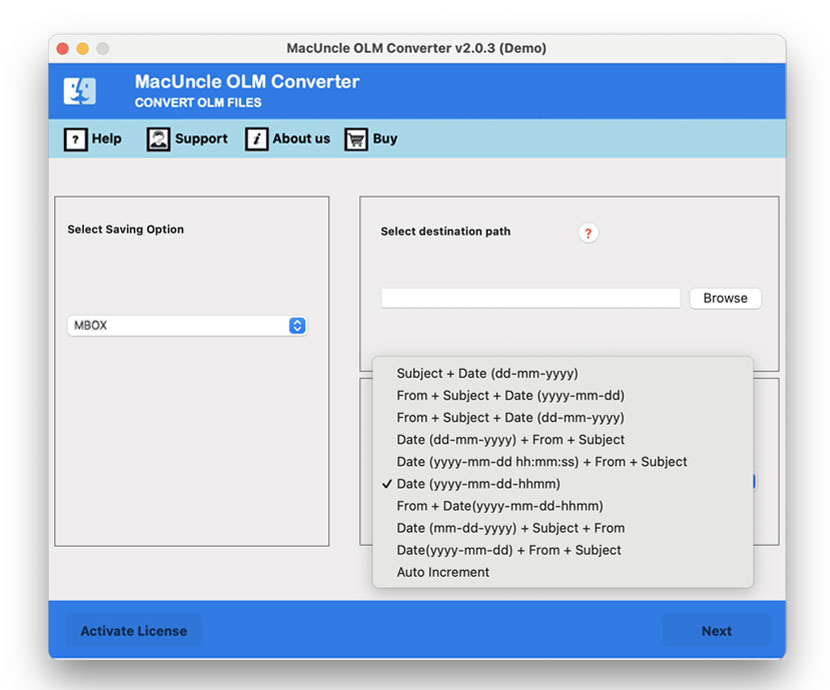 Conclusion
If you are a Mac OS user, you might need to access Mac Outlook files using the Apple Mail account. Therefore, learning how to transfer data between two Mac OS email clients is easier. We have discussed two different ways to import Outlook OLM files into Mac Mail in this post. From the listed ones, users can choose any form. Since the manual approach has several drawbacks, experts suggest using the above-mentioned tool to import OLM to Apple Mail.