Migrate Emails from AOL to Office 365 – Best and Expert Solution
Learn the best method to migrate AOL to Office 365 from here. In this article, we have covered both the manual and automated approaches for the same. Get the solution as per the need.
AOL known as American Online is popular and most used by American people as their only Email Client. AOL gathered an attractive number of people in the initial phase but was not able to retain its position for a long time. Because many users faced problems during accessing their AOL accounts as the application did not provide much space to the users. 
Though having an intuitive interface, it was not the priority of many people thus marking a decrease in the number of its active users. Big corporate wanted an email application that fulfills their needs such as Microsoft 365. Therefore, many people enquire as to "how to migrate AOL to Office 365 on Mac" or are searching for other alternative methods. 
Thus, this article is created for you, if you lie in the above category of people. We have tried and put forward the Trusted & Reliable Solutions to forward AOL to O365. 
The Motive for Transferring AOL Mail to Office 365 
Many new users of Microsoft 365 are not aware of the methods to migrate AOL to O365. There could be many reasons why one would import AOL to Office 365 due to its great functionalities. Here are some of them: –
Declining Support Performance of AOL Email Client. 
Inaccessibility problems were faced during accessing AOL Account because of an immediate shutdown error. 
Companies look for some exotic and professional suites like O365 which can provide supreme features. 
Also, Office 365 is much more secure as compared to the AOL Mail server. 
Using the Manual Method to Migrate AOL to Office 365 is not that easy you have to put in more efforts and technical skills to move on with. Thus, we have provided a Professional Tool to forward AOL emails to Microsoft accounts. 
Manual Guide to Migrate AOL to Office 365 
Carefully follow the below-mentioned steps to move your AOL emails to Office 365: –
Start by logging in to your Office 365 account and open Outlook Web Access (OWA). Go to the Setting icon in the upper right corner of the tool and type "Accounts" in the search box. 
Hit the "Connected Accounts" option from the Settings option. 
Click the "+" to add a POP3/IMAP account to Outlook mail from the next tab provided.
A new window will appear and enter the credentials- AOL Email address and password. And click "Ok". 
It Notifies "Connect your email account", click "Ok" to complete the process. 
Finally, you can see the AOL account added to the list of "Connected accounts". 
You can then view all your AOL Emails in your O365 account once the AOL account is configured. However, the process is tedious and requires technical skills to process. Therefore, we have provided an Automated Solution to do away with all the technical tasks and efforts. 
Professional Wizard to Move AOL Emails to Office 365
AOL Backup for Mac utility forwards your AOL Emails but also offers a direct migration option to Office 365. The application offers batch or selective migration of your AOL Emails on your local hard disk. There is no limitation on importing AOL email files and it doesn't cause any data loss or corruption with your data. 
Download for Mac Download for Windows
Download the tool for both Mac and Windows.
The software also supports the delete option from the server after downloading it to your local storage. It generates the AOL log report after a complete forwarding process to provide you with details of its location. The software preserves the folder's hierarchy during and after the conversion process. It comes with a 100% guarantee of safety and security and the entire process is smooth. It supports all the latest versions of Mac OS X; you just have to download and install it.
Procedures to Run the Wizard
Follow the steps carefully for easy running of the application: –
Run the software on your System via the link.
Select Start Email Backup and enter the AOL Account Credentials into the panel.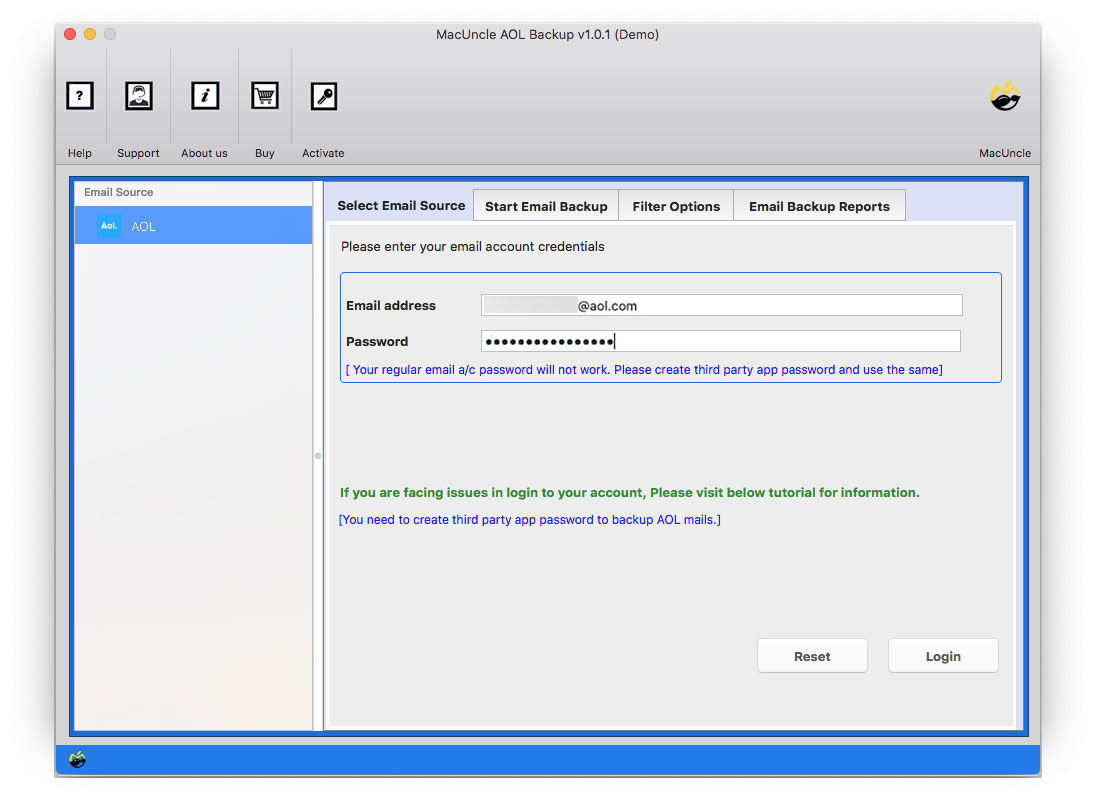 Select the email folder which you wish to convert and choose Office 365 from the saving option.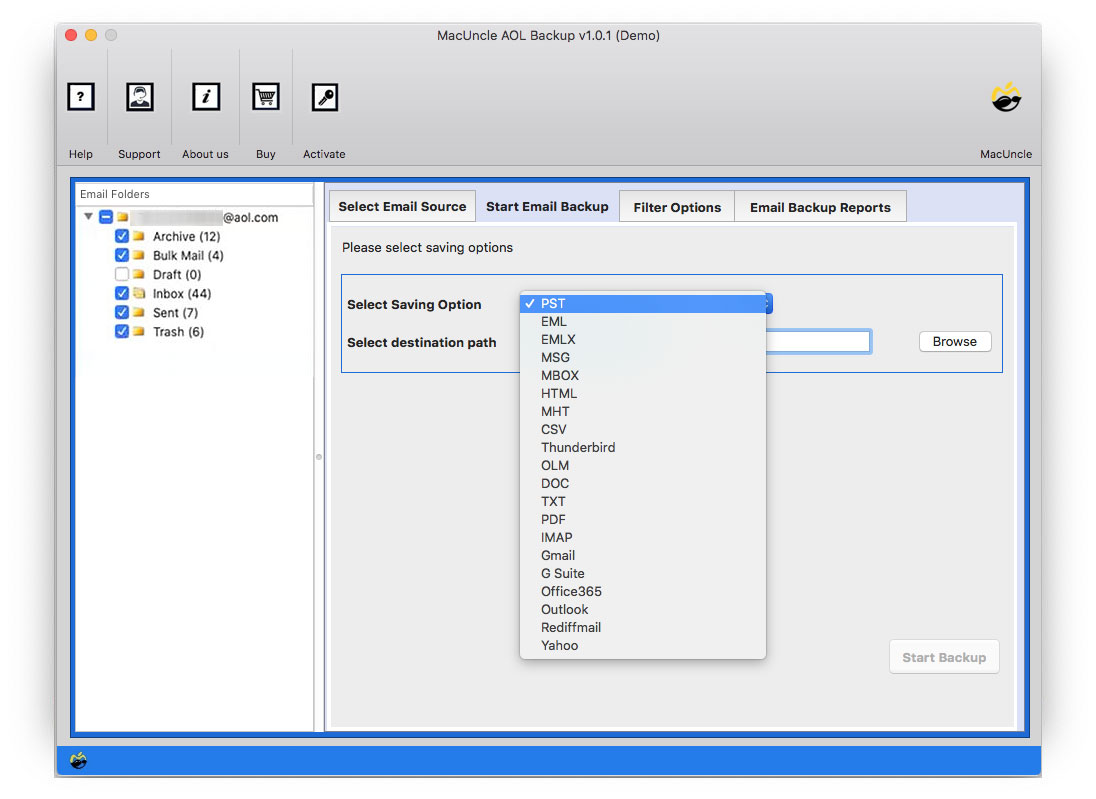 Go to Filter Option if you want a selective migration, it will allow you to choose a specific date & Export a selective folder.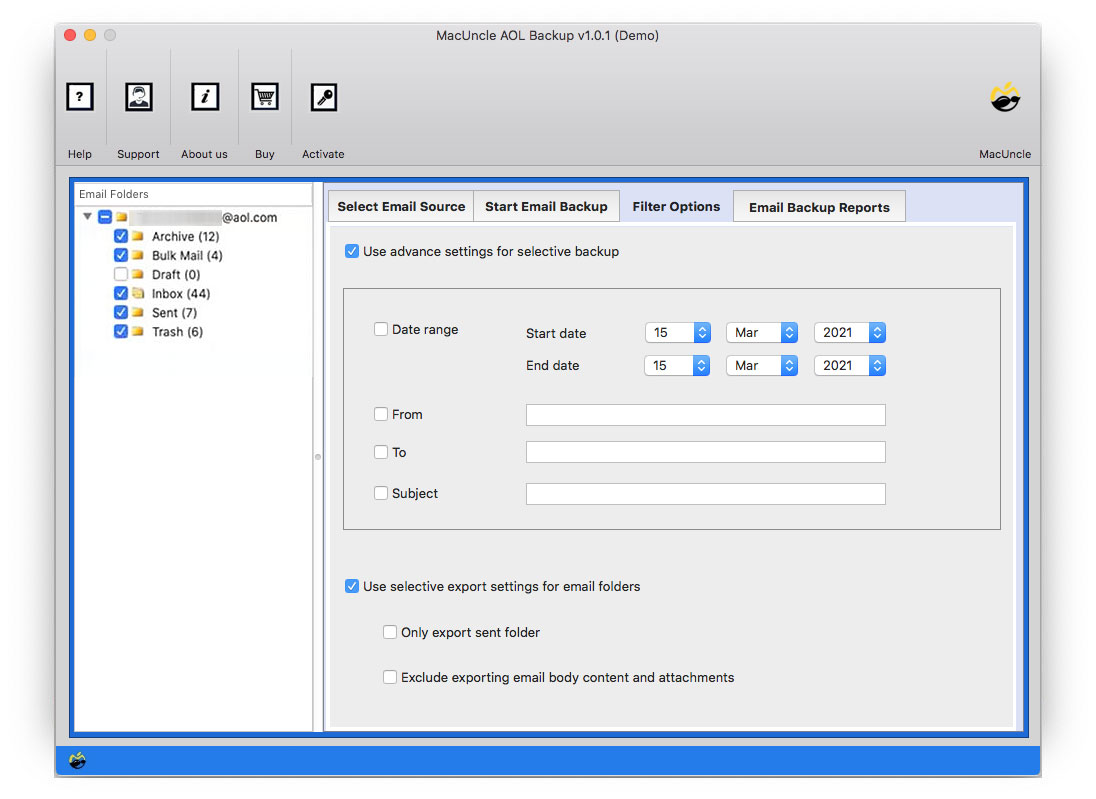 Then set all the required fields and finally press the Start Backup button. 
You have to wait for a few moments, while the application notifies you regarding the successful completion of the migration. 
Benefits of using the tool
The third-party tool has some recognizable and magnificent features which you can experience.
Here are some of the glimpses of its features: –
The software comes with selective and batch migration of AOL to Office 365. 
You can also delete your emails from the server after downloading them to your local storage. 
The application preserves the folder's hierarchy during and after the migration process. 
Conclusion
The above piece of writing makes you understand why you should migrate emails from AOL to O365. Many users come up with queries as to how they can migrate AOL to Office 365 directly. Therefore, we have come up with this blog to make you understand and provide expert tools and techniques to do so. The Manual method is quite difficult and opts for technical skills. Hence, we have provided an Automated Solution to suit your choices and rich features. The application comes up with a free 25 AOL file conversion to Office 365. And provide you with a 100% guarantee.