Save ODT/OTT as Image Format on Mac Machine
Many people just use OpenOffice for their graphics or illustration works. So, they mostly have abundant images in their OpenDocument ODT files. But there arises a need for an ODT to Image Converter for Mac. Viewing your ODT files is easy when you have OpenOffice installed in it but if you want to convert your ODT files to Image formats then it becomes a tricky question and needs the guidance of any technical expertise. This is a very technical question so you don't have any Manual Method to do so on the internet. 
OpenOffice has now become the most preferred choice among the users to work with, in place of Word documents. It comes with exotic and valuable features for its users. Therefore, people have now started using OpenOffice as their sole application. As ODT files can not be easily converted to any other file format, the users then have to face problems regarding it. In this article, we will give the best possible method to Convert ODT to Image file formats such as JPG, PNG, GIF, etc. You don't have to worry about and surf on the internet anymore, your search is over. 
Get other solution for ODT Files
This blog explains to you the Direct & Reliable Method to perform the task. Please read the article carefully and follow it.
The Best & Demanding ODT to Image Converter for Mac
To put an end to your problem we have come up with the Ultimate application ODT Converter for Mac. This utility converts your entire ODT data into an image format of your choice quickly and with effective and 100% results. The wizard allows you to perform the task without OpenOffice installed in your system, the tool works effortlessly well even in the absence of OpenOffice. The software provides its users with a dual-mode that can load ODT files into the software in batches or selectively using filter options.
More importantly, the application comes with a user-friendly interface and allows even non-technical users to operate the software easily. The utility maintains the folder hierarchy after the conversion and prevents data loss. You can rely on the software easily and effortlessly with all confidence. The software provides you with the flexibility to choose the destination location. The application would never disappoint you in the quality of the results produced. 
Steps for Convert OpenDocument (ODT/OTT) to Image
Here are the steps to use ODT to Image Converter for Mac, read and follow them carefully: –
Now upload your ODT files which you wish to convert using the Add file (s) or Add folder (s) options. Press the Next button.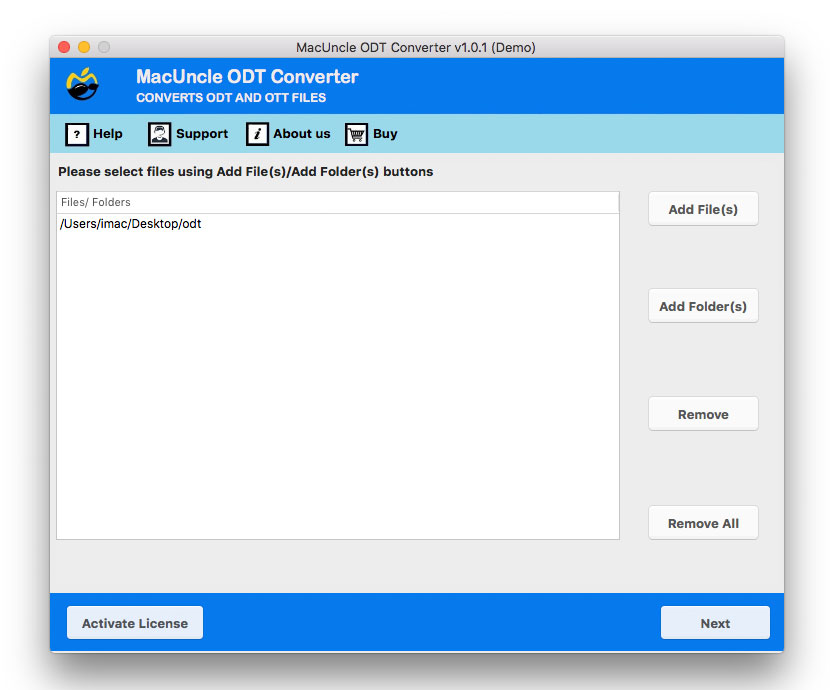 Then enable the check box for selective conversion. Click Next again.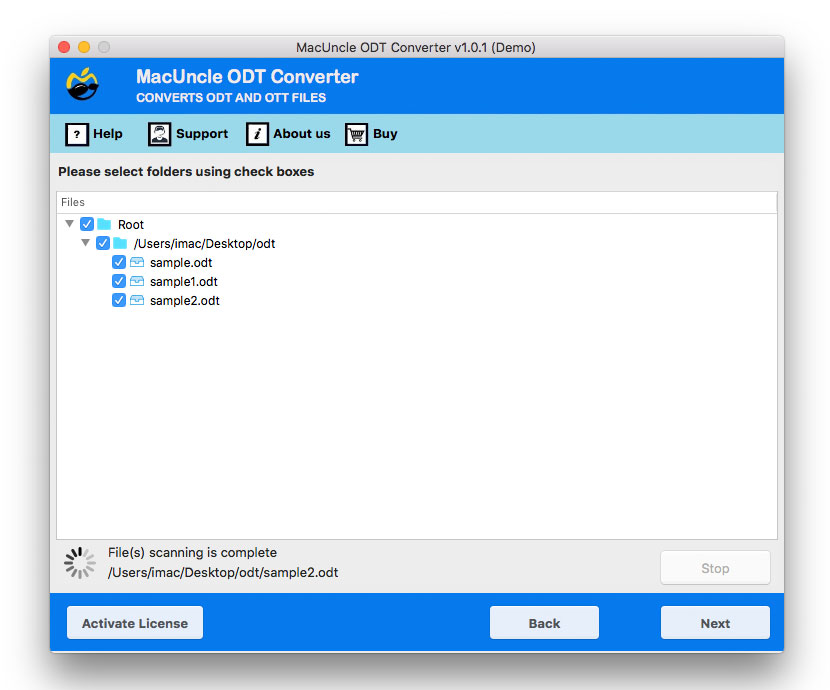 Now select the desired image format from the Select Saving Option.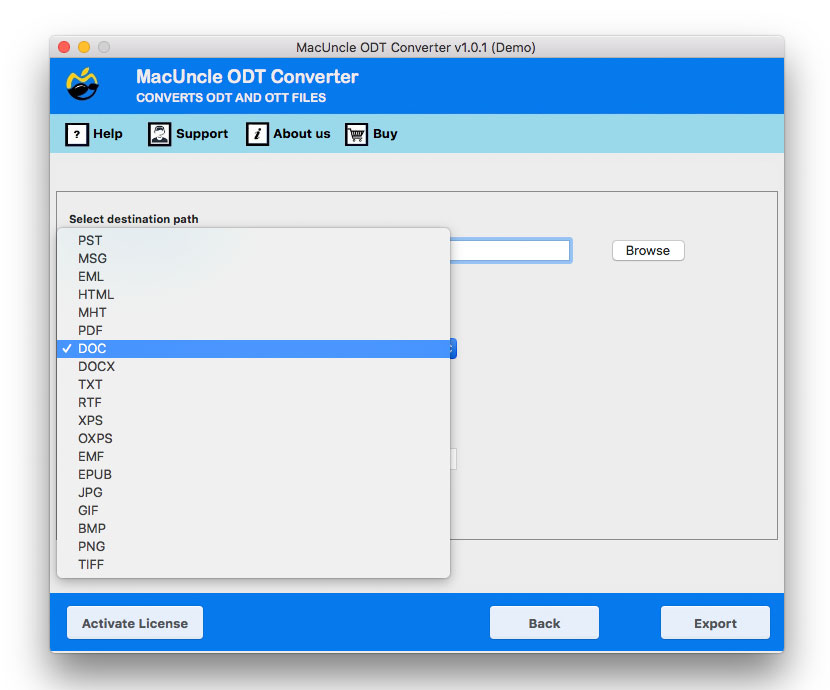 After that, choose your required destination location to save the resultant file.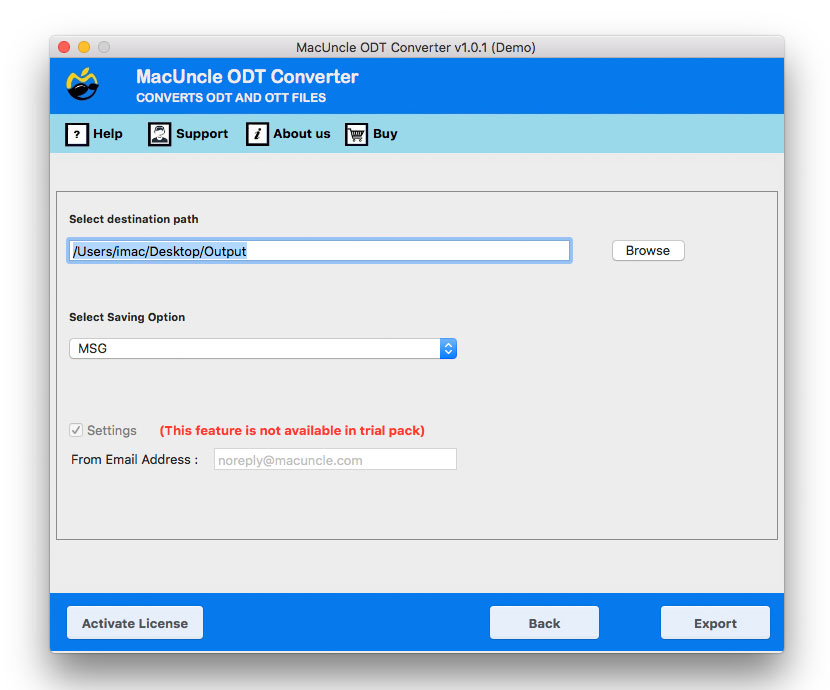 Finally, click the Export button.
Thus, the tool completes the whole conversion of ODT document files to image format.
FAQ – Mac ODT to Image Converter 
What are the saving options available?
In ODT to Image Converter for Mac offers – JPG, GIF, BMP, PNG, TIFF, and EMF.
How many ODT files can be converted to image format?
Use our upgraded version to convert OpenDocument files – ODT/OTT files without any interruption.
Do I need to install OpenOffice before using this tool?
No, there is no requirement of any external application while using ODT to Image Converter.
To Summarize 
Altogether, the article gives you the Right trick to Convert ODT files into Image formats of your choice directly. This tool mentioned here converts the ODT/OTT files quickly and produces 100% accurate results. The software guarantees full safety and security to the user's data. It comes with a user-friendly interface that enables even novice users to operate it smoothly. The wizard offers free conversion of 25 ODT files into Image formats.