Open DBX File on Mac OS | Get Access DBX Files
Although we all know that the Outlook Express client is outdated and is not available on Mac OS, thus opening Outlook Express DBX files on Mac will be difficult. Dozens of users have Outlook Express backup files and therefore are also searching for alternatives to Open DBX Files on Mac OS without Outlook Express.
Now let's learn more about the DBX format and the complete opening procedure, read the complete article.
Outlook Express DBX
Outlook Express is an application for an email program that offers all the basic services, such as email, address book, calendar, etc. To store all the mailbox info, Outlook Express uses the DBX file format. In directories such as inbox.dbx, sent.dbx, DBX files store different emails. Originally, Outlook Express was used in Microsoft Office, but it was replaced by Microsoft Outlook after Windows 7. Outlook Express 6.0 is the newest version of Outlook Express from Microsoft. Microsoft then discontinued the OE service.
Even though the Outlook Express email client is obsolete, many companies are still using it to manage their confidential info, and most organizations are searching for an alternative solution, such as DBX to Gmail, DBX to Office 365, etc.
Expert Solution to Open DBX File on Mac
To solve this, get the specialist DBX Converter for Mac solution. When it comes to opening an Outlook Express DBX file on a Mac, it's incredible technology. Both Mac OS versions, including the current and previous ones, are compatible with it. You can simply open .dbx messages on a Mac using a valuable utility. Its structure is excellent and the GUI is coherent. This software can be used by anyone to open multiple DBX files with attachments. The solution is 100 % perfectly safe, simple to use, and convenient.
Step by Step Procedure to Read DBX Files on Mac Machine
From the above link get the Demo version of the tool. Here, we describe the detailed process for opening .dbx files with attachments on an OS X computer. Please note that you can open a 25 .dbx file with the free demo version of the tool. This is a limitation of the trial edition. To open all Outlook Express DBX files on a Mac, activate the license key.
Follow the steps mentioned below to open and access DBX Email files,
1. On mac OS, install and start the tool right away.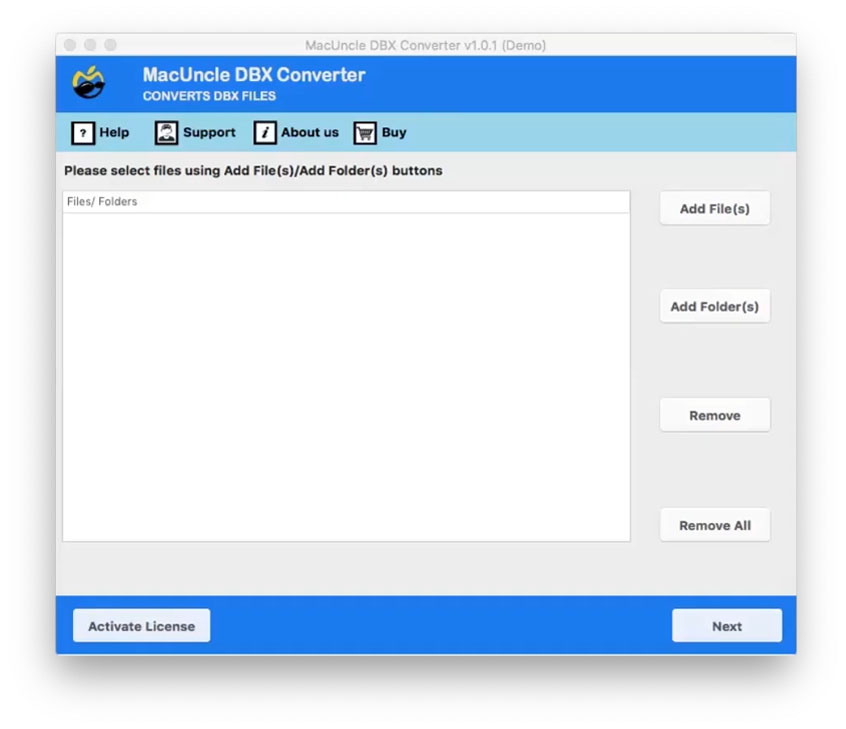 2. Start by uploading the DBX files you want to open using the Add File(s) or Add Folder(s) buttons. Add single or multiple DBX files or a full folder consisting of .dbx files, respectively. To step on, click the Next button.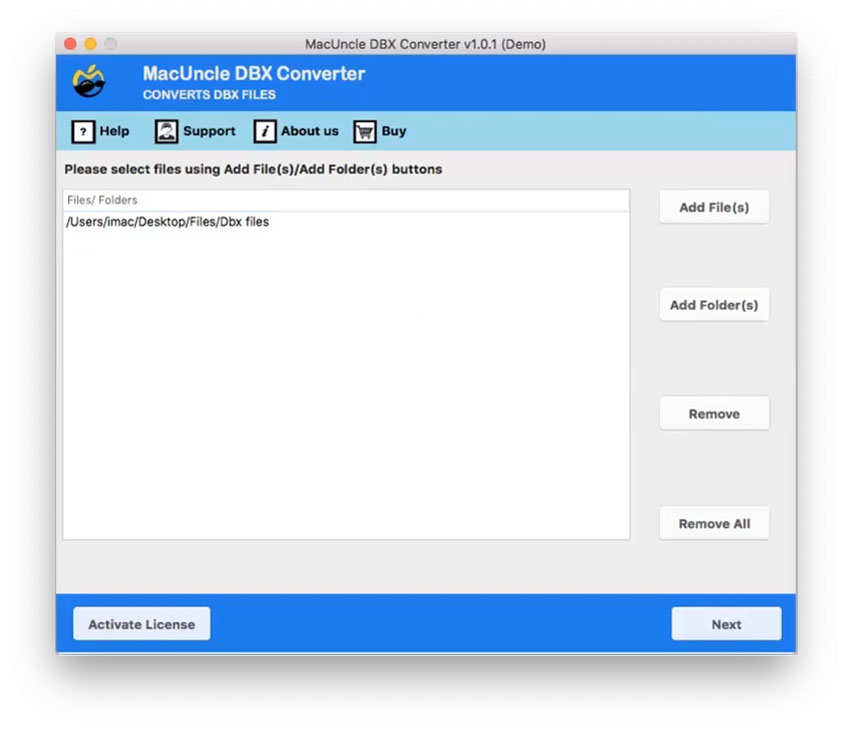 3. The next tab lets you choose the DBX files from the list. Click the Next button then.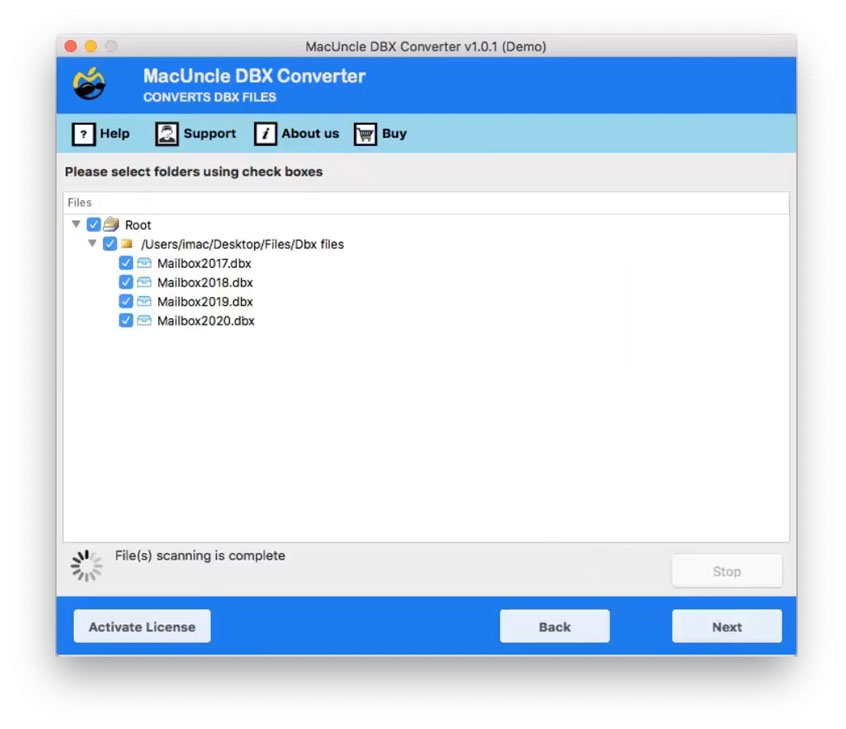 4. Here are the choices to save the DBX file in a different client from which you can pick an IMAP option file.
5. Now enter the credentials for your iCloud account and the IMAP host and IMAP port.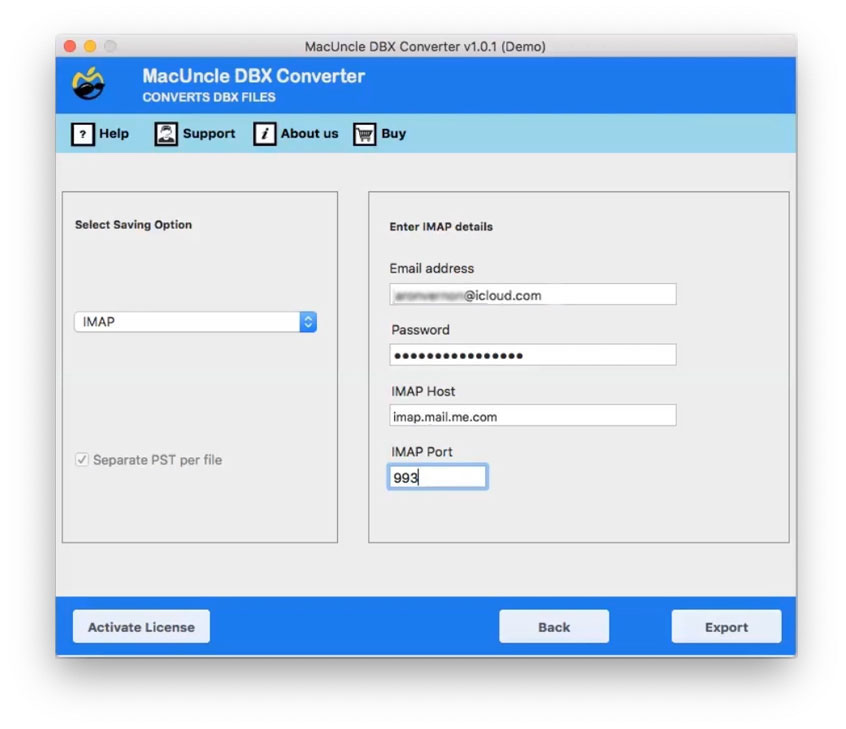 You will get a few updates about the completion of the conversion and a trial kit message after the conversion.
Unique Traits of the Tool
Provides An Independent Approach – Here we have mentioned a standalone procedure. To perform the procedure, neither an OE mail client nor a Mac Mail application is needed.
Smoothly supports batch conversion – The MacUncle approach to open batch mode items from Outlook Express on the Mac OS email program. Both file browsing options allow clients to add several *.dbx files simultaneously. The number of files (or size) to be processed simultaneously is not limited.
Preserves Emails with Attachments – Without a single change in email assets, professionals can transform Outlook Express to Apple Mail. The program retains intact the email attributes (such as To, Date and Time, and Subject) and also keeps attachments the same as before the conversion.
Conclusion
DBX is the database file format for Outlook Express. In the article, you will get the full description of how to open Outlook Express DBX files on a Mac without Outlook Express. There is no direct solution for accessing and reading DBX files on Mac OS X. The application is therefore recommended. And export the DBX file to the format supported by Mac email clients that display DBX emails on all the latest versions of macOS. It is one of the easiest ways, without any trouble, to open DBX files.