How to Open EML Files on Mac OS without Outlook
Well, you here to know the method to open EML Files on Mac, and yes from the blog you will get the simplest method to read email messages on Mac. With this, you will be able to read all the email files you have without even installing any external application
EML Files are usually supported by Windows Live Mail and it is a Windows application. And most likely e-mail messages are created by Microsoft Outlook. So it becomes really difficult for non-windows users to open and access EML files on other operating systems. There are some users as well who want to open an EML file on Mac but due to file incompatibility, they are unable to do so. From here you will find a way to open them, ideally a way that includes accessing the original attachments.
Overview of EML File
An email message saved by any email client, such as MS Outlook or Apple Mail, is an EML file. It includes the content of the email messages with the subject, sender, recipient(s), and date of the email. EML files often consist of one or more attachments to emails sent with a post.
Benefits: These are the most vital uses of EML files in the professional field.
For Forensic Analysis, these emails are used to retrieve all the email header information in the email messages.
Easier to send individual messages to the receiver without revealing all the information in the EML format.
Professional Method to Open EML Files on Mac
Use the MacUncle application EML Viewer tool to open and read multiple EML Files on Mac OS X. The tool is to open email files without any limitations. The whole software GUI is possessed advanced features while displaying the email messages on the software panel. As soon as clicking the files or folders the EML reader Mac tool shows the files with attributes such as From, To, Subject, Sent, Received, etc.
Download for Mac Download for Windows
Without any additional program installation, you can easily access EML files on Mac OS 10.8 Mountain Lion and all the above versions.
How to Use the Tool:
Here is the procedure to read EML files on Mac OS X:
1. Start the software on Mac OS edition above 10.8 Mountain Lion.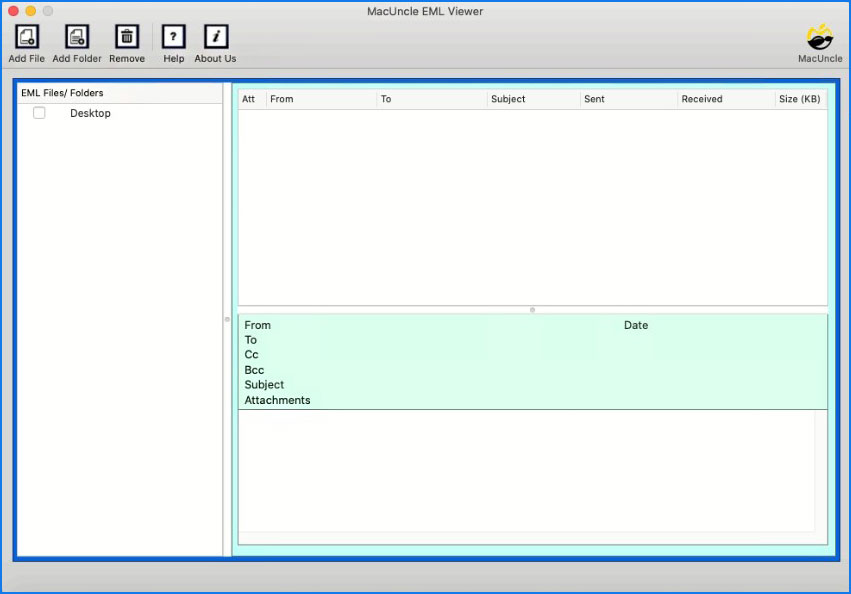 2. Click Add File(s) or Add Folder(s) to upload EML files and folders consisting of EML files to the software GUI.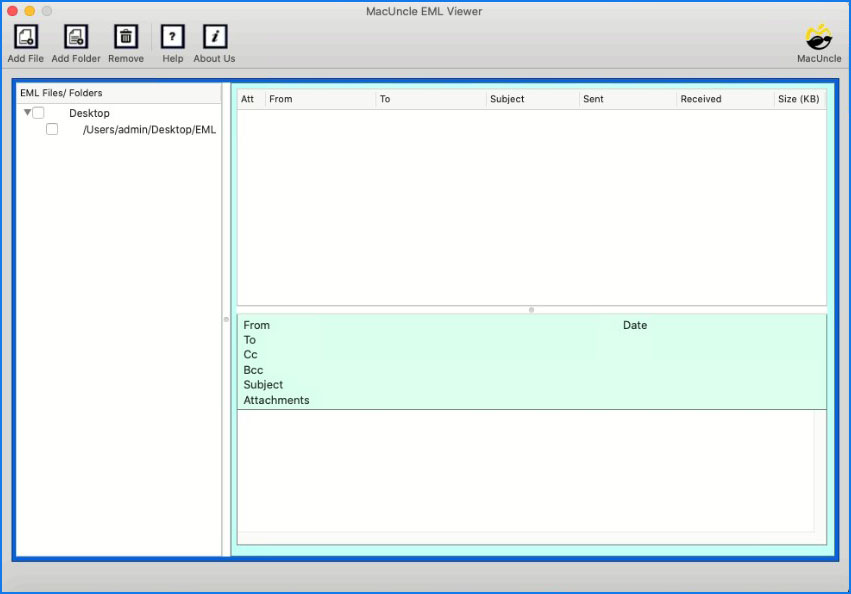 3. Select the folder to access particular email messages.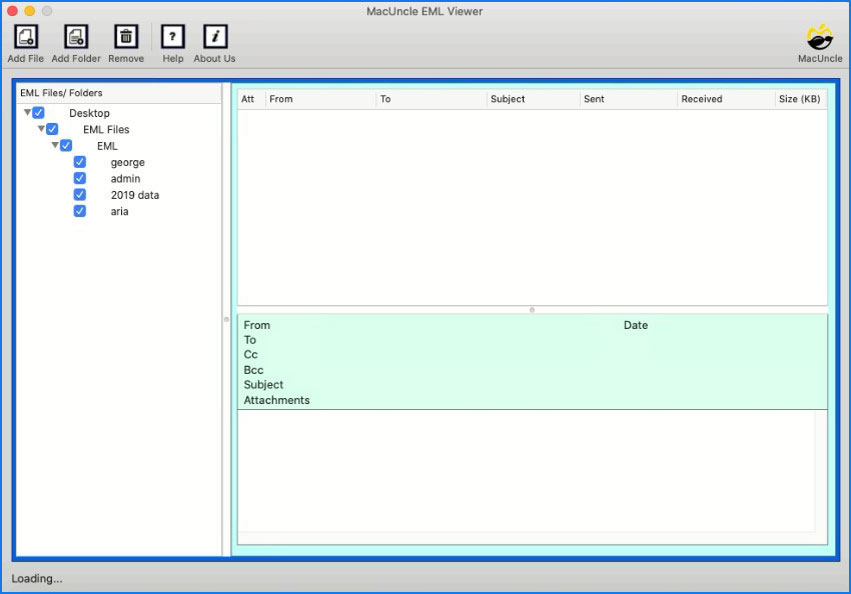 4. Now, you can see the files in the folder with information like From, To, Subject, Sent, Received, and Email File Size.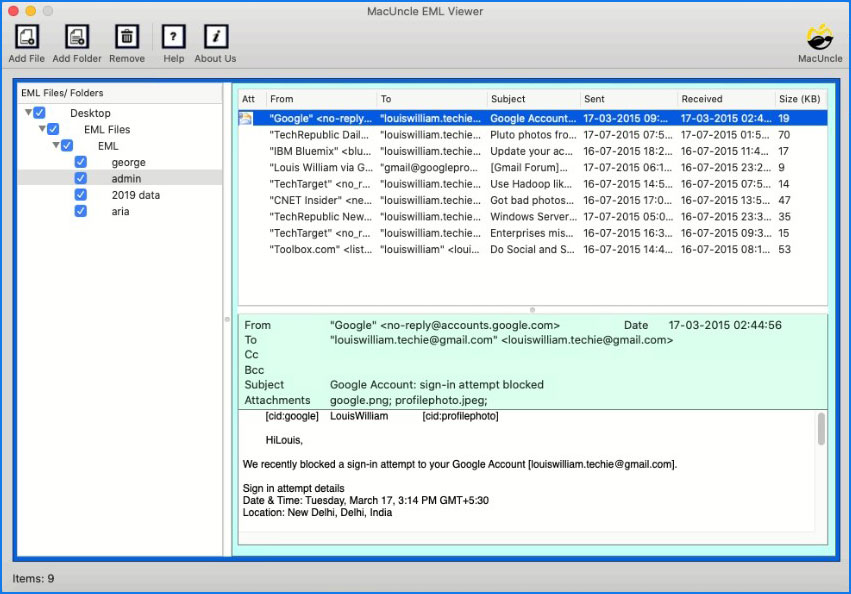 5. To open EML Email files on Mac OS, click on the file.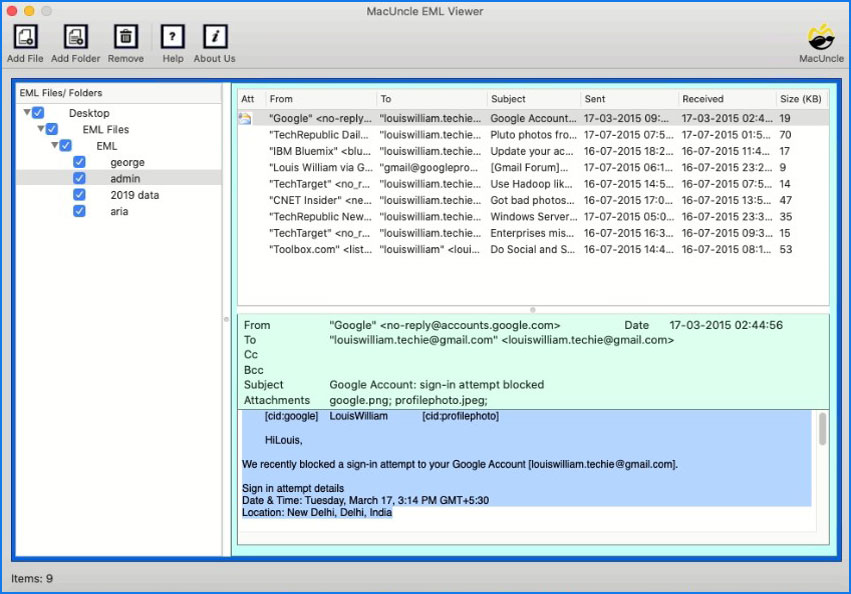 Freeware Software Features:
A user-friendly GUI saves a lot of time.
Compatible with all versions of the Mac Operating System.
Quickly displays the EML files.
It is a freeware tool to open single or multiple EML files.
Demo and Free Versions are also available for the evaluation of applications.
It is quick to run and saves a great deal of time.
Conclusion
Now, you know the techniques to open EML files and read email messages with ease. Within two clicks you can read the email files with complete details. The tool is completely free of cost as well as permits us to view unlimited EML files with accuracy.