Migrate G Suite to Personal Gmail Account on Mac
In this article, we will examine the answer to "How to Transfer G Suite to Gmail on Mac". Here we will go through a detailed summary of G Suite or Google Workspace and Gmail accounts along with the reasons why G Suite to Gmail migration is needed.
"Hi, currently I own a G Suite account. I want some of the data to my personal Gmail account. The issue I am facing right now is that I only need to transfer data from a specific date. Is there any method to move selective emails from G Suite to Gmail?"
Just like this, we get different queries from Mac users like
As the issues are of email migrations, non-technical users might get stuck in between. Therefore, let's find out how simply we can migrate G Suite to personal Gmail within a tool itself. 
G Suite[Google Workspace] & Gmail
Well, most of us know the difference between G Suite & Gmail. But this section is for all our computer novice users. 
G Suite or Google Workspace Account is a combination of different Google tools that comes with a subscription plan. It is designed for organizational use with multiple productivity tools, Services, and apps. G Suite comes with a basic edition and an Enterprise edition. 
Gmail is a completely free email service with a storage space of 15GB. Creating a Gmail account will give access to Google Account. A Google Account has different Google tools such as Drive, Maps, Contacts, Photos, Meet, etc. 
The mentioned details are a few major points of the two applications. At this point, we need to find a solution to migrate G Suite to a Gmail account. So, get the solution right from the next section. 
Transfer G Suite to Gmail on Mac with MacUncle Tool
The G Suite to Gmail migration is now effortless with the help of the Gmail Backup for Mac Tool. Transfer Google Workspace & G Suite to a personal Gmail account in bulk without any hassle. The utility supports all G Suite planes such as Basic, Enterprise, and Business.        
Download for Mac Download for Windows
The migration process is very simple and effective with the aid of the tool. Multiple files and folders can be transferred to a Gmail account. 
How to Operate the Tool
Start the application and Enter G Suite or Google Workspace account credentials to the required fields. Then press the Login button to proceed.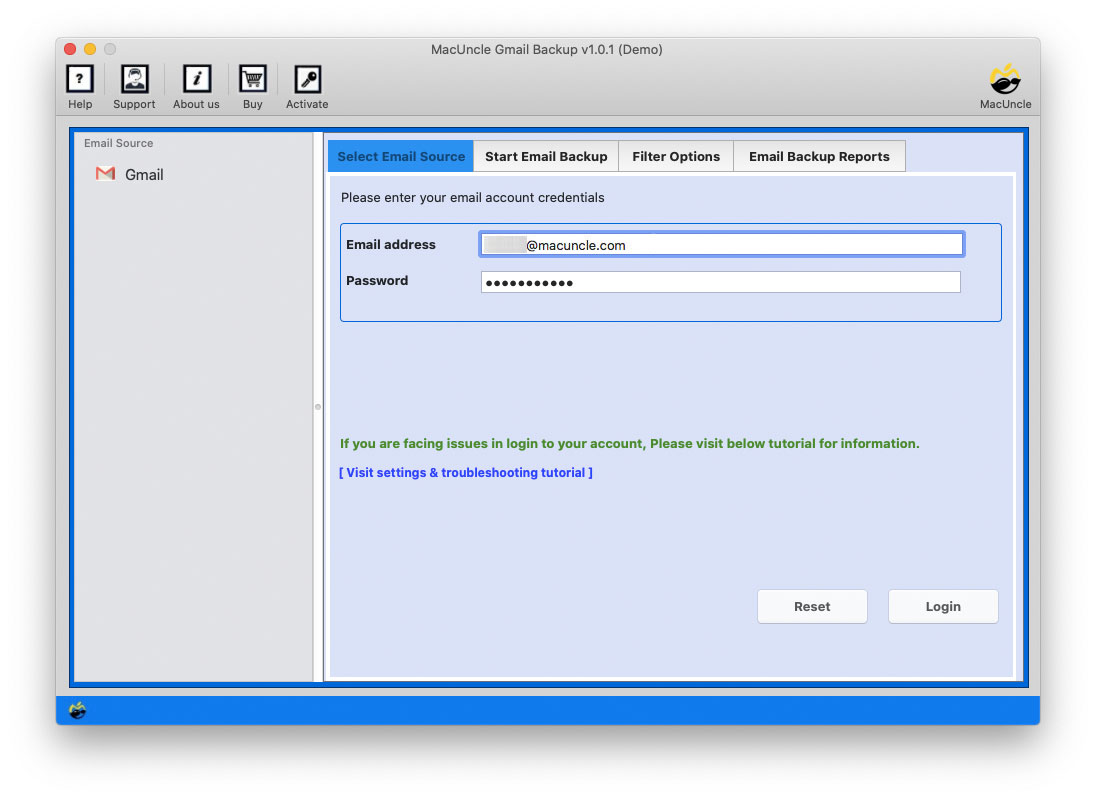 As a result, the tool will scan and display all the files as well as the folder on the application panel. Choose any folder as per demand.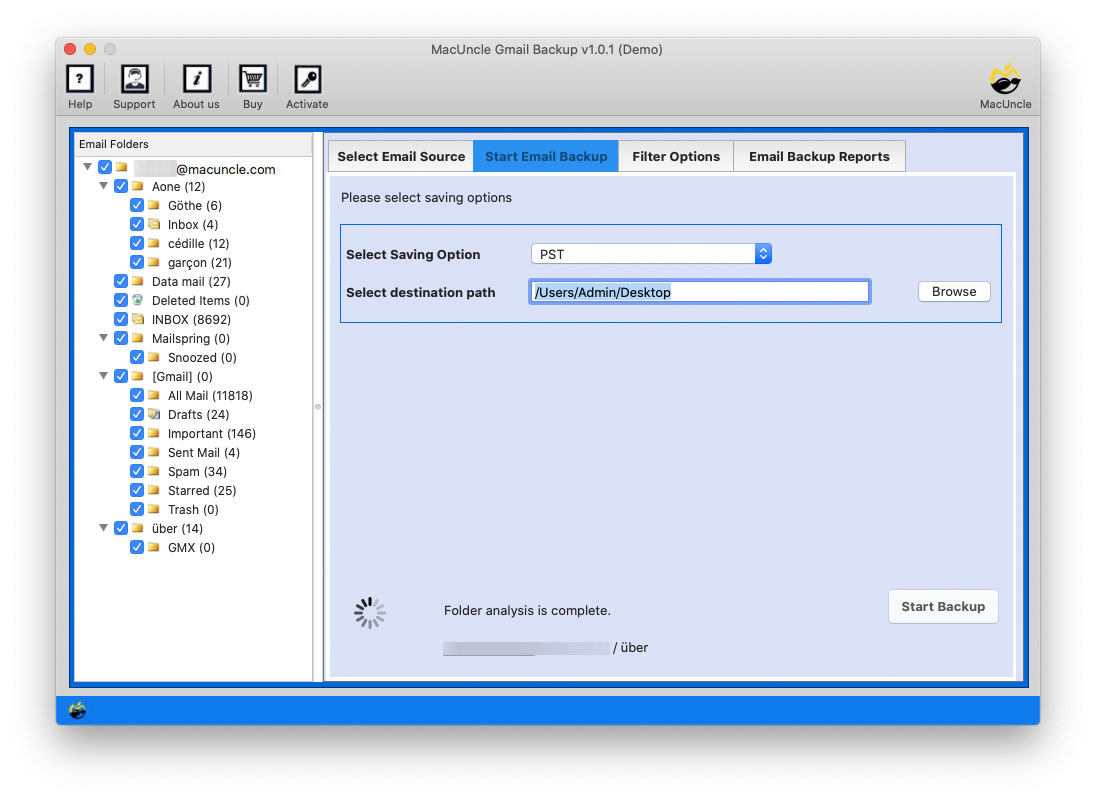 Now, select Gmail, and then, you will see the different fields to enter Gmail account details such as Email Addresses & Passwords.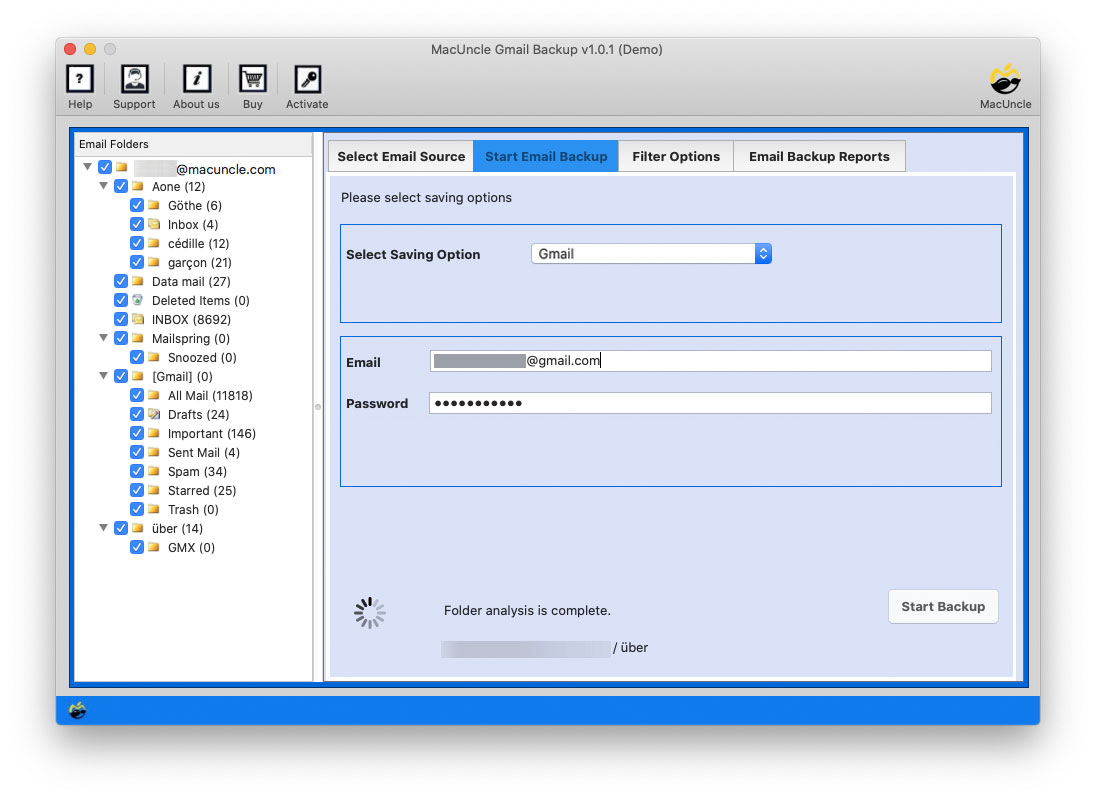 Further, go to the Filter option for selective migration of Google workspace[G Suite] to a personal Gmail account.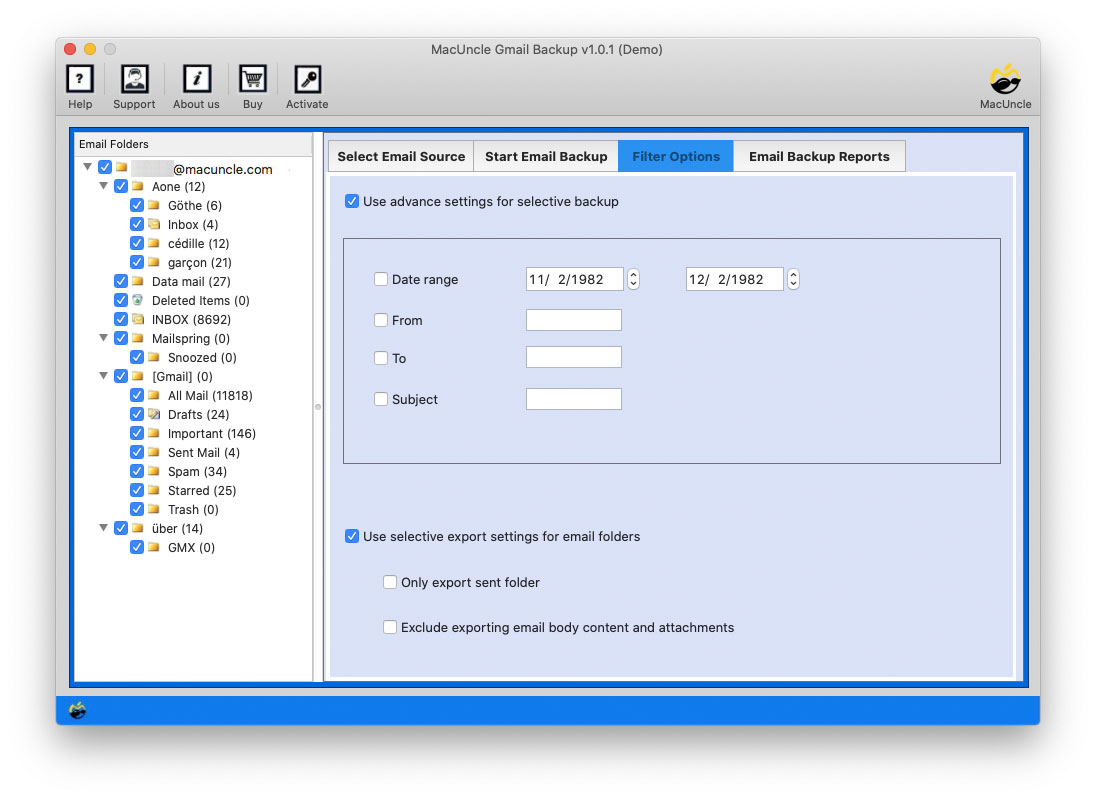 Finally, press Start backup to initiate the procedure to transfer G Suite to Gmail on Mac. 
That's it. Now you have successfully moved all the required data from Google Workspace to Gmail within no time. 
Why do Users Transfer from G Suite to Gmail?
As of now, we have completed the procedure to transfer G Suite to Gmail on macOS. Now, up next let's see why G Suite/Google Workspace users are searching for a solution to transfer email data to their personal Gmail account. This section will also give major features of the G Suite.
Service Cost: Google G Suite is a subscription plan with a given cost for different plans. Users can opt for a different plan as per the demand. Whereas Gmail is a free service with multiple Google tools.
Email Address: G suite email address is given with the company name. For example, name@company.com. While Gmail Id is given with name@gmail.com.
Cloud Storage: Gmail has a storage space of 15GB while G Suite comes with more than that of a Gmail account with 30GB. While Businesses and enterprises give unlimited storage space. 
Frequently Asked Question
Can I move contacts from G Suite to my Gmail account?
Yes, choose the Contact folder from the software panel and then proceed with the migration process.
Does the tool give selective migration of G Suite to Gmail?
Yes. The Filter option gives out the chance to migrate selective emails from G Suite to Gmail account on macOS computers.
Do I need to log in or access my Gmail account before using the tool?
No, within the tool itself perform the migration process and later check the Gmail account for the transferred email files.
Conclusion
The writer illustrates the complete solution with procedural steps to transfer G Suite to Gmail on Mac OS. The tool is perfect for users who are seeking direct migration. Without the need for any back, the setting moves all the desired G Suite or Google Workspace data to Google Account. Get the software of Windows or Mac OS version to move G Suite data effortlessly.