How to Transfer Emails from One Gmail Account to Another on Mac ?
Are you looking for exceptional solutions to transfer emails between Gmail accounts on Mac Machine, but not finding any reliable solution for it? Then, you have come to the right place. We will discuss different methods that are not just secure but quick as well to move emails from one Gmail account to another. In the current scenario, the Gmail application is the most common communication medium in the professional sector.
Here I am providing you the two unique techniques to move emails to a new Gmail account. After reading this specific blog post, all these problems will be solved.
Table of Content
Reasons to Transfer Emails Between Gmail Accounts
Let's go through some facts on why users search for queries like "How to transfer emails between Gmail accounts on Mac" There are personal and business requirements. Here are a few reasons why emails should be moved from one Gmail to another.
Some users wish to combine their Gmail accounts into a single charge so that they can easily read many emails from Gmail accounts.
Often users choose to transfer emails to a new Gmail account to merge their old emails with a new Gmail account.
Several business users want to switch emails between Gmail accounts to meet business needs. For example, management needs to merge two or more Gmail accounts of employees into a single administrative account.
Migrate Emails Between Gmail Accounts on Mac
#1 Method: Directly backup Emails to Another Gmail Account
It's a difficult task to move your email data between accounts. Then you might consider directly backup your data to another account. The software Gmail Backup Tool for Mac is recommended for this reason. It supports a range of IMAP servers, including Gmail, G Suites, Office365, AOL, Zimbra, ZohoMail, etc. You can also use the tool to back up Gmail data to PST, EML, MSG, MHT, HTML, Text, DOCX, and PDF formats. The software is a multi-purpose software solution that is fully supported by all the current versions of Mac OS above OS X 10.8 Mountain Lion.
Download the tool from the link and follow the step-by-step procedure-
How to Operate the Tool:
1: Launch the application on Mac.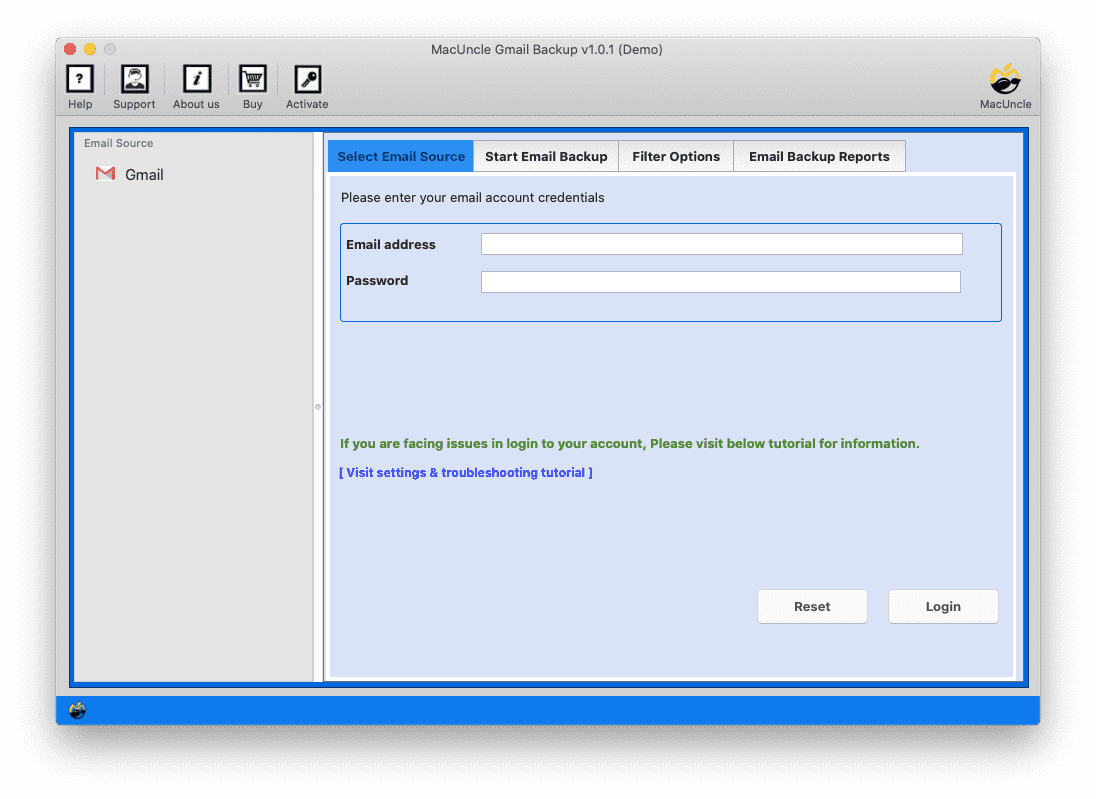 2: Enter the Gmail account credentials into the software panel.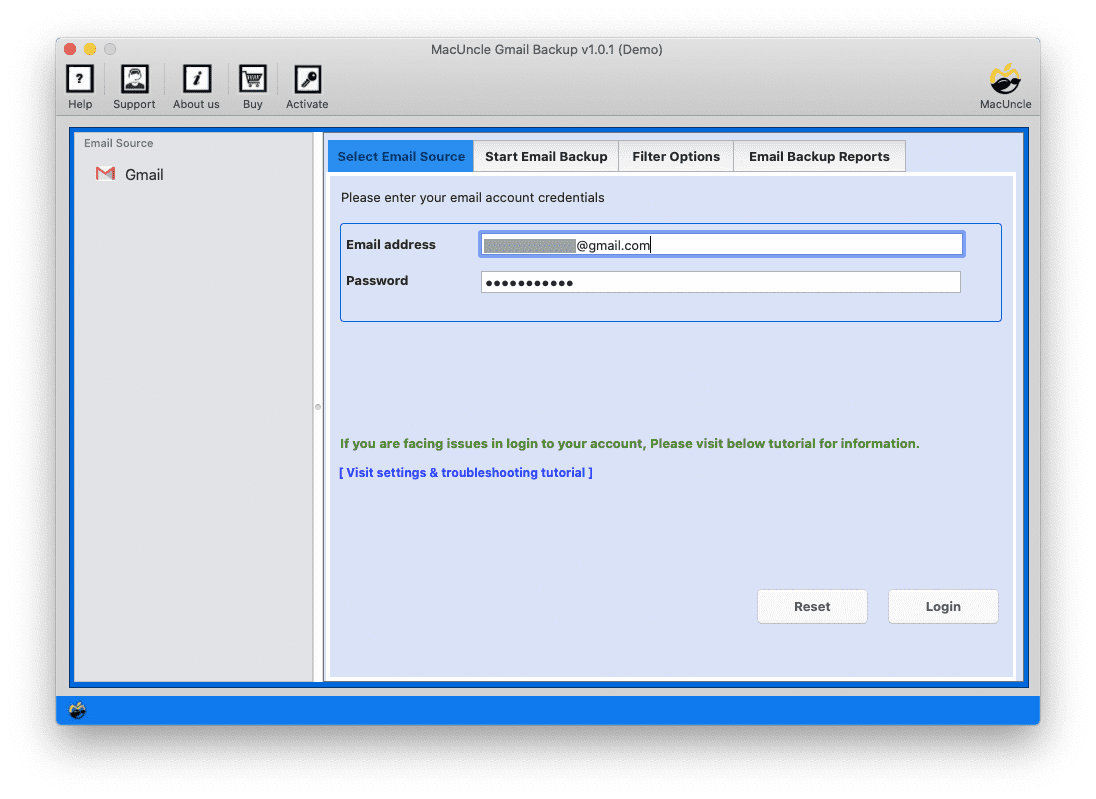 3. Choose the desired folder vis the check box on the software panel.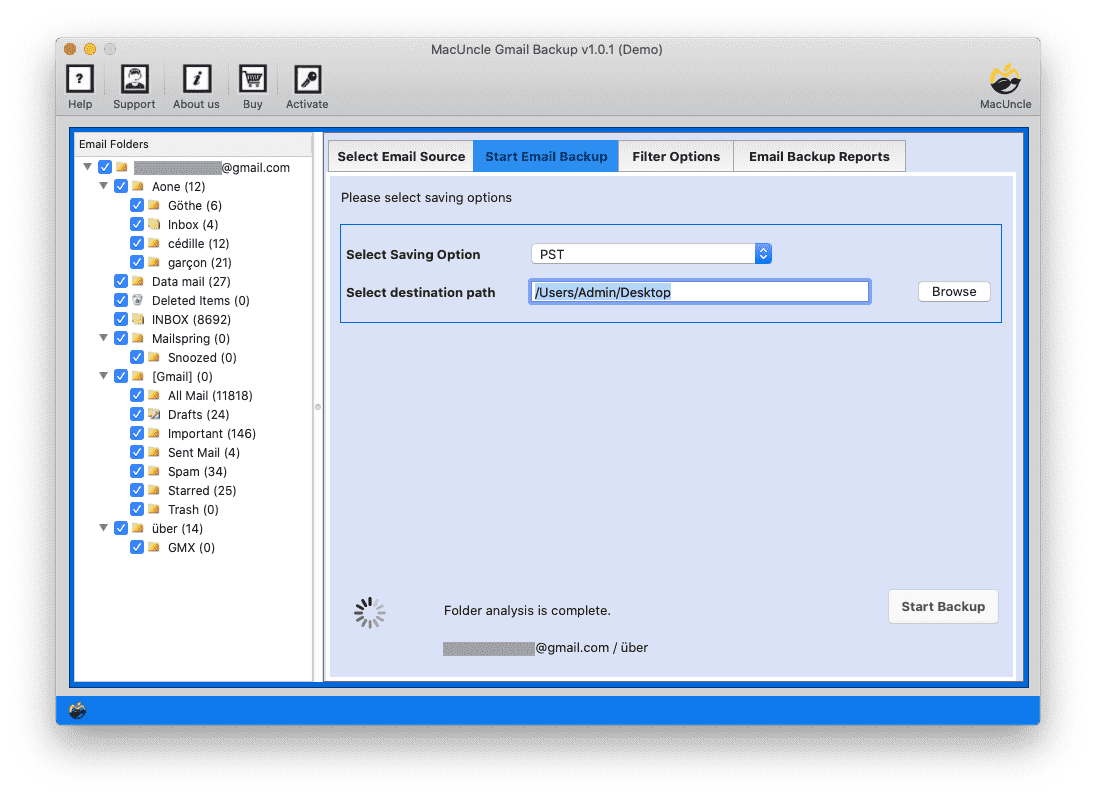 4. Advanced Filter Option to transfer specific emails with attributes like date, To, From, etc.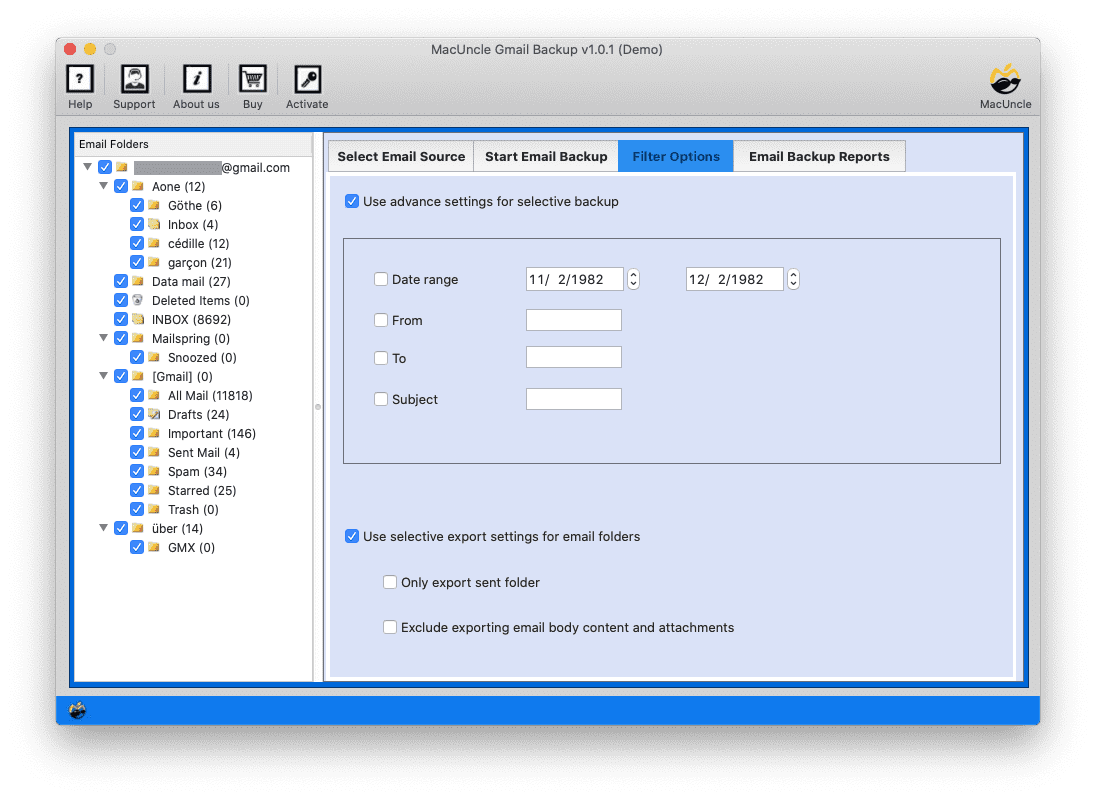 5. Now, choose the IMAP option from Select Saving Option. Enter the Gmail account and IMAP details. Further click on Start Backup option.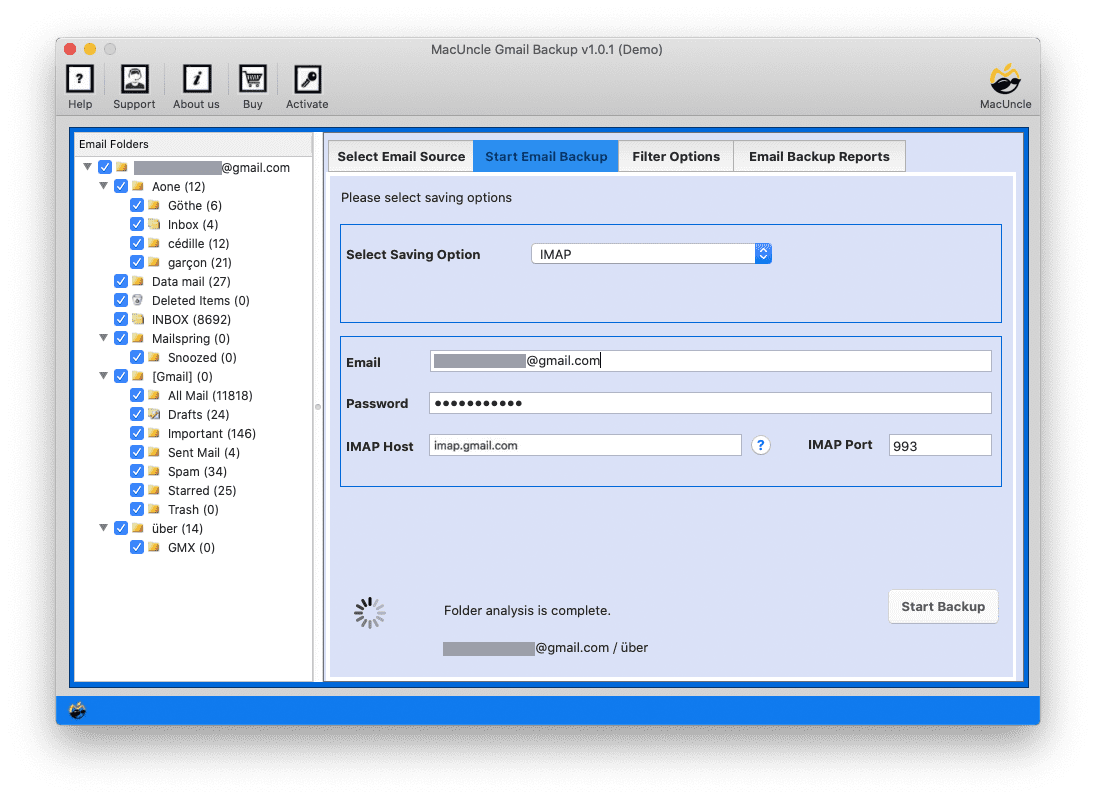 5: As a result, the backup starts and some notification displays on the screen.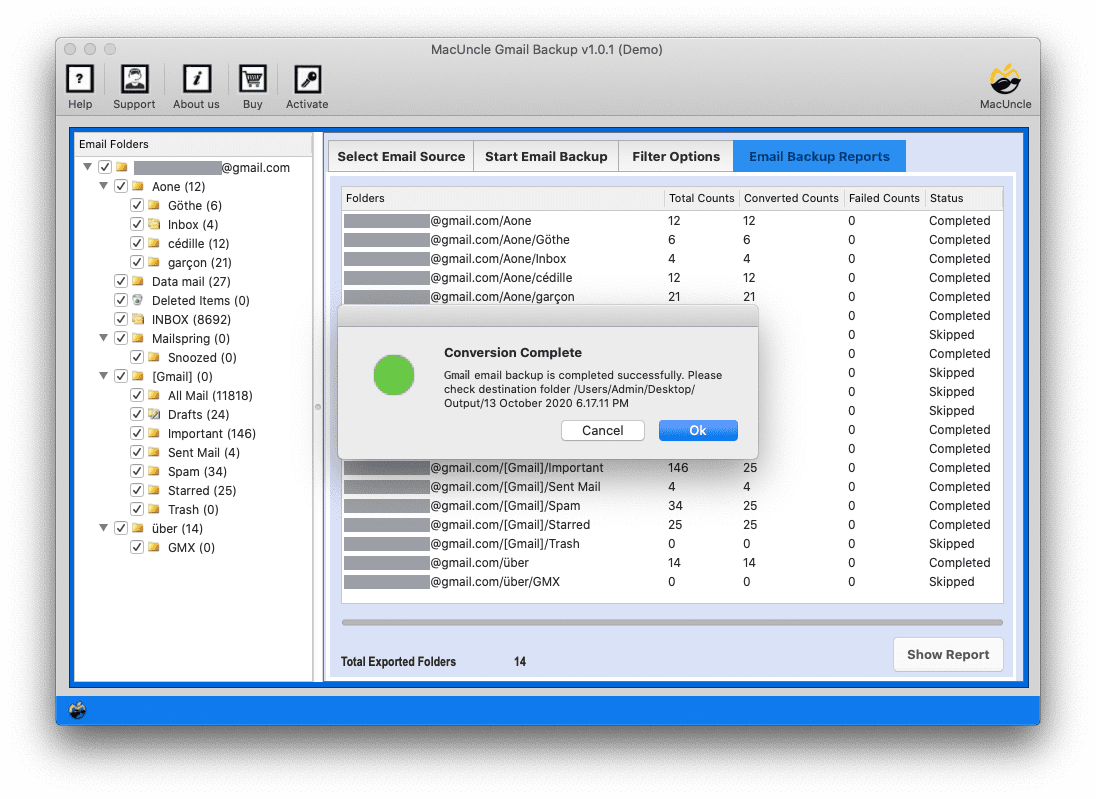 Using this method you can easily Transfer Emails Between Gmail Accounts on Mac within the tool itself.
#2 Method to Move Gmail Account to Another
This method is a bit longer compared to the above-mentioned method. If you have Gmail account data saved in Mailbox format locally then go in this way.
You can effortlessly transfer MBOX to a Google account on Mac using a perfect third-party app. The application Executes the migration of Mailbox objects to Gmail or G Suite accounts from different email client applications, such as Apple Mail, Mac Mail, Thunderbird, Netscape Mail, Eudora Mail, etc.
Get the tool from the below link:
Benefits of the Application
Below are a few common features of both tools:
Move Batches of Emails: The utilities to transfer emails from one Gmail account to another on Mac allow multiple file conversions. You can select any number of Gmail emails and convert them in a single click together.
Batch Migration: One of the vital aspects of the backup tool is the option to select the desired folder via the check box. You can simply select the required folder to move from one Gmail account to another account.
Stand-alone Utility: No requirement for external applications to migrate one account to another. Both instruments are fully independent.
Advance Filter Option: The filter option permits backup emails from specific factors such as Data, To, From, etc. Another feature is to export a selective email folder such as Send Folder and allows to exclude email body & attachments.
Move Gmail Files with Attachments: Also, the apps export the whole Gmail files along with all the attachments. It is also important to format the attachment files.
Maintains Original Formatting: The original formatting and structure of all files are preserved during the process.
Final Outline
Carry out the suitable method to transfer emails from one account to another Gmail on Mac OS. Both software has a user-friendly and convenient GUI, which makes this software easy to use for everyone. Even a non-technical and naive user can get high-quality results by using this software. You can check the software's efficiency by downloading and using the trial version of this software.
Common Queries
How to forward all emails from one account to another?
To directly forward all the emails just follow the steps mentioned in the above section. All the emails will get scanned and loaded to the software interface and then the entire files will get transferred easily.
What is the procedure to import only the old emails?
After the files get loaded to the panel, use the filter option to set the date range. Then, the software will fetch the files from the specific date and later migrate them to desired Google mail account.