How to Export Contacts from Microsoft Outlook to Mac Address Book?
Many users try to export Outlook contacts to Mac Address Book for many reasons like leaving the former Email Client i.e., Outlook, or they have a backup of their Outlook Contacts list in PST format and are trying to export it to Mac Address Book, etc. whatever the reasons may be, they tend to transfer Outlook Contacts to Mac Address Book. 
Hi, I just transferred all my Outlook PST files to iMac. I am rearranging all the emails and contact files. First I need to transfer all my PST Contact files to the Apple Address book. Currently, the file has hundreds of contact information. Can you suggest any program to import PST contacts to the address book?
The outlook is an Email Client to send, receive, chat, etc. wherein it stores your contacts, calendars, and other task services by Microsoft. If you have restored all your emails, contacts, calendars, etc. in your System it will be stored in PST File format. Thus, if you want to transfer the contacts you will have to convert the *.pst file to vCard or VCF file format to effortlessly import PST contacts to Mac Address Book. 
We will provide you with the best 2-Ways to transfer PST Contacts to Mac Address Book, the First one will be a Manual Method which will require your technical skills and also your patience to follow the tedious procedures. While the second one is a Handy Solution which demands nothing but 2 minutes of your time. 
Manual Method to Export Outlook Contacts to Mac Address Book
There is no direct way to access your Outlook PST file in Mac Address Book you will have to convert the PST file to a vCard file to transfer contacts to Mac Address Book. Follow the below-mentioned steps carefully to reach the right destination. 
Export PST Contacts files
Open Outlook on your PC, click on the contact button in the Navigation Pane for Outlook Contacts.
Choose the required contacts that you want to convert to VCF format.
Hit the Microsoft Office option and then choose the "Save As" option.
Then, browse to the folder to save the vCard file > Enter File Name > Select vCard format(*.VCF) option in save as field.
Finally, click on the "save" button to save the VCF contact list. 
Go to the location where the VCF file is stored to see the saved Contacts.
Limitation: 
The manual process is a bit lengthy and time-consuming. Sometimes the process will not give 100% successful and effective information on the contact list. After the whole process, you have to check whether .vcf supports the Mac Machine. And if you are a Mac user with Outlook backup PST files, then this process is not practical. 
A Robust and Reliable Solution- Transfer Outlook Contacts to Mac
The perfect and the right solution is to use MacUncle PST Converter Mac Tool if you have your Outlook file in PST file format on your System. This application offers you a swift and effortless way to convert PST contact files on Mac Machine to vCard format on Mac OS. 
The software comes with a dual selection mode to upload PST file/ folder in batch or you can select files from the location. The metadata and the structure of the PST files remain intact/without alteration during and after the Conversion process, therefore, offering you exotic features. You can also convert the PST files with attachments, no data loss risks are included. Therefore, you can go for this solution if you want to save time and get the best result. 
Step to Run the Application – Guide
Step 1. Download and install the Outlook Data Converter on your Mac System. 
Step 2. Now Select the PST file using the Add File (s) or Add Folder (s).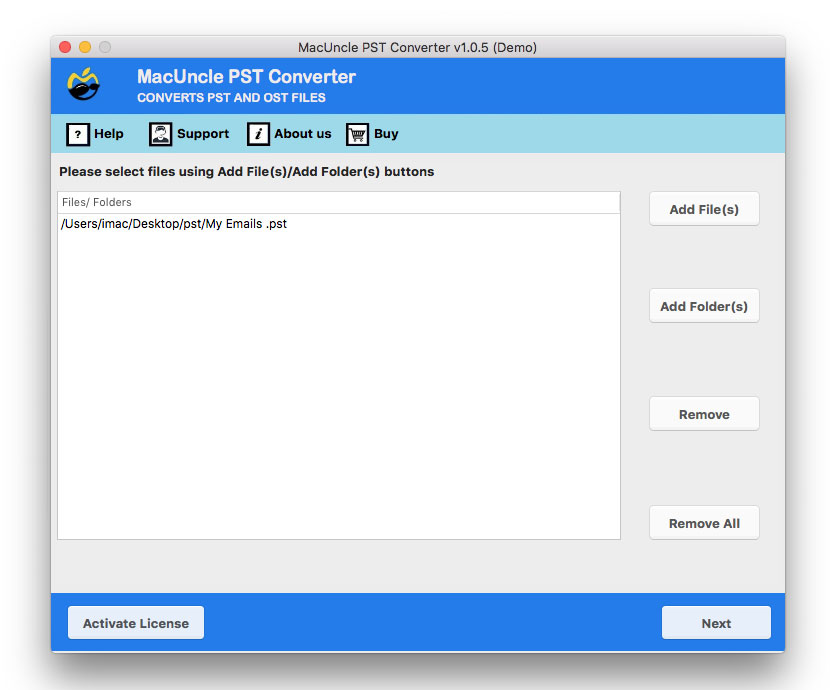 Step 3. Choose Contact folder and VCF format from Select Saving Option.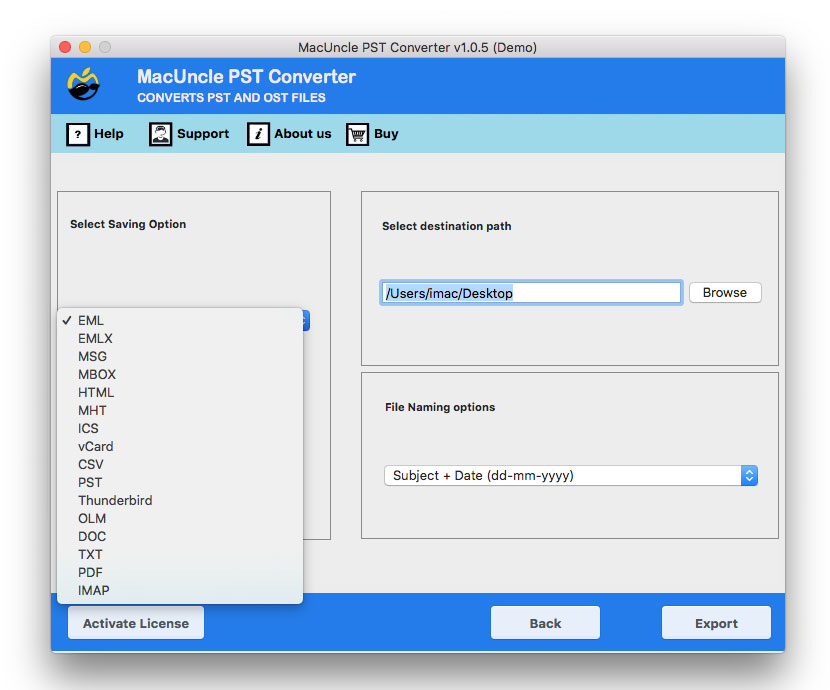 Step 4. Select the File Naming Option and choose the Destination path if required and then click on the Export button.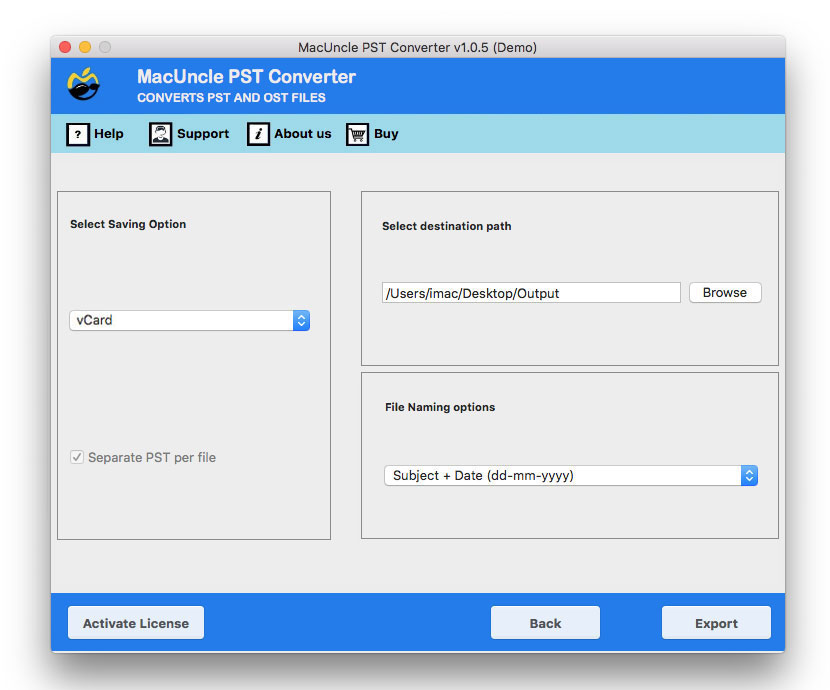 You can wait for a few minutes; you will get notified as completed successfully after conversion.  
Advanced Features of the Wizard
The tool offers exotic features and you can experience it by just installing it into your system. Here are some benefits of using the application: –
It offers you 16+ standard file formats to where you can convert your PST file, while the conversion process is very smooth and effortless. 
You can export your PST files with attachments and can opt for bulk conversion of PST files all at once without hassle. 
The application maintains the structure of the file and retains the material assets in their original form after conversion. 
The tool support all types of PST file from MS Outlook 2019, 2016, 2013, etc. 
It gives you 100% accurate results and the application works hassle-free. 
Ending with 
You can easily transfer Outlook Contacts to Mac Address Book using the above-mentioned 2-Tricks. The first one is a manual method it is somewhat time-consuming and requires your technical skills while the second one is an Automated Solution, wherein the application offers direct and easy conversion of your Outlook *.pst file to VCF or vCard. You can try the software and wait for the awesome result it produces.