Fix Yahoo Mail Not Working on Mac Mail – Instant Solution
Mac users can connect and sync their Yahoo Mail account to Mac Mail for the ease of managing email accounts. Apple Mail is the most commonly used email service by Macintosh users. However, at some point, users might get into issues such as Yahoo Mail not Working on Mac Mail. Here is one of the user queries we received.
My Yahoo Mail account is not uploading to Apple Mail. When I try to use Apple Mail to access Yahoo Mail, it says "apple.imap.mail.yahoo.com" is not responding. If I add the account as 'another email account' instead of Yahoo, the mail is restored, but I am unable to access contacts, calendars, or other information. Any thoughts on why Apple Mail is unable to connect to the Yahoo account?
This article is for you if you have the same Yahoo Mail account problem. You will find all potential alternatives to the Yahoo Mail not running on the Mac Mail issue here. So, let's take a look at some possible solutions.
Instant Solution: A simple and direct approach to resolve "Yahoo Mail Not working on Mac" is to Use the tool to transfer all the emails from Yahoo Mail to the desired webmail and access the email files easily on the Mac system. 
How to Resolve Yahoo Mail Not Working on Mac Mail
The majority of mail problems are caused by inadequate configurations/settings or a problem with the Yahoo Mail account that the user is attempting to access. As a result, the techniques mentioned below can be used to solve the problem:
1. Check the Internet Connection
First and foremost, you must check your internet connection, as a strong internet connection is needed to connect to Yahoo Mail. The first thing you can check is the internet connection if the Yahoo! Mail login fails. Simply search to see if your Mac's internet is switched on or not.
2. Sign in to your Yahoo Account Separately
It's always a great idea to double-check if Yahoo Mail is compatible with platforms other than Mac Mail. The easiest way to find out is to open your default browser and check for your email address to see what the real issue is. Simply follow the steps outlined below:
Go to your Yahoo Mail account and log in.
Send an email to one of your other accounts or the same Yahoo ID after that.
Everything is fine if you receive the email. If not, the error will continue to occur.
3. Incorrect Server Address
Whenever Yahoo Mail does not download emails to Mac Apple Mail, the issue would be with the email server. As a result, double-check the server address and make sure you've entered the correct server address.
4. Check Auto Forward Feature is Enabled to Resolve Yahoo Mail not working on Mac
It is important to look for the Auto-Forwarding functionality. If you have this feature available in your Yahoo Mail account, you might be not allowed to download messages to Mac Mail. Simply follow the steps below to see if you have any auto-sending enabled:
To start, go to the Settings tab.
Then, click on Auto Forwarding
You can now see all of the Auto-Forwarding rules you've set.
5. Disable Antivirus Application
It isn't uncommon for security applications to conflict with Yahoo Mail's features, resulting in Yahoo Mail not working on Mac Mail. So, first, turn off all security software on your computer, and then try to open Yahoo mail on your Mac.
Disable all Antivirus security application
Link Yahoo Mail to Apple Mail after that.
Note: If Yahoo mail begins to function normally, the antivirus software is the reason.
Later Re-enable the antivirus software once Yahoo Mail is working properly.
6. Restart the Mail App to check whether Yahoo Mail not working on Mac Mail
Relaunching the Apple Mail app is the simplest way to fix the problem of emails not downloading in Yahoo Mail. This is because closing and reopening the application stops all of the background processes that are causing the issue. The easiest way to do this is to simply press "Command+Q" from the Mail app and restart it.
7. Analyse the Yahoo Account Login Credentials
If you use incorrect login details for your Yahoo Mail account, Yahoo will not be able to download your emails. You must verify the email address, and password, and request authentication to do so.
Professional Solution to Fix "Yahoo Mail Not Working on Mac"
If you have tried all the above methods and still failed to resolve the issue then the best option is Yahoo Mail Backup Tool for Mac. Using this tool, you can convert or back up the Yahoo email files to MBOX format. Or import the emails to Apple Mail accounts directly without causing any modification to the email files.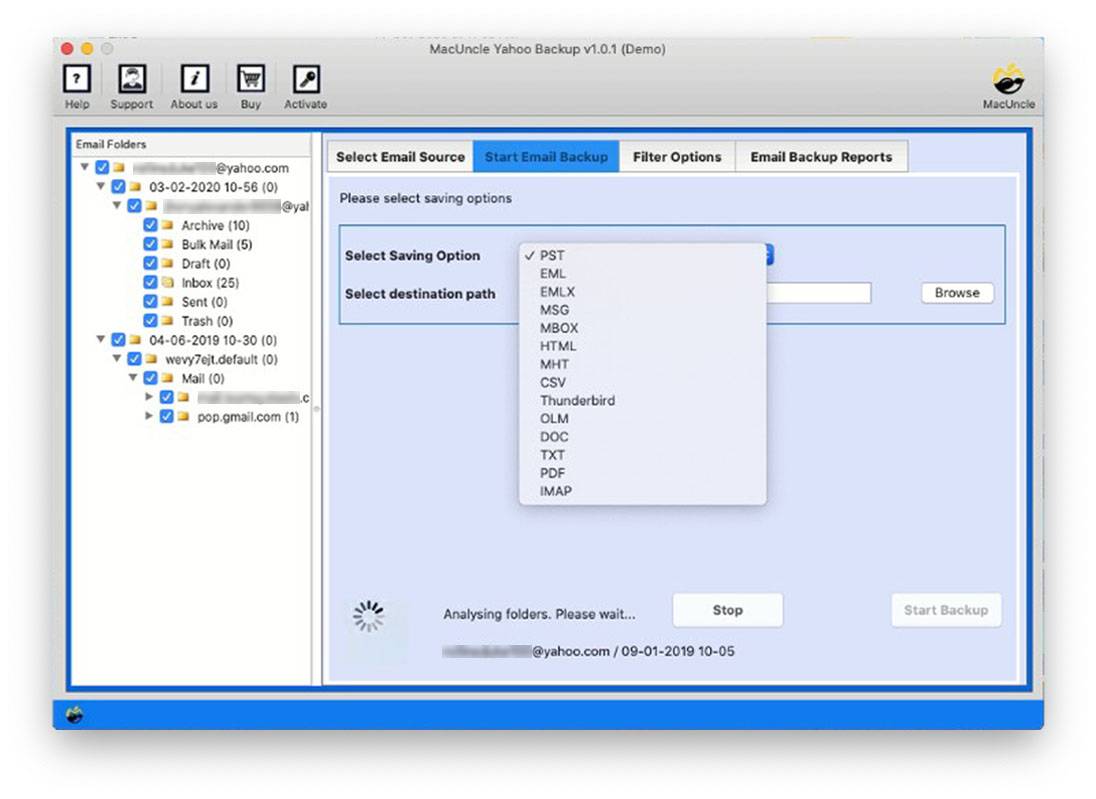 Get the tool demo version to understand the working of the backup tool. Using this edition backup 25 email files along with the attachment to Apple Mail or convert the Yahoo Mail. Later you can upgrade to the pro set of the application which comes with advanced features.  
Conclusion 
This article demonstrates some established methods for resolving the Yahoo Mail not working on the Apple Mail issue. Other than that, we've also discussed a third-party solution to Archive Yahoo mail to a Mac Hard drive, as having an email backup is always useful. To import Yahoo Mail into Mac Mail, save the archive in MBOX format. Now, choose some solution for Apple Mail that can't bind to the account Yahoo error based on your current needs and preferences.