How to Backup Yahoo Mail Folders to Hard Drive on Mac ?
Yahoo Mail is one of the most widely used emailing platforms for communication among clients from different fields. Big corporates, Governments, and Educational institutions rely on this platform to convey their messages to a large mass of people. Here comes a need to secure these emails – what if the next moment it all gets erased? How one can retrieve lost emails from Yahoo? So here let's discuss the solution to how you can backup Yahoo Mail to hard drive on Mac; what is the need to back up your emails locally; and how in the end you can find a better place for your data.
You must have heard about Yahoo data losses, server down, login problems, etc. and this is the main reason for a shift of a majority of people from Yahoo to iCloud, Yahoo to Gmail, Yahoo to Thunderbird, etc. For Such conflicts, you have to do something to archive Yahoo mail to a hard drive otherwise you gonna lose everything.
The Main Points in the write-up
Reason to Archive Yahoo Mail
The reasons to download or backup a Yahoo Account might vary by user. Therefore, here are some of the intentions of the user to get Yahoo! Mail locally;
If you are ready to send an email to any of your friends or clients but the send button didn't respond, you will not be able to send that email.
A virus Attack on a Mail account doesn't come after warning you, any of the viruses in the account can destroy your emails directly. Therefore, it is recommended to restore your emails to a hard drive as faster as you can.
To avoid all of these unplanned incidents the perfect solution is to make your data safe by transferring it to the hard drive on a Mac. Thus, you can access your data offline and also can share these emails as a document with your colleagues. This is a smart way to save your emails from losing them instantly which contain so much important data.
How to Backup Yahoo Mail to Hard Drive
MacUncle Yahoo Mail Backup is the simplest and most user-friendly way to backup Yahoo Mail Folders such as Inbox, Sent, Archive, Trash, Draft, etc. to the hard drive on your Mac Machine. Through this marvelous tool, you can restore all your self-created folders with Yahoo email including attached documents on Mac OS X in standard formats like MBOX, MSG, PST, EML, Gmail, Thunderbird, etc. choice is yours you just have to command it. There is no limitation on any number of emails.
Also, the tool supports both selective as well as batch backup Yahoo account files. It provides you with multiple email Filter Options, and File Naming Options while it simultaneously preserves the folder hierarchy. It offers a wide range of benefits and also is very useful to restore emails on your hard drive. You just need to install the application on your Mac system to embrace its benefits.
Step to Download Yahoo Account Locally on the System
Get the tool from the above download link and go with the following steps:
Launch and Start the tool on Mac OS X.
Enter the Credentials of the Yahoo account: Email Address and Password. And Press the Login button.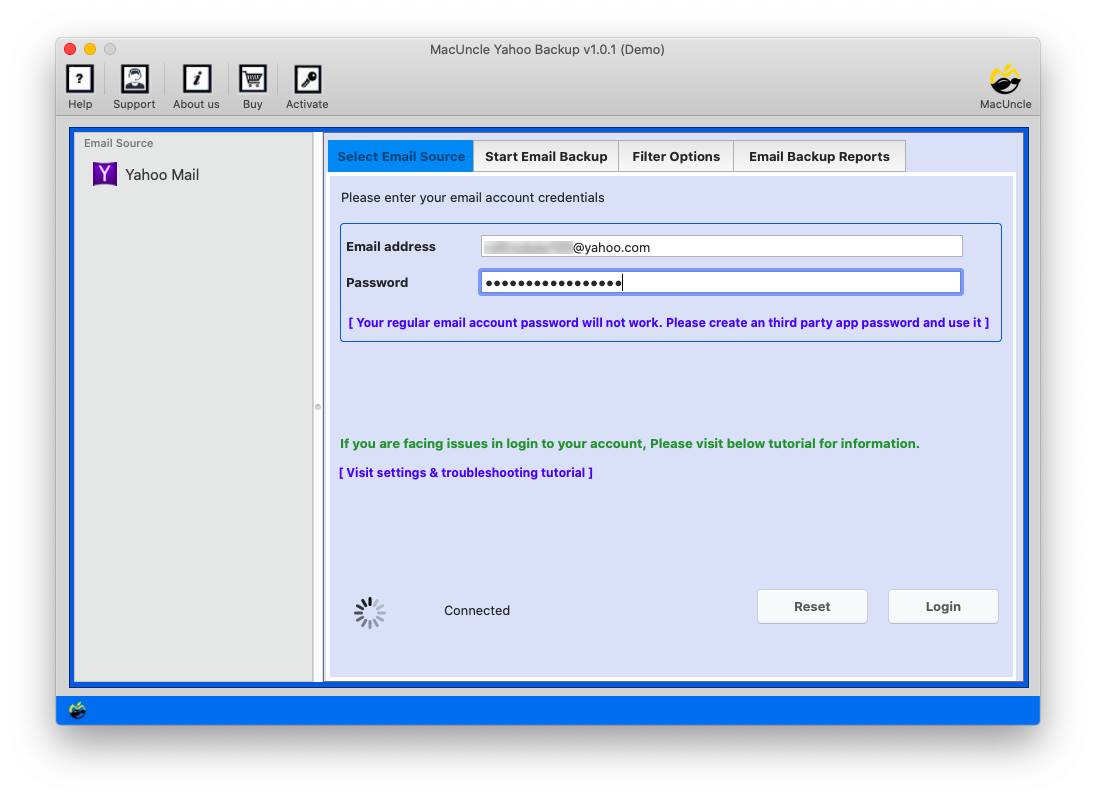 As a result the application load all the folders such as Inbox, Sent, Trash, etc., and all the new folders also. Choose the desired folder and select any Option from Select Saving Option.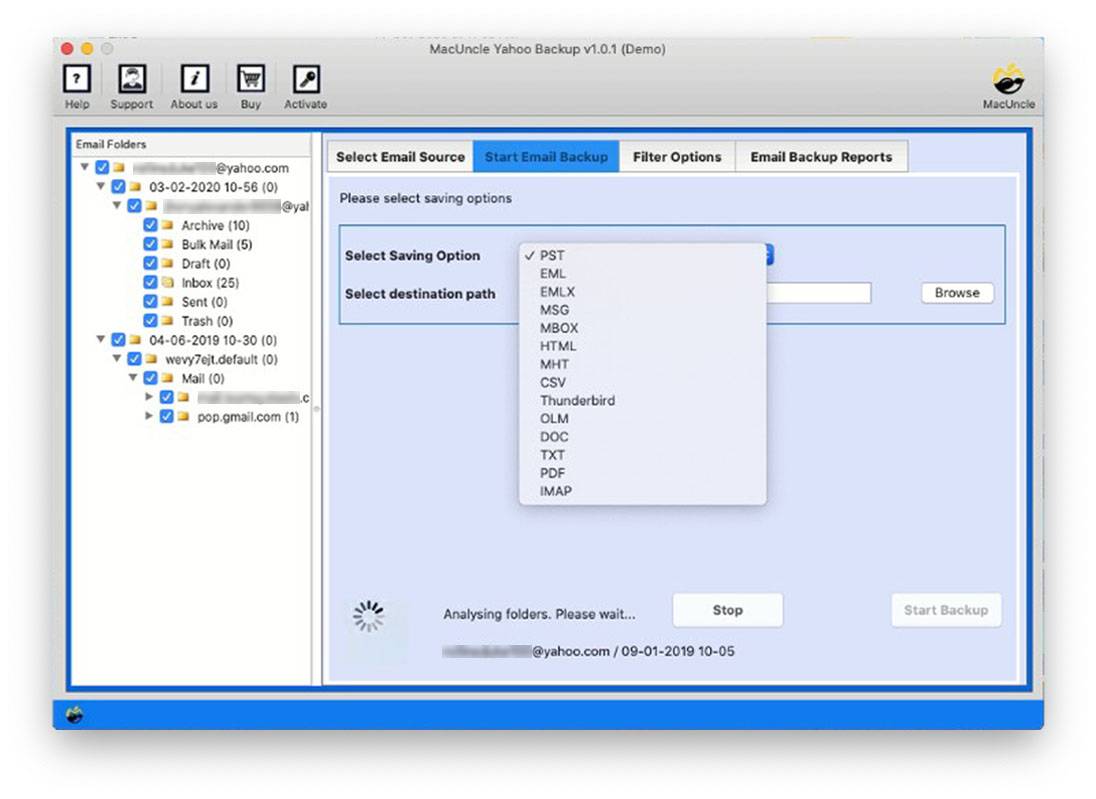 Then browse the destination location to store the Yahoo Backup Files on Mac. Finally, press the Start Backup button.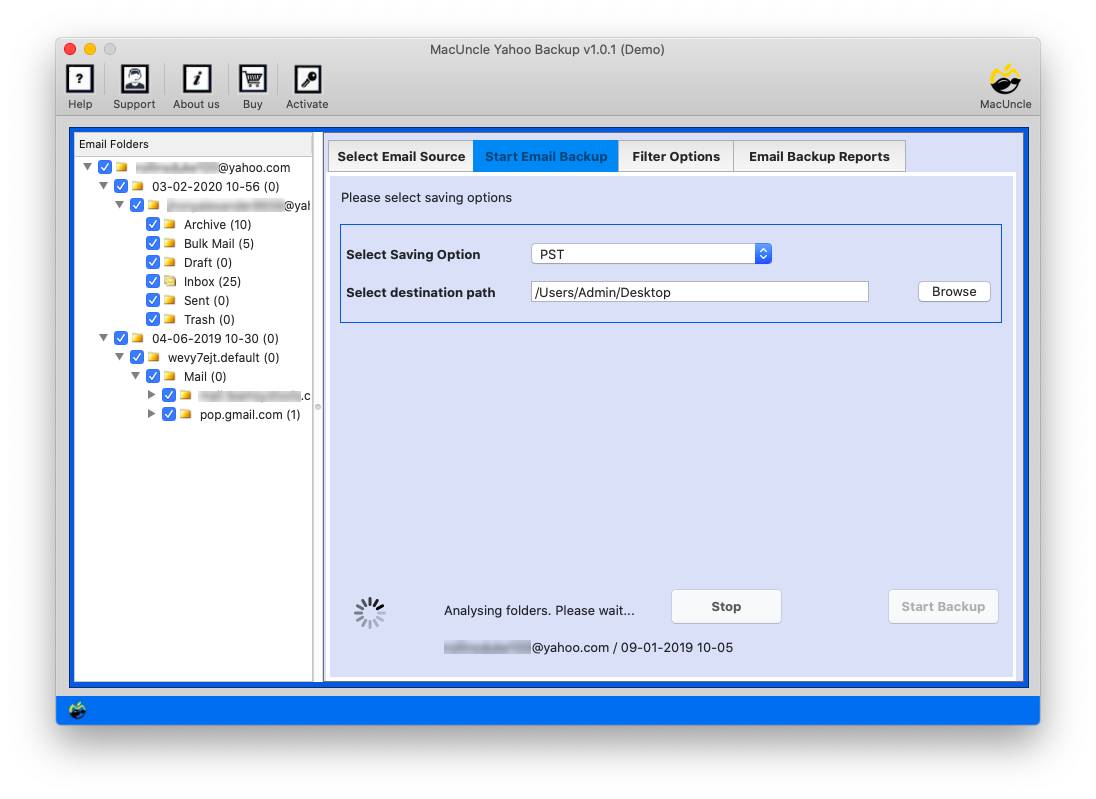 As a result, the Yahoo Mail download process starts and, in a few minutes, you will get some task completion notification.
Traits of the Tool to Backup Yahoo Mail to Hard Drive
In this section, you will the feature that makes Yahoo Mail Archiver stand out,
Easy and Efficient Backup – The MacUncle utility allows you to restore all the attachments in a correct and organized manner. It offers you the exact result of the Yahoo emails i.e., from the subject of the mail to every mere thing that is present in the mail.
Flexibility– It provides you with selective or bulk backup, the software has the option to create separate email files that you have chosen or you can backup the entire mail at once.
Easy-to-use user interface– It effortlessly and simply transfers all your Yahoo emails to your mac machine.
A plethora of Saving Options– It allows you a wide range of mail-saving formats from which you can choose any of them like MBOX, PST, PDF, DOC, TXT, etc. Also you can import Yahoo mail to any of the email clients like Apple Mail, Thunderbird, etc. directly. Learn how to save multiple Yahoo emails as PDF on Mac.
CONCLUSION
The above article is clearly for Yahoo mail users who want to archive their Yahoo emails on Mac System. The article highlights the need for Yahoo users to backup emails on the hard drive which might get lost due to server outages, viruses, hacking, etc. Mac users can use the tool mentioned above for the effortless and efficient method to backup Yahoo mail to the hard drive. So, before anything unavoidable happens save all of your emails on your Mac system.
FAQ – Archive Yahoo Mail to Hard Drive on Mac
I have created a few folders on my Yahoo Account. Does the application import self-created Yahoo Mail Folders too?
Yes, Yahoo Backup Wizard runs on an advanced algorithm that allows users to export all the Yahoo Account folders locally on Mac.
Can I use the tool before purchasing the license key?
Yes, get the Demo version of Yahoo Account Archiver for Mac and import 25 emails from the Yahoo Mail folder each. Then, later upgrade to the Pro version.
Do I need to have Yahoo Email Client Installed on my Mac system?
No, the backup tool is a completely standalone application. Without having Yahoo installed or configured, it can operate on your Mac system.