How to Import Emails from Apple Mail to Gmail Account ?
Well, there are several users who have to transfer their Apple Mail mailboxes to their Gmail accounts. But right now, there is no accessible manual procedure. However, without losing your email data, you can use an automated method to import Apple Mail to Gmail accounts.
The default email client for macOS is Apple Mail, also known as Mac Mail, which can be configured on IMAP and POP3 accounts. Locally, Apple Mail stores user mailbox data in MBOX format and can only access it on the Mac computer it is configured on. Gmail, on the other hand, is a cloud-based email service that can be accessed through a web browser or Gmail app on any device or smartphone. This value makes users want to import Apple Mail into Gmail by accessing emails on any computer and from anywhere.
Apple Mail and Gmail or G Suite
Let's discuss how Mac Mail Client differs from Gmail Account which implies the reasons why users are looking for a solution to migrate Apple Mail to Google Account.
Apple Mail is Apple Inc.'s desktop-based email client, whereas Google Inc.'s cloud-based email service is Gmail or G Suite.
Only a configured Mac device can run the Mac Mail email client, while Gmail or G Suite can run on any computer, cell phone, tablet, etc.
Although Google Mail stores the data in the cloud, Apple Mail stores the email data in the configured Mac Machine.
Configuring Apple Mail with an email account to send and receive email messages is essential, whereas Gmail or G Suite can be started directly.
Transfer / Import Apple Mail to Gmail Account
The tool Apple Mail Converter is a great software for importing emails from Apple Mail to Gmail, including all attachments and email items. With an automatic upload option, the tool gives a configured migration option as well as a manual upload option.
The application gives a direct migration feature in which users just need to enter the Gmail credentials – Email address and password (create a third-party password).
Procedure to Migrate Mac Mail to Google Account
Carry out the steps given here to import Apple Mail to Gmail
Step 1. Launch the tool and click on "Convert Email" to "Convert Contacts".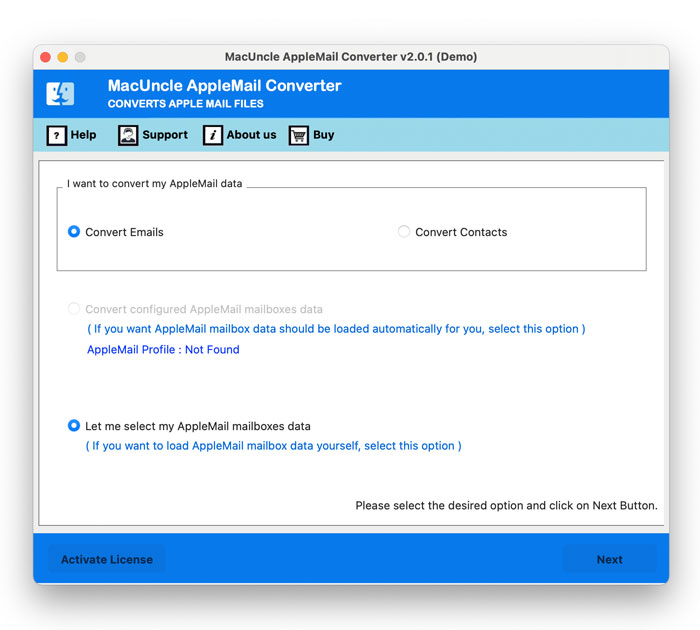 Select "Convert configured AppleMail mailboxes data" or "Let me select my AppleMail mailboxes data".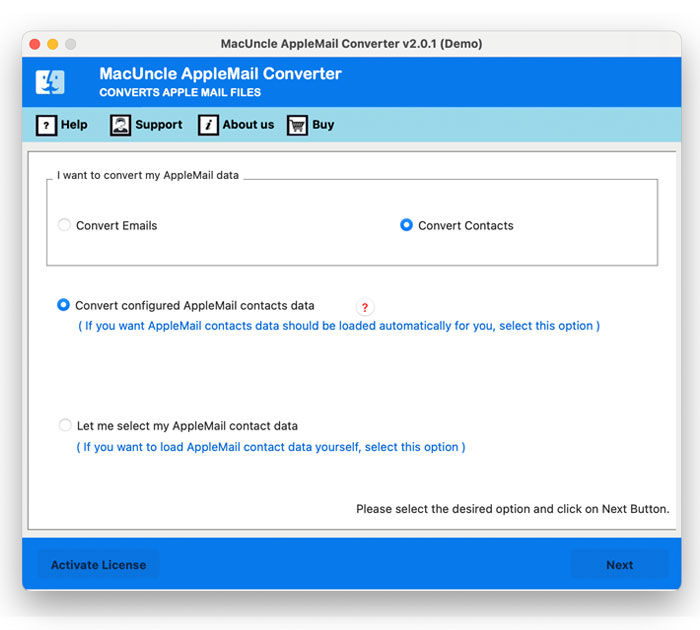 If you have selected "Let me select my AppleMail mailbox data" then upload Apple Mail emails manually using Add File(s) and Add Folder(s).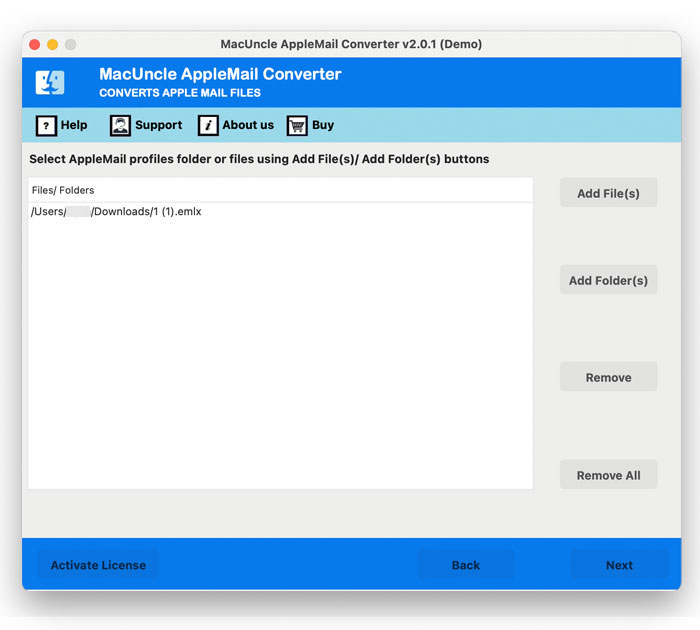 Here we have "Convert configured AppleMail mailboxes data" selected and choose the desired folder to import to our Google Account. Press the Next button to move further.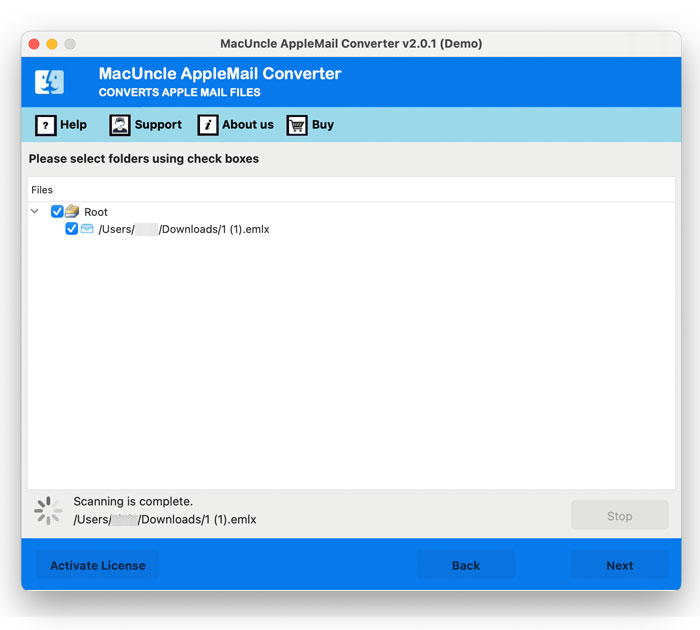 Then from the Select Saving option choose the IMAP option and enter Gmail Account credentials along with the IMAP Host and IMAP port number. Finally hit the Export button.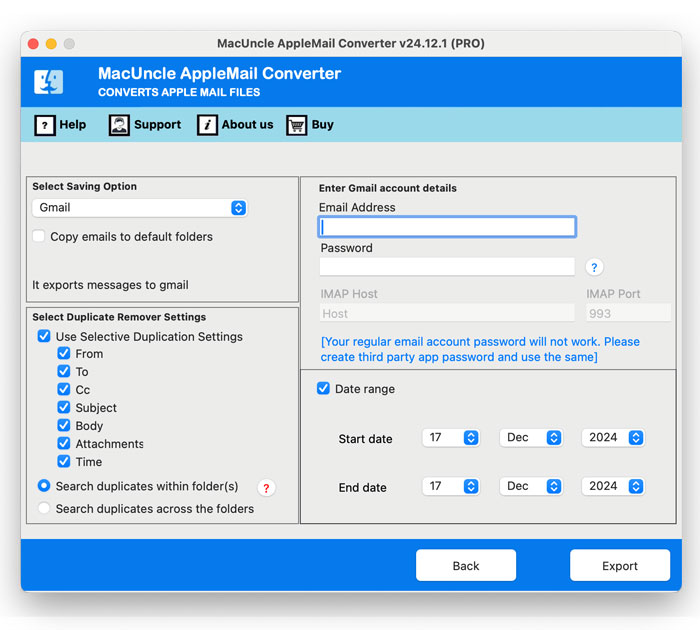 As a result, live Apple Mail to Gmail Migration takes place. Within a few minutes, you will get a notification on the completion of the process.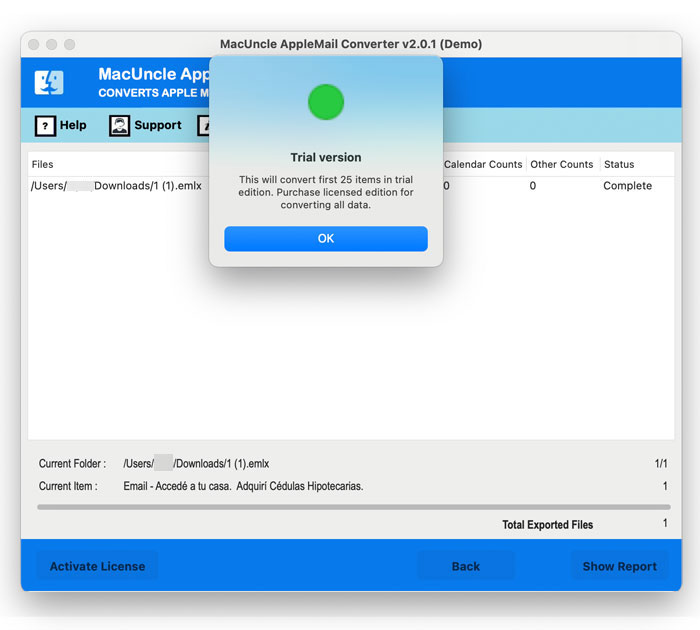 Aspects of Apple Mail to Gmail Importer Tool
Directly transfer emails from Apple Mail to Google account via automated as well as manual methods.
It offers dual options to select mailbox files such as Add File(s) or Add Folder(s).
The tool also helps to move emails from Mac Mail to Google Apps (G Suite) using the account credentials.
The tool maintains all the email components and folder structure while migrating Apple Mail to a Gmail Account.
There is no size limit for importing large-size files. And users can easily transfer unlimited emails from Mac Mail to Google Mail.
It is a shareware program to analyze the tool before buying the license keys, which come with the free trial version.
Wrapping Up
Often situations arise when you need to switch Emails from Mac Mail to Gmail accounts. You need to learn how to migrate it from Apple to Gmail for this. However, by following the methods mentioned in this post, you can easily do this without any technical knowledge. This technique provides a direct migration technique and, even after migration, gets accurate results. However, in case something goes wrong, it's also important to create a backup of the Apple Mail mailbox.