Import OLM Files in Windows Live Mail | Instant Solution
Learn more about why and how to import OLM to your Windows Live Mail account on your Mac computer. Here, we have illustrated the complete steps to migrate Outlook for Mac data to WLM with ease.
Sometimes, Mac users later have to switch to Windows PC due to many reasons, maybe because of their professional work, or due to some limitations in their Apple System. The reasons could be many and because of this people want a perfect and reliable solution to help them.
OLM & Windows Live Mail
Outlook for Mac is a Mac version for people who want to use other email clients except for Mac Mail. But for Apple, it becomes very difficult to integrate other email clients on the system so Microsoft has built a special email client for Mac users, Outlook for Mac. This works the same as Outlook for Windows and provides more or less the same features and interface. Outlook OLM file is a database of all the emails and other related information.
Whereas Windows Live Mail is for Windows users only. As developed by Microsoft, it is also a part of Windows Essentials. Therefore, it is impossible to import Outlook for Mac into Windows Live Mail.
But don't worry we have got the best and most demanding solution to solve your problem instantly. You will be able to import OLM to Windows Live Mail effortlessly by just following the steps.
The Necessity to Import OLM to Windows Live Mail
Here are the most common reasons why people want the conversion: –
Outlook for Mac stores your data in an OLM file, and if you want to switch to Windows Live Mail then it would become very difficult to do so.
People often receive OLM files in their Windows Live Mail, there is no option for them to access or view them directly.
Also, the OLM file does not support many of the most common email clients including Windows Live Mail.
So, you have seen that the process is difficult because you're moving to a different OS altogether.
Migrate Outlook for Mac Data to Windows Live Mail
Here we have come up with the most valuable and expert tool to make the impossible possible – MacUncle OLM Converter. The tool Converts OLM to Windows Live Mail Format effortlessly in just a few seconds. You can also import your resultant *.eml file to any other supported email client via this wizard. The toolkit works well and provides 100% accurate results. After converting OLM files, effortlessly access OLM Files in Windows Live Mail.
The utility is independent, so there is no need to install Outlook. The tool comes with a user-friendly interface with a coherent GUI that enables even novice users to easily operate the software. The wizard gives you the flexibility to choose your preferred destination location and file naming conventions for the resultant file.
Simple Process of Migration
Here are some of the following steps to follow carefully: –
1. Run the tool on Mac OS 10.8 Mountain Lion or above version
2. Now upload the OLM files that you wish to convert to WLM-supporting file format using the Add file (s) or Add folder (s) options.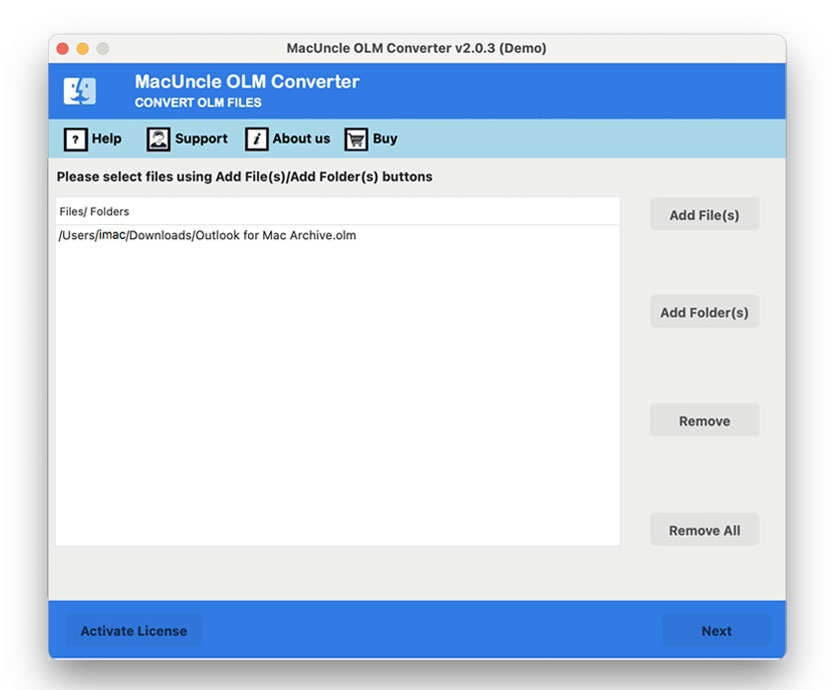 3. Then select the EML from the Select Savings option.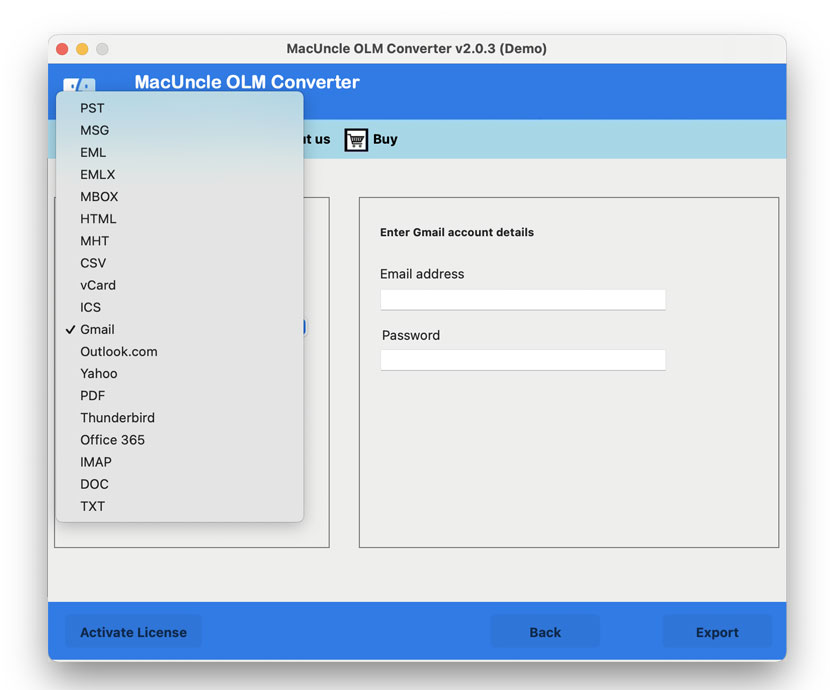 4. Further, choose your preferred destination location and file naming convention.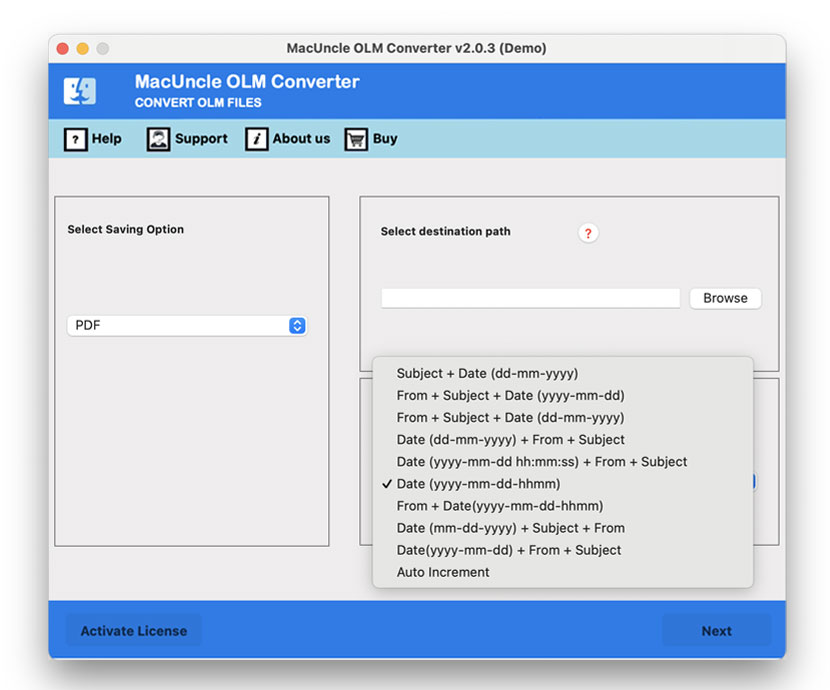 5. Finally, click the Export button.
To Import Mac Outlook to Airmail visit the link here.
The Final Words
The blog explains to you the perfect and right technique to import OLM to Windows Live Mail. But importing Outlook OLM files in Windows Live Email is a difficult process for non-technical users. The tools mentioned here work well and can provide 100% accurate results. The toolkit even provides you with a dual mode to upload OLM files in the software.
Frequently Asked Question
Can I import old OLM files to Windows Live Mail?
Yes, all OLM files can be migrated to Windows Live Mail without any restriction.
Exactly how many files can be imported to WLM using this tool?
Use the trial version to import 25 email files in Windows Live Mail. To import more than 25 email files upgrade the tool to the pro version with the help of a license key. 
Do I need to have Mac Outlook installed on my system?
No, the tool does not require any external application support to perform the migration. 
Does this tool import all attachments in .olm format?
Yes, select all or required OLM files and import the same to Windows Live Mail.