How to Export Emails from one Office 365 to Another Account on Mac?
If you want to add a new email account to Outlook and send emails between Office 365 tenant accounts, how do you get it done easily? This blog has a method to transfer emails between Office 365 accounts on Mac. We're going to take one user question to make it clear.
Here is one of the queries we went through
Hi, I am searching for a solution for the move to another account of O365 mailbox. I see a lot of online resources but don't know which one is the best. To transfer emails between Office 365 accounts, please provide some reliable and cost-effective options.
Get the best Office 365 to Office 365 migration tool for Mac OS to transfer all data to another account effortlessly.
Import Emails Between Office 365 Accounts on Mac
Most people choose to switch e-mails from Office 365 to Office 365. However, each user's needs vary. The toolkit Office 365 Mailbox Backup Mac is a detailed tool that solves each user's query quickly.
You can easily get a stable and safe email migration with the help of the proposed approach. The backup tool has a user-friendly interface. Anybody can understand how to transfer Office 365 mailbox to another account easily. The tool preserves all the assets from Office 365 to Office 365. Besides, you have to follow a few steps to migrate.
Try the Demo version –
Steps to Transfer Emails from One O365 Account to Another
Start the tool and select Office 365 from the options in the software panel.
Now enter the Microsoft 365 account credentials and then enter the login button.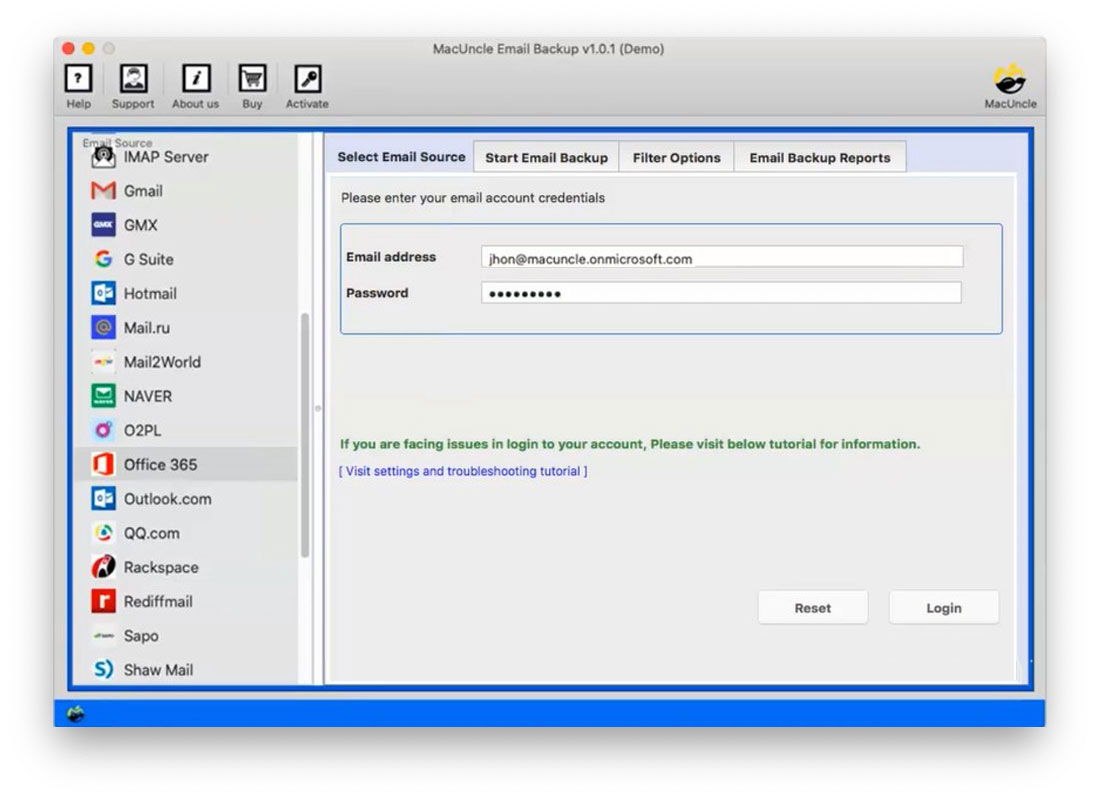 In no time the tool loads all the folders in the O365 account. Thus choose the required folder calendar, contact, etc. for Office 365 to Office 365 Migration on Mac. Then select the Office 365 option from the Select Saving option.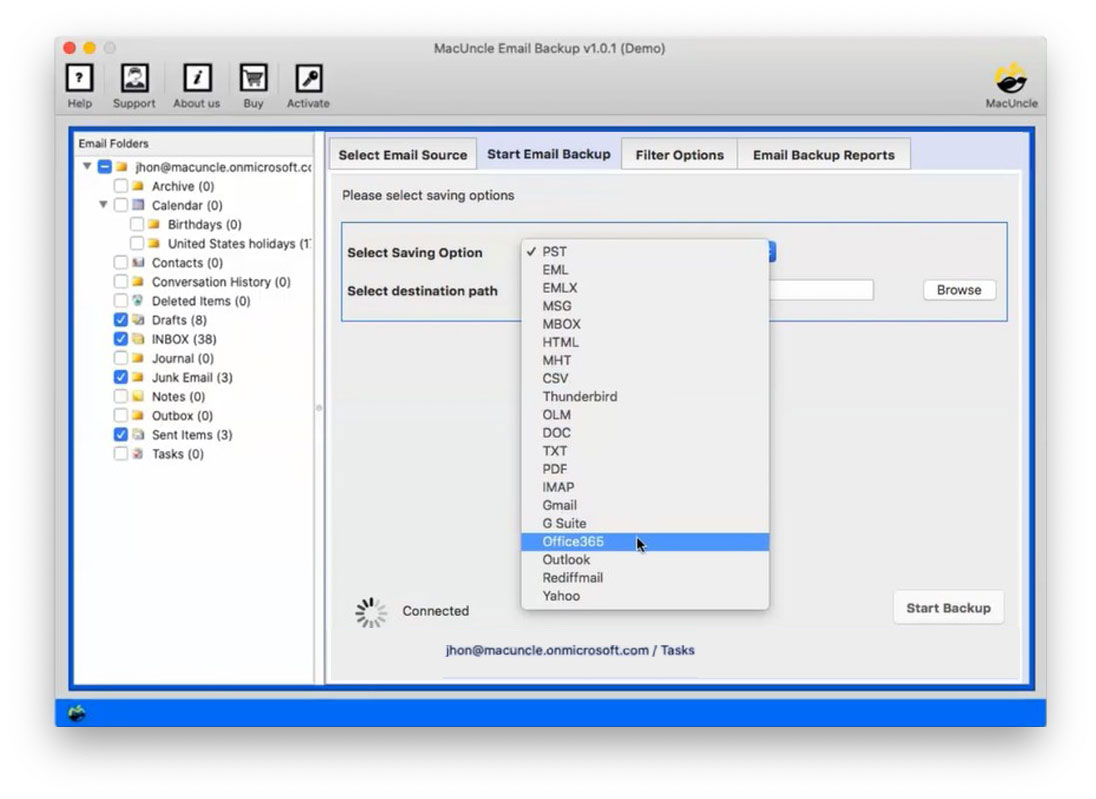 Enter the Office 365 account address and password. Then go to the Filter Option for selective migration of emails from the Outlook 365 account.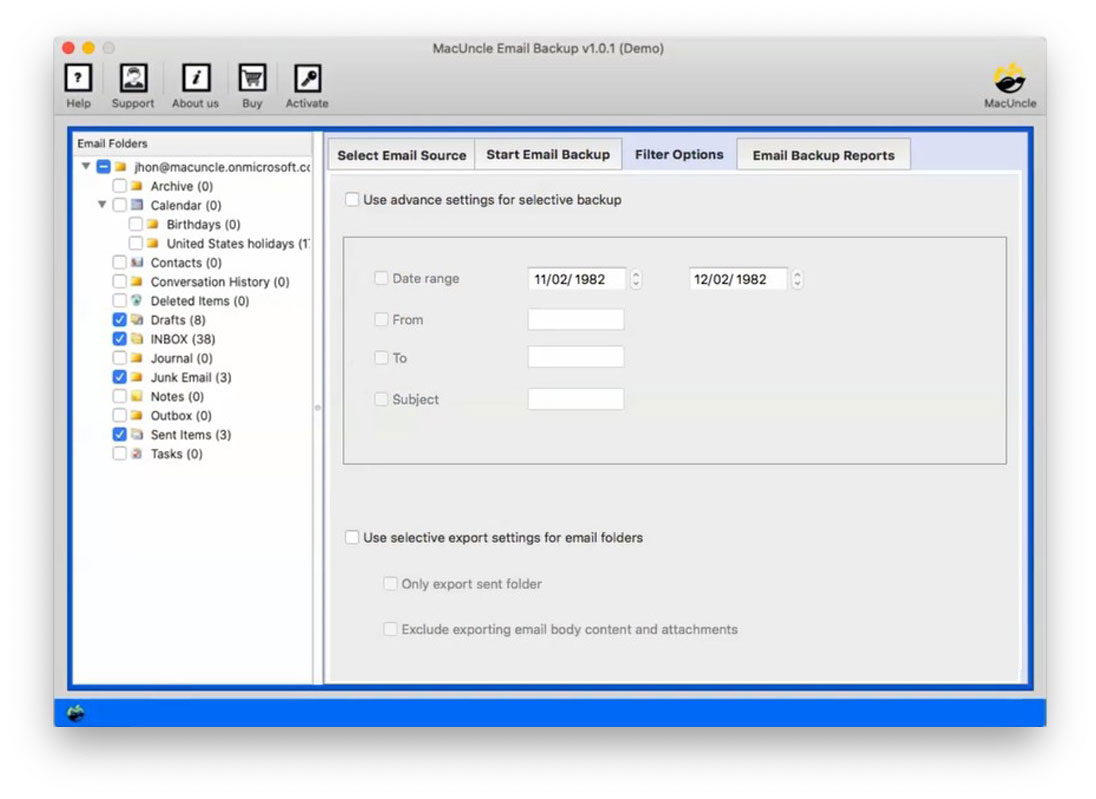 Finally, press Start Backup to initiate the process to transfer emails between Office 365 on Mac.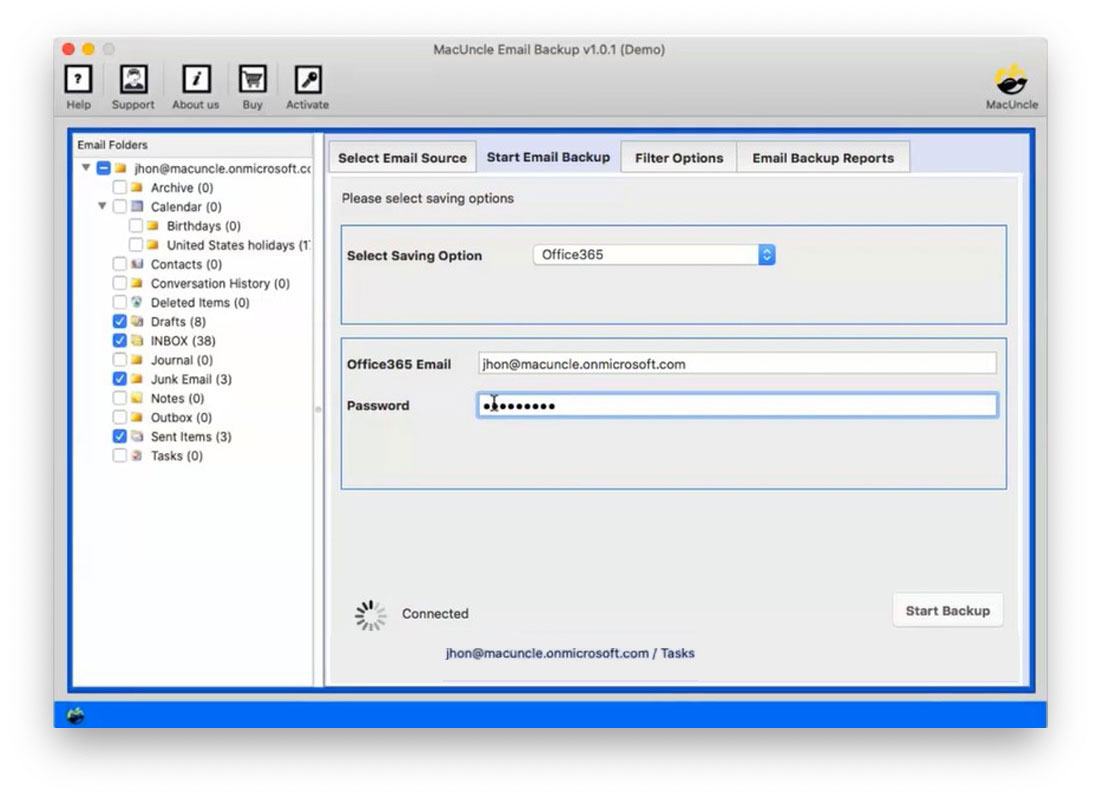 Few Points to Note Before Migration
Once users start the process to transfer email from one Office 365 account to another, make sure you have an Office 365 license and can access the OWA for admin. In addition to the "Mailbox Import Export" feature as well as an admin user, both the source and the position admin Account should be impersonated.
Also, complete these steps –
You will have to create a Microsoft Azure project & create an Application ID for executing the migration before transferring emails from one account to another in Office 365 account with this tool.
Following the generation of a project and the Program ID generating in Azure, we need to obtain an activation code to transfer e-mail data from one account to another.
Conclusion
In this article, the query – "How do I transfer emails from one account to another in Office 365 for Mac?" is discussed with a professional way to know. Get the free version to migrate Office 365 mailboxes to test the application. You can easily back up 25 emails from each folder with a test version.
FAQ – Office 365 to Office 365 Migration on Mac
With this tool can I transfer all my attachments too?
Yes, all the data can be migrated from one O365 account to another.
How to migrate specific files or data from the O365 account?
Either use the selection option and enable the check box before migration or set up the field in the Filter option. Other than email files, the tool also can be used to transfer other important data between the O365 accounts.