How to Transfer iCloud Data to Gmail ? 
If you are here to get a secure solution to transfer iCloud Email to a Gmail account. Do not worry, you will get the perfect solution to move emails, contact, calendar, etc. from your iCloud to Google mail from here.
Since it was a Mac account, many users are using an iCloud account and wanted to export/change email, contacts, etc. from iCloud to Google Mail but never attempted, as it is a complicated process. There are a lot of reasons you may be thinking of jumping out of iCloud, maybe you are someone who wants to switch from iPhone to Android, whatever the reasons are.
Fortunately, now it is very easy to transfer emails from iCloud to Gmail. Read the complete article and complete the migration within a few simple procedures. Check out the manual and the automated method to transfer the emails to the Google accounts.
#1 Manual Method – Transfer iCloud Email to Gmail 
1: Sign in to your Gmail Account and go to Settings Option
2: Select the "Accounts and Import" option and then click "Import Mail and Contacts."
3: Enter iCloud Account Credentials and Log in.
4: And Then enter iCloud IMAP settings and press Next.
5: Now choose the "Import Mail" option from the list and hit Import.
Limitations:
However, this is one of the simplest and free methods for exporting emails from iCloud to Gmail but it has some drawbacks. Below mentioned are some limitations faced by the user while performing this method –
No Email Filter Option
For maximum migration, it can take up to 2 days.
No Mailbox Folder Selection Option
Users must have technical skills to use the manual form.
#2 Automated Solution to Import iCloud Emails to Gmail Account
Considering all the limitations, we have come up with a perfect solution to transfer iCloud Contacts, emails, etc. to Gmail – Email Backup Wizard for Mac. Try the Demo version of the tool and effortlessly transfer iCloud Email to Gmail, G Suite, Office 365, etc. Upgrade the software to get the complete feature during the migration process.
Procedure to Transfer iCloud Mailbox to Gmail Account
Get the tool from the above link and carry out the steps below –
Start the tool and select the iCloud option from Email Source.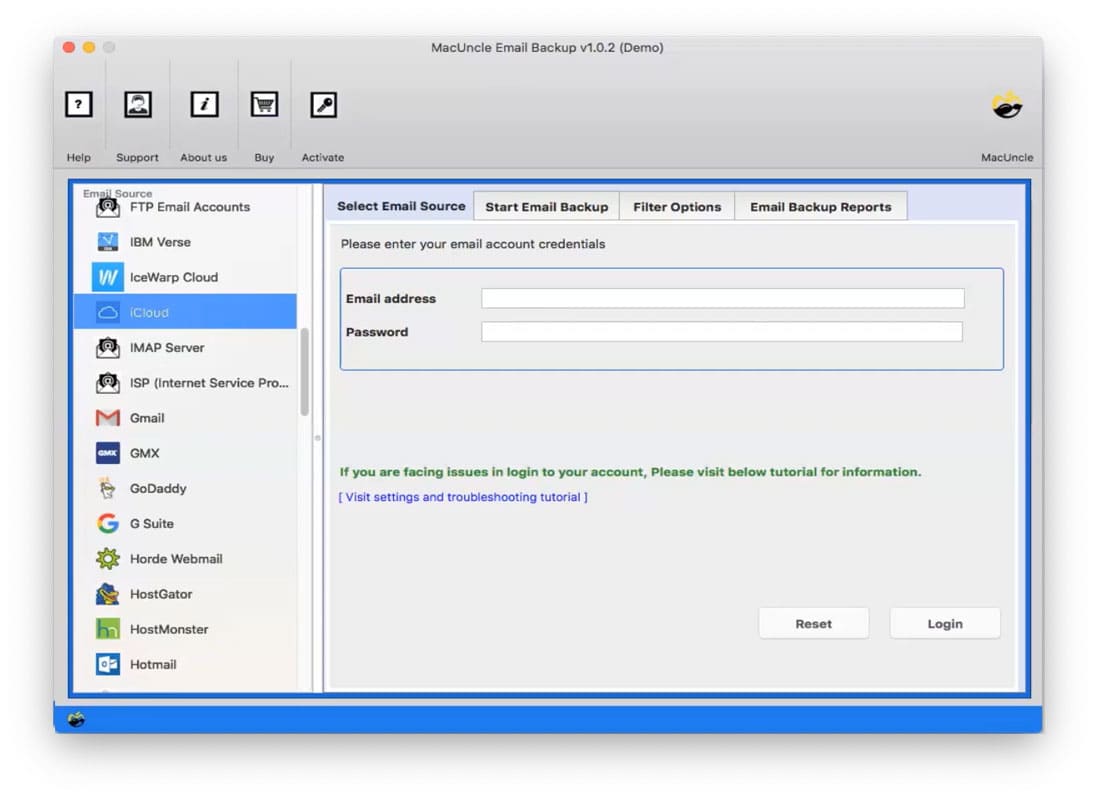 Then enter iCloud account details: Email Address and Password. And Press the Login button.
Use the procedure in iCloud Settings to Create a third-party password to work on the software easily.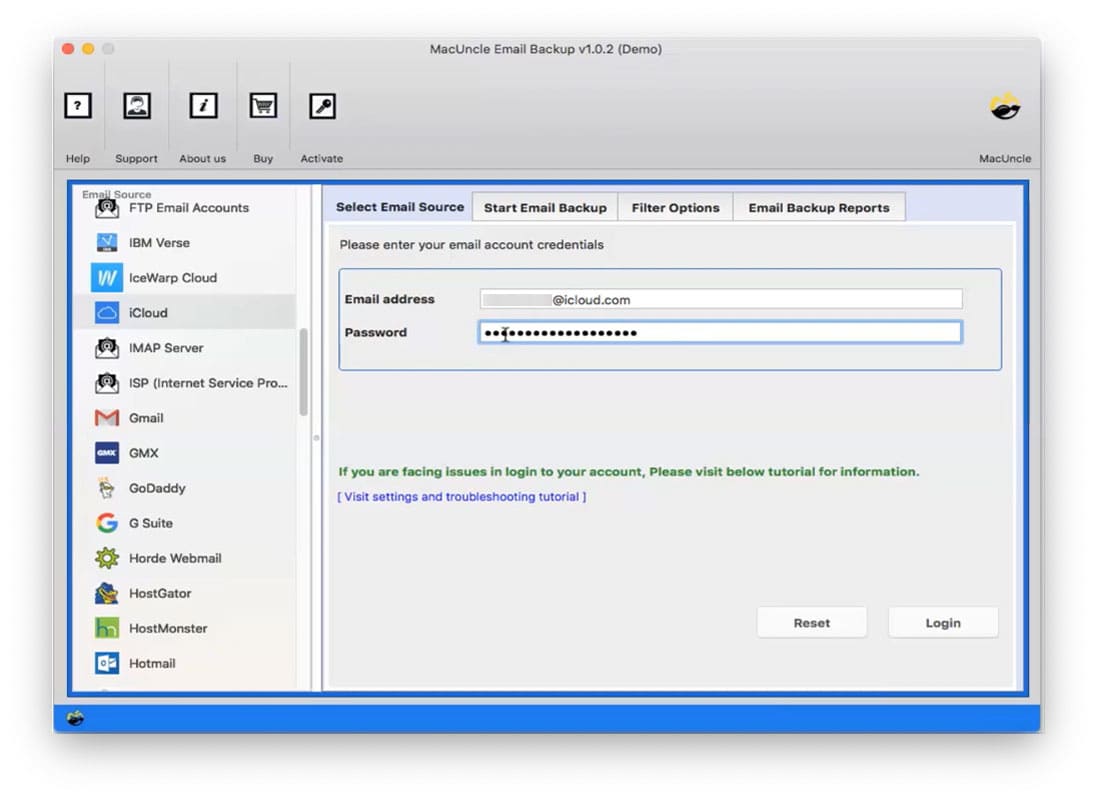 Choose the desired folder and select the Gmail option from Select Saving Option.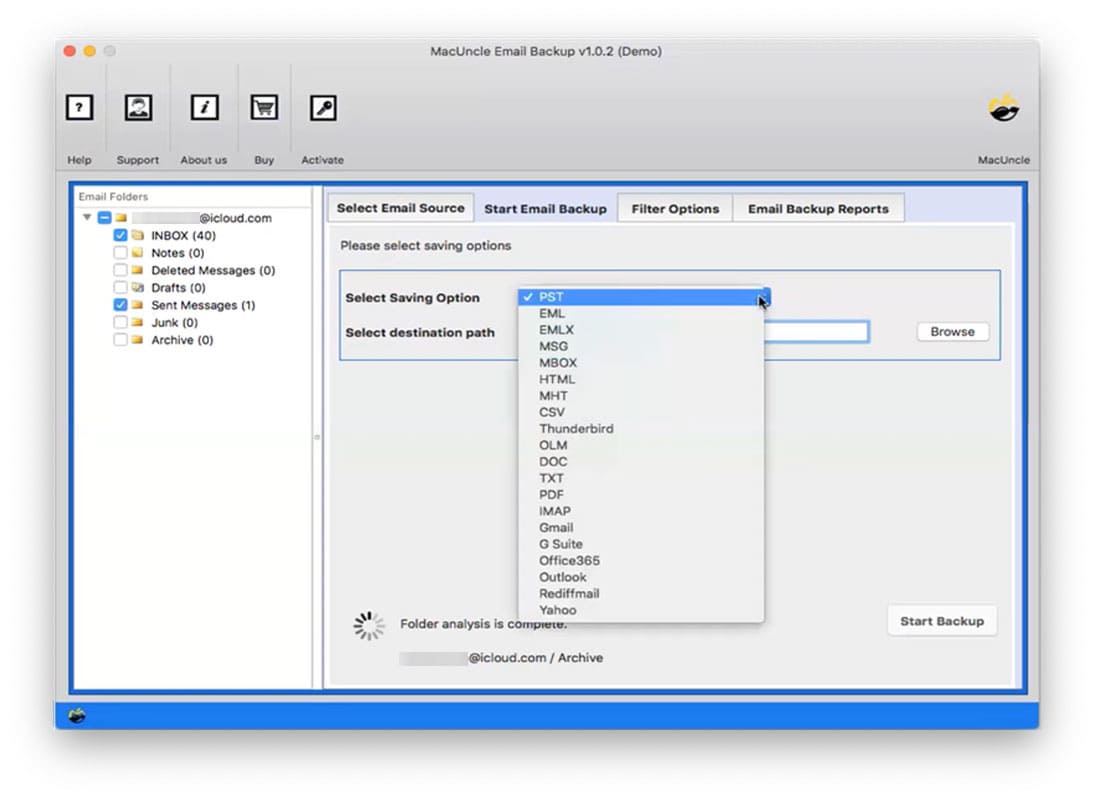 Now enter Gmail Account credentials on the software panel. To work smoothly create an application password or set up the IMAP of your Gmail account, for more details go to Gmail Account Settings.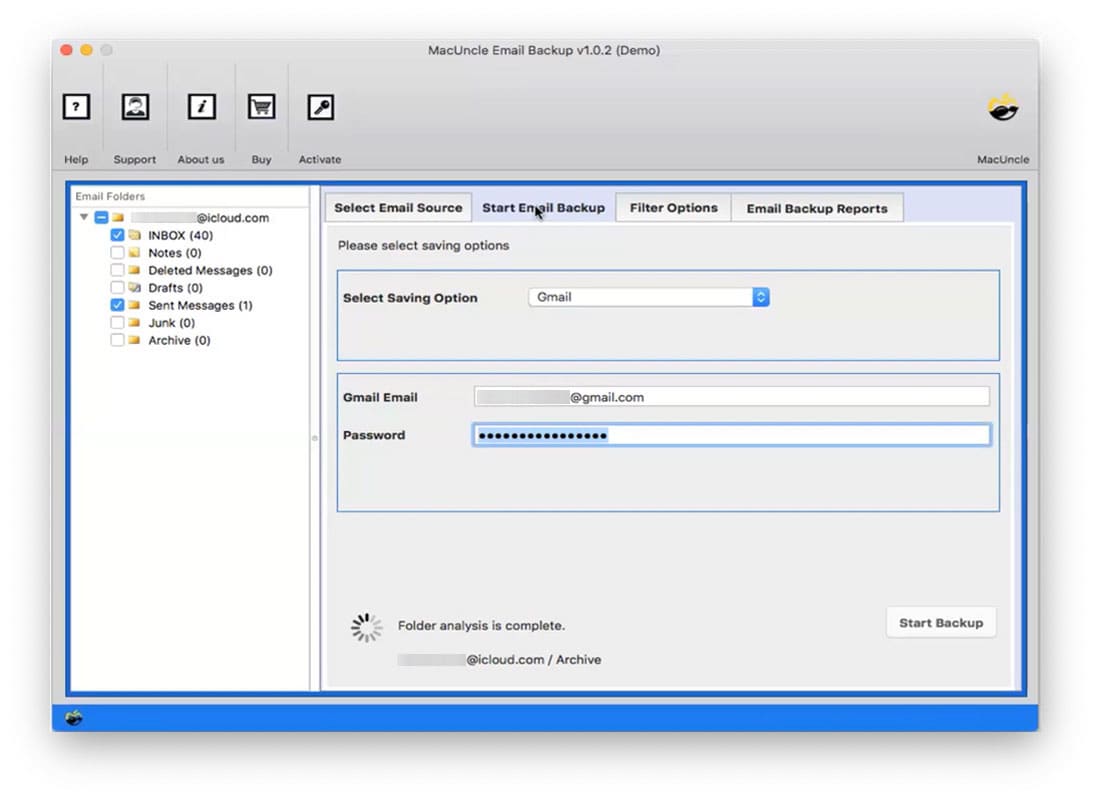 Filter Option: an advanced option to import only required iCloud Emails.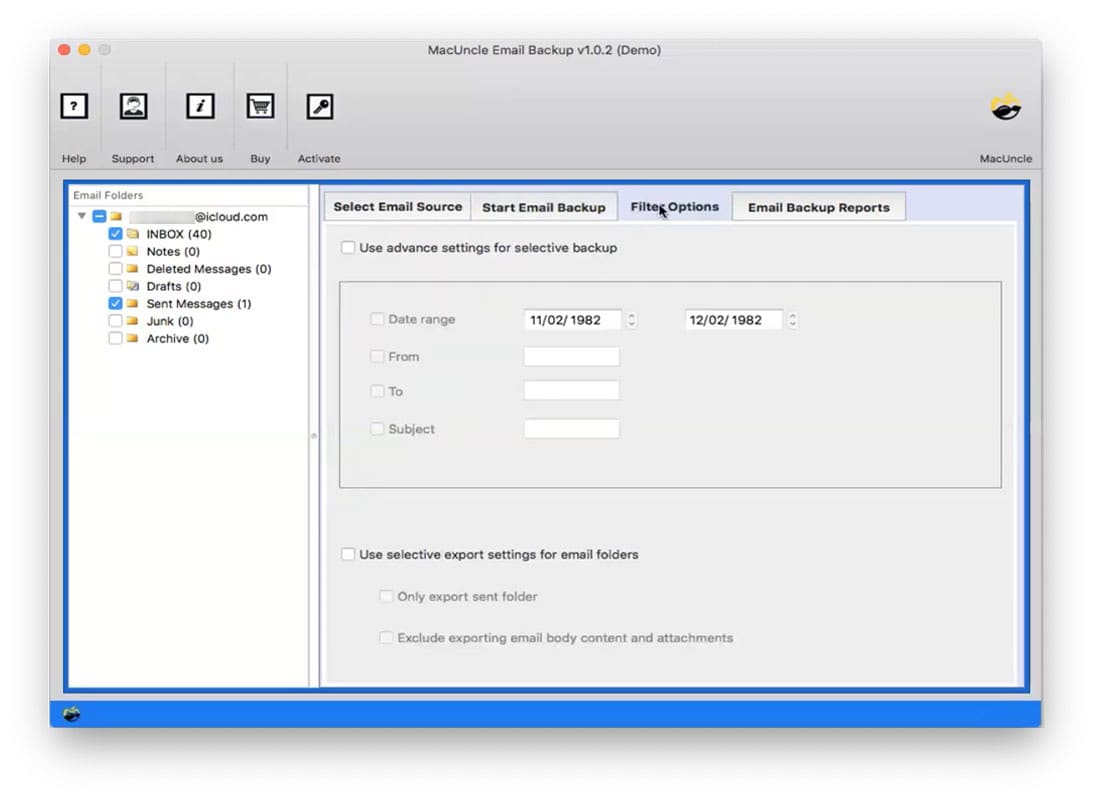 Finally, go back to "Start Email Backup" and press the Start Backup button.
As a result, the live iCloud Email to Gmail migration process starts and in a few minutes, you will get some task completion notification.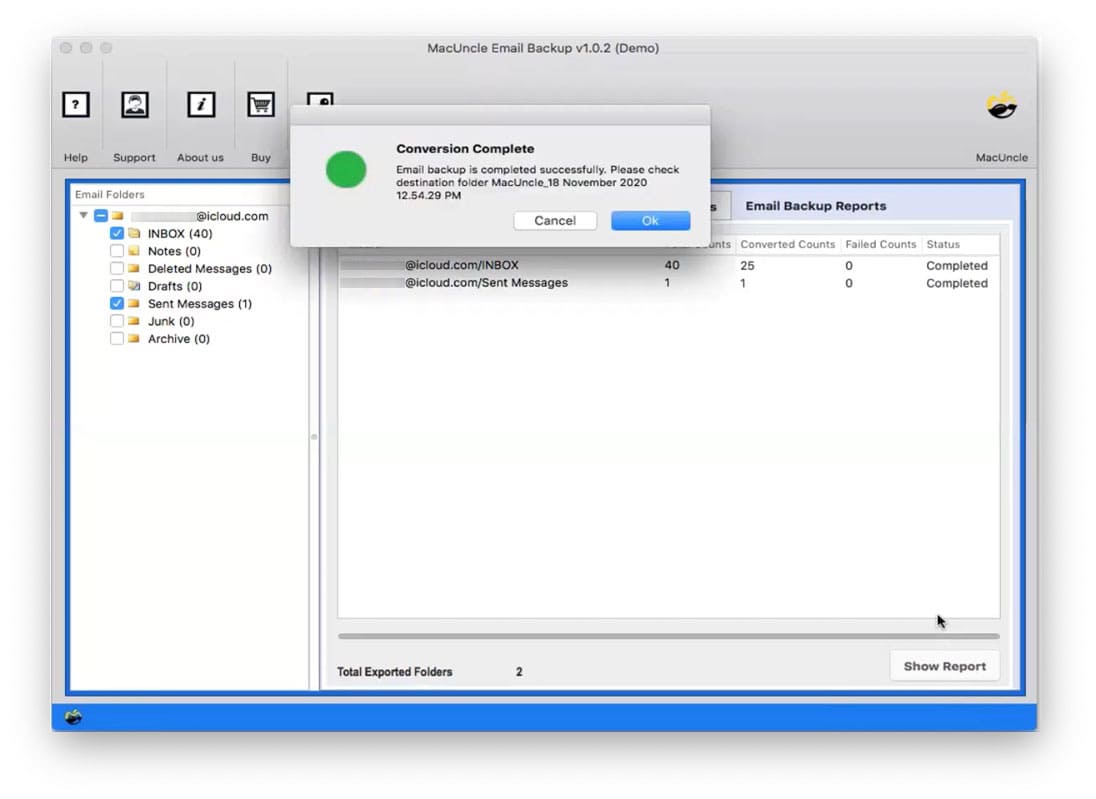 The software will preserve key elements (cc, bcc, subject name, date, time, signature, hyperlinks, etc) and metadata throughout the migration process. Therefore, no data alteration takes place if you are using this method.
Key Traits of iCloud to Gmail Migration Tool
Able to move iCloud mail to Gmail directly with complete mailbox items by using this program.
The utility offers multiple advanced filter options for importing the emails you need from your iCloud Mail account.
The program retains the hierarchical structure of emails when performing the migration of iCloud emails to Gmail.
The software asks for both the account's information and in a few minutes, you can move iCloud to the Gmail account directly.
It offers a 100% stable and secure framework and stores the personal information of users in the utility interface.
Trial version: Add iCloud to your Gmail Account using the free demo package which comes with a limitation of 25 emails on the first attempt. Upgrade to a professional version to transfer unlimited emails. 
Final Thoughts
To manually perform the migration of emails from iCloud to the desktop-based email program is not so easy. It needs lots of configurations. Therefore, we have described the key workaround for transferring emails from iCloud to a Gmail account when it comes to importing iCloud contact to the Gmail account. I want to suggest the free method if you want to transfer the full emails. If you are looking for quick and selective email migration, you need to choose the professional approach.
Also, read the expert solution for –