An Insight about the vCard File and How to Open VCF on Mac OS!
You have to struggle a lot to open VCF file on Mac they have an extension of files ending with .vcf. A VCF file is a data file rather than any multimedia or document therefore they are not meant to be viewed normally. They are particularly used to store and compile details of users like phone numbers, names, email addresses, office, and home addresses, etc. 
vCard file or VCF file supports custom fields, images, and other Media using the text and binary formatting standards. Export or import vCard Files in the format of contacts from the Address Book. They are used by Corporate to convey employees' details via email. Create VCF files from other file formats such as .xls or .xlsx. Or convert CSV to vCard files. Also, you can convert the vCard version to other supporting versions using a direct converter application. Access all any VCF files exported and created from other files using the technique mentioned here.
Here we will give the best way to Open VCF file on Mac using the Simplest Solutions. If you want to access your file then go for it. 
Simple handy technique to:
How you can Access VCF file on Mac – A Freeware Tool
The instant method is vCard Viewer for Mac, this utility comes with great functionality and features to experience. You can see all your contacts with all the details using the tool in just a few clicks. There is no restriction on the amount of vCard files; you can open vCard files as many as you can. 
The tool provides you with the dual option to upload vCard files; you can upload multiple vCard files or a single vCard file. The material assets of your vCard files remain intact during previewing the files. You can access vCard files exported from different email platforms like Mac Mail, iCloud, Windows Mail, etc. Also, the software is user-friendly thus you don't need any technical assistance. 
Download the application right now and enjoy it for free! 
Stepwise Guide to Run the Tool smoothly
The software comes with a coherent GUI and offers great features while operating on it. You just have to give commands; the software will instantly do your work. 
Follow the below-mentioned steps to run the application: –
Step 1. Start the software vCard opener on your Mac System.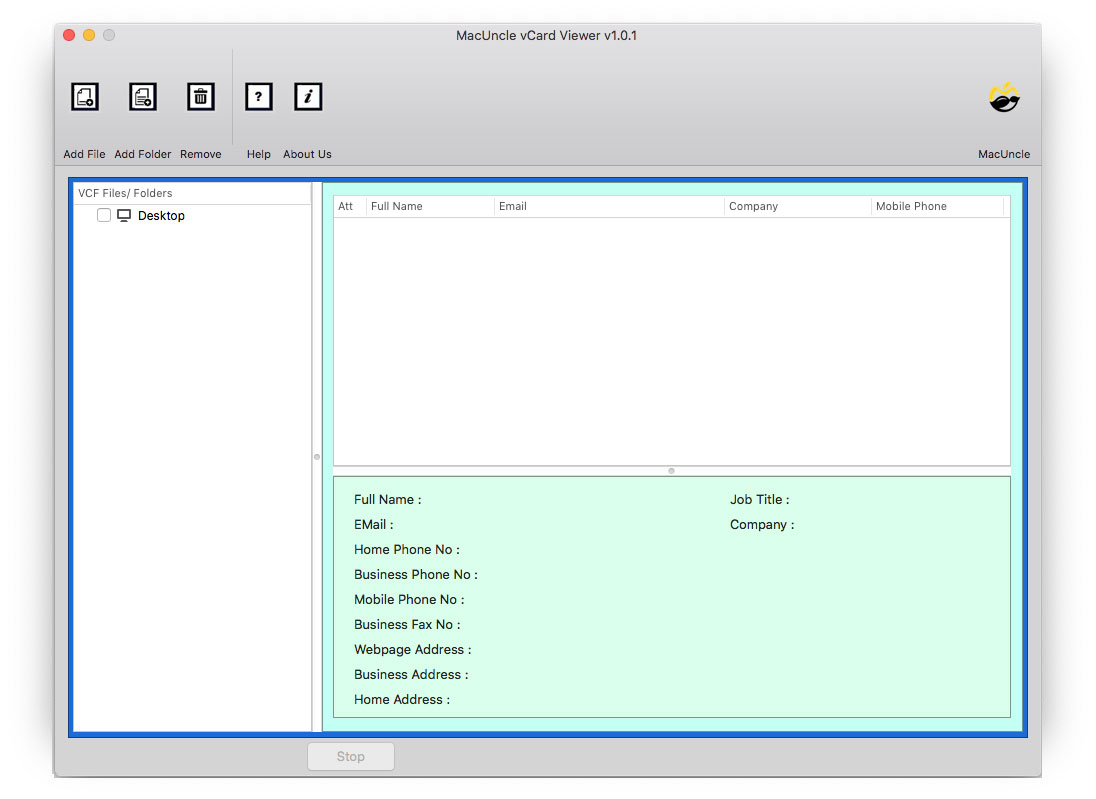 Step 2. Now upload vCard files using Add file (s) or Add folder (s) from the option.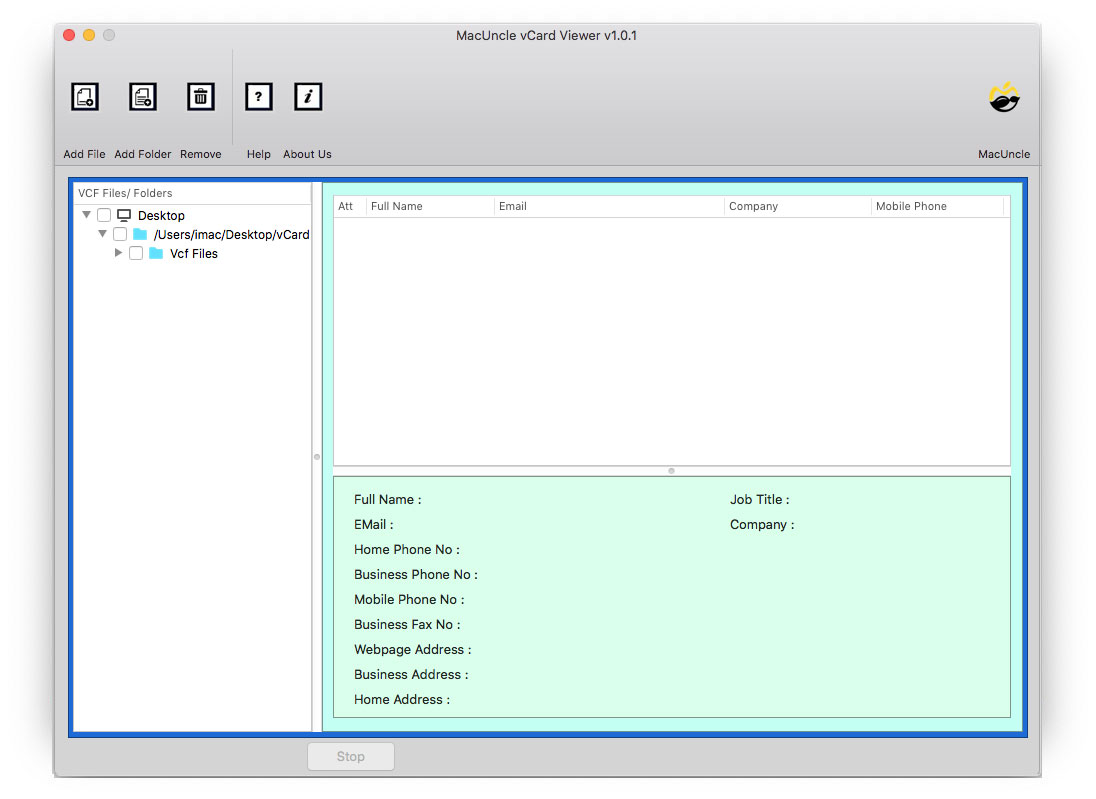 Step 3. Select the desired vCard files which you wish to access using the checkboxes provided.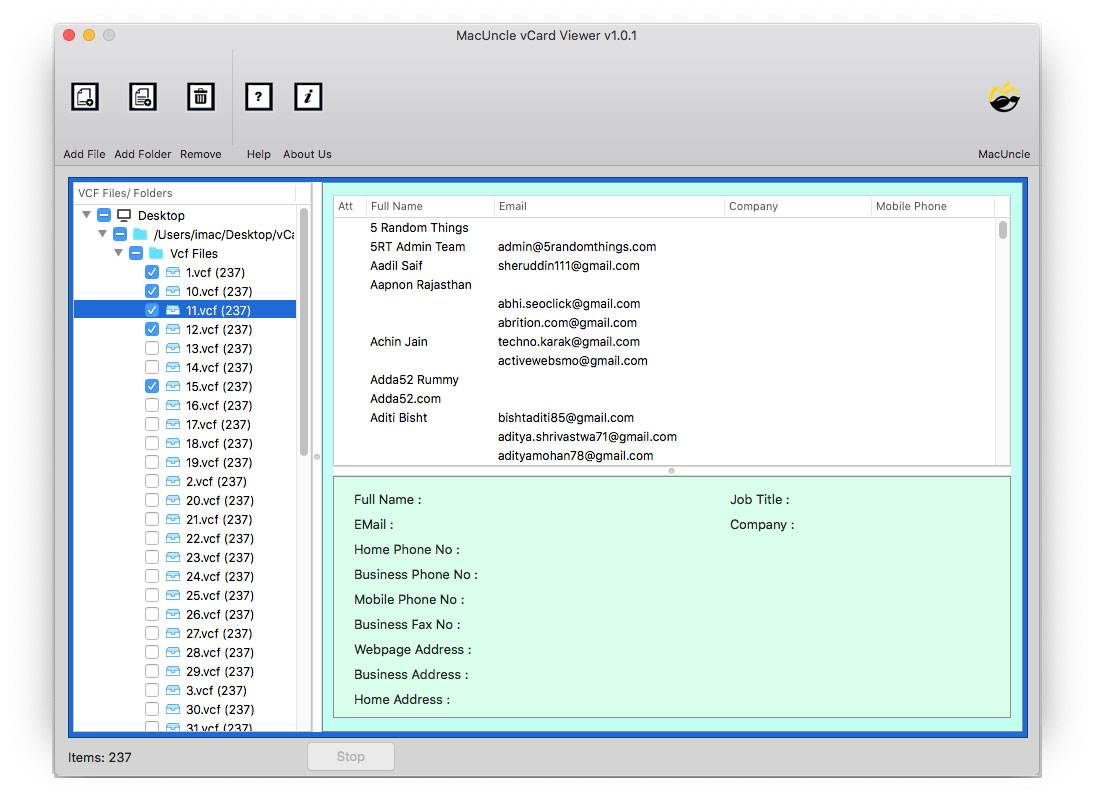 Step 4. The tool then displays the full details of the user including name, email address, phone number, etc. 
Step 5. Now finally, click on the file to read the vCard Contact details present in it on Mac. 
Thus, you have completed the process in a few easy steps and can access your vCard files on your Mac OS. 
Specifications of the Tool
The tool comes with vibrant and exotic features which you can experience via using the tool. Here are some of its specifications: – 
Preview all the Exact details: You can access all the exact details including name, email address, phone number, etc. 
Different vCard files: You can access any vCard file exported from any email client platform like Windows Mail, Mac Mail, iPhone, iCloud, etc. 
Dual Mode: The platform enables you to upload using the dual mode, you can upload multiple vCard files or a single vCard file. 
A Freeware Tool: You can access any and every vCard file for free, there is no fee or charge for the vCard files. 
Final Verdict
The article righteously explains what are VCF files and the only way to Open a vCard file on Mac. There is, unfortunately, no direct way, you have to use the application to access the file. We have suggested the best way to do that. This application uses dual mode to upload your vCard files in bulk or a single file. The tool comes with the additional benefit of using it for free, there is no purchase cost with it. Get the vCard converter to convert, split or merge vCard files on your System.